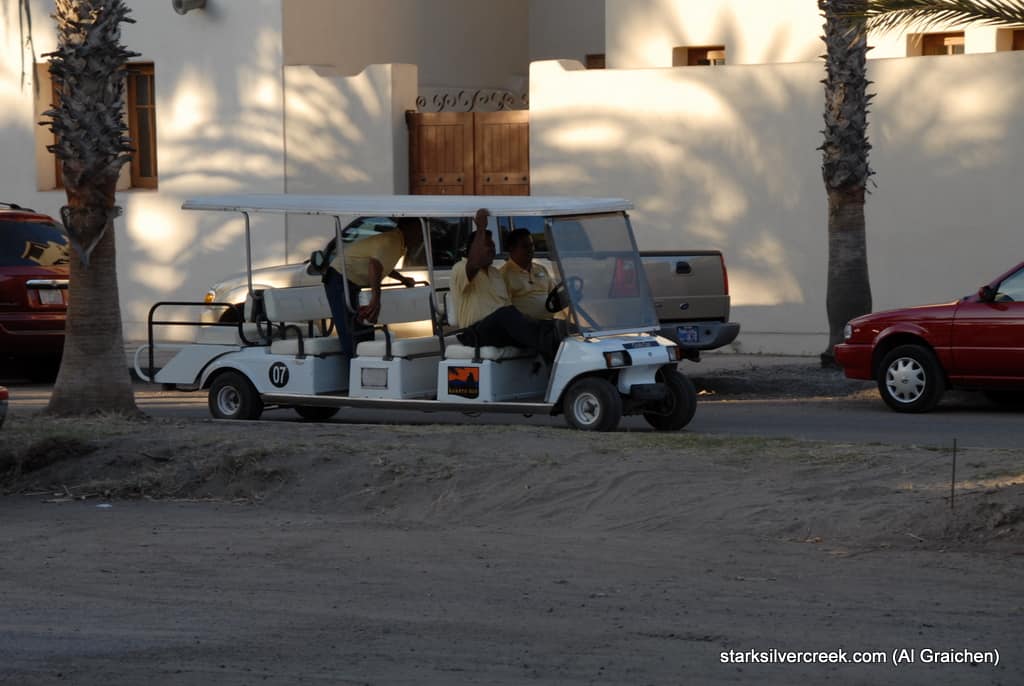 Wednesday, I think, or am I on Loreto time… Sigh… I'm suffering from my escapades of yesterday. The wind covered the intensity of the sun and as I casually sat on the beach reading one of Jimmy Buffet's novels, the sun very casually burned my knees to a crisp. So today I'm keeping close to home and lathering up before walking the beach.
There was no wind at all today and that raised temperatures almost to 80, so all was well with the world. My morning walk that takes me from the Inn to the new Marriott site was wonderful. There was a school of dolphins playing in the bay. Unfortunately I did not have my 400 lens so all I could get with the 200 was a dot jumping in the waves which is not much to post.
The Founders Pool had a visit from the electric company today. One of the workers was carrying two electric meters. I'll have to inspect tomorrow to see if the installation of the meters means that the pumps will be turned on to keep the pool going (and clean).
There has been a lot of work on the Paseo sidewalks. The various gaps are being completed. Also, the back walkway on the end units to the south entrance have been worked on.
More impressive is the amount of work being started on a number of customs. On one lot I spotted over 2 dozen people working on the first floor and columns to the second on a lot that was dirt only 2 weeks ago. Similar activity on the custom that is first on the beach next to the Inn. There were 3 dozen or more working this week.
The roads however remain a problem. The south entrance remains closed. The road through Agua Viva remains 1 lane in sections but the major debris has been removed so 2 vehicles can now pass though the one lane.
Rumor control says that the "shuttle" that is used by very few residents will be a thing of the past and those that need a shuttle will be provided with one. However the hourly or scheduled shuttle will be discontinued until there is a resident mass to justify it's existence.