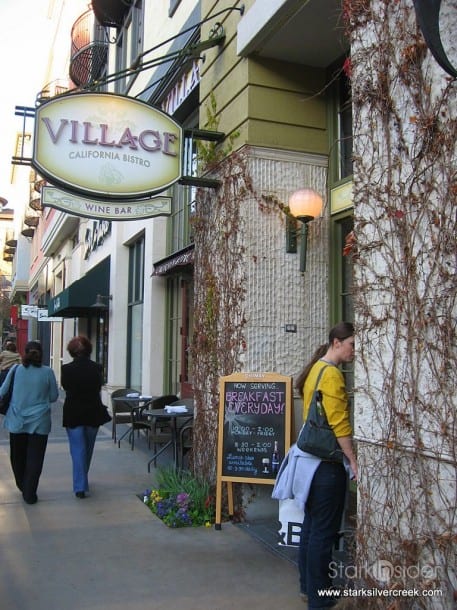 While my sister was in town, I decided to show her around the shopping mecca of San Jose, California. For those that live in the area, you know I could only be referencing one place, Santana Row.
For dinner, we popped into a restaurant I had never before ventured — Village California Bistro & Wine Bar. It has a nice ambiance, darkly lit with a palate of dark woods and white table cloths. We arrived early to the restaurant wanting to tour Santana Row while it was still relatively bright and then head back to the Silver Creek neighborhood for a quiet movie night.
We were seated promptly on the right side of the restaurant in what I call a half booth; couch on one side, chairs on the other. The only other lively activity going on was in the kitchen where cooks were prepping for the anticipated dinner crowd and a private party behind french doors just past our table.

The place reminded me a little of Bouchon in Las Vegas where I had eaten a couple of years ago. The menu came in folded napkin like format and spanned conventional casual dishes like hamburgers to more exotic ingredients that come with their cheese tasting plates. They also have a wide selection of drinks to tempt anyone who may have ventured into this place after a long and bustling day at the office.
Clint ordered the classic "Village Burger" ($11) done medium-rare, my sister ordered one of their Bistro Favorites, "Local Pacific Sole" ($18) and I selected their "Heirloom Beets" salad ($10). We taste-tested all of these dishes and the order from most to least favorite was: Local Pacific Sole, Village Burger, Heirloom Beets.
Local Pacific Sole: Potato Puree, Sautéed Bloomsdale Spinach, Lemon Caper Butter Sauce.
Village Burger: 1000 Island, Tomato, Spicy Pickle, Lambs Lettuce with Side of Onion Rings.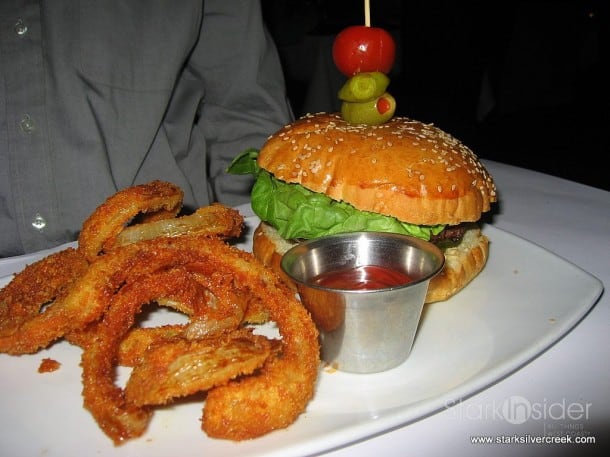 Heirloom Beets: Wild Rocket Arugula, Toasted Hazelnuts, Ricotta Salata Cheese, Citrus Vinaigrette.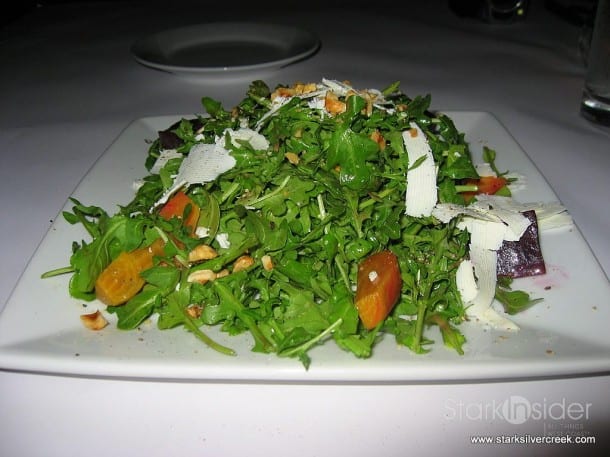 The sole was so tender and had a wonderful buttery sauce that was layered on top of a bed of mash potatoes. The burger was thick and juicy. The salad was good, but make sure you like arugula because this salad comes with a lot of it and was a little sparse in the beet department.
Overall, a good bistro experience, met expectations if not exceeded them. 3 1/2 out of 5 stars.
Village California Bistro and Wine Bar

378 Santana Row, #1035, San Jose, 95128
Phone: 408.248.9091
Website: www.thevillagebistro.net
3.5 out of 5 stars