February is always a short month, but a more cloudy and rainy month than January. You will notice this if you look at the profiles of solar production for the month of January 2009 and February 2009.
January only saw a couple of dips in solar production and the other days were relatively consistent between 8 kilowatt-hours of energy a day. In contrast, in February solar production varied a lot more day-to-day with rains and cloudy skies sprinkled much more often throughout the month. In fact, when my sister was visiting, unfortunately, it was pretty cloudy the majority of the time.
I did get the annual bill for our energy use. As you may recall from my previous posts, once you get solar energy hooked up, you have the choice of paying the electricity bill monthly still, but you are actually not billed for any additional energy you use beyond the energy you generate until the end of every year from the point your solar system became active.
Our true-up date is mid March so we will be settling the additional electricity we have used with PG&E at that time Note that at least in California, any additional energy you produce in surplus of your consumption is not paid for by PG&E, your balance owing just gets set to $0 and the cycle begins again.
It is also tax season and I am happy to see the $2,000 tax credit on my federal taxes for this system. Do note that the solar tax credits have gotten even more generous so the $2,000 cap has been removed for solar systems so it is even more financially attractive to get a system these days. If you are still in a position to move forward with such a project which does take admittedly a large initial investment, I think it is financially very attractive in the long-run.
There does seem to be a problem with our solar monitoring system, I would imagine minor. However, today when I logged on I got the error message below. I'm enjoying a cup of coffee and looking forward to another piece of Creme Brulee French Toast this morning in a beautiful luxury cabin in Old Greenwood in Tahoe so I am not sweating this. Once I return today to San Jose, I'll check it out.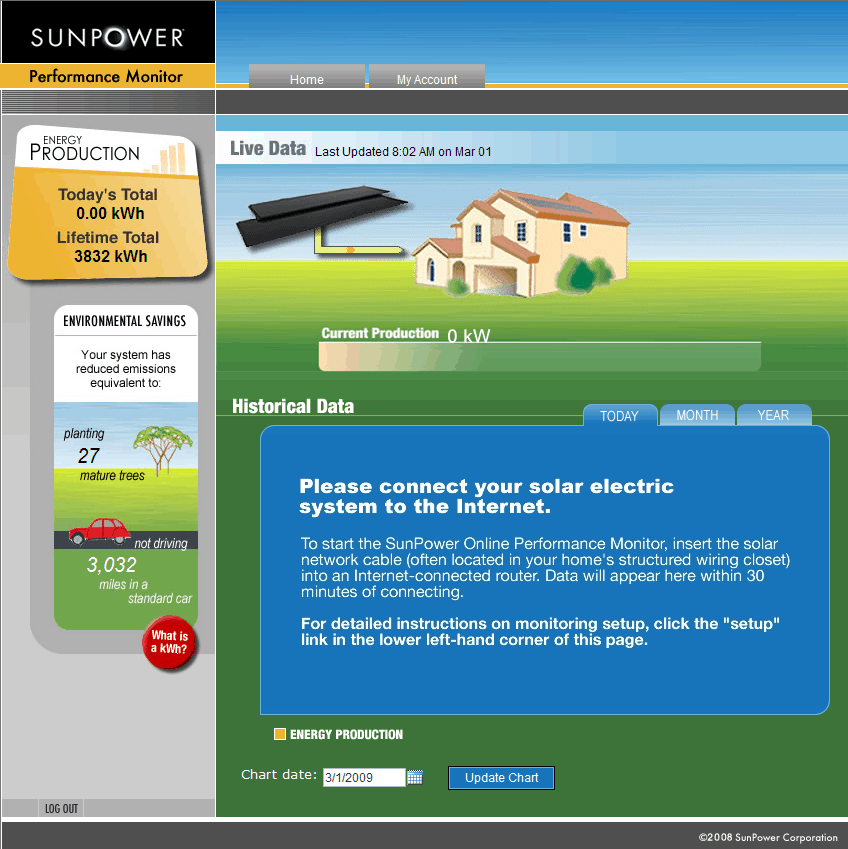 The additional rainfall, I would imagine, has been good for the water tables in the San Francisco Bay Area although this past Friday, "Gov. Arnold Schwarzenegger declared a state of emergency Friday because of three years of below-average rain and snowfall in California, a step that urges urban water agencies to reduce water use by 20 percent." (source: CBS/AP)