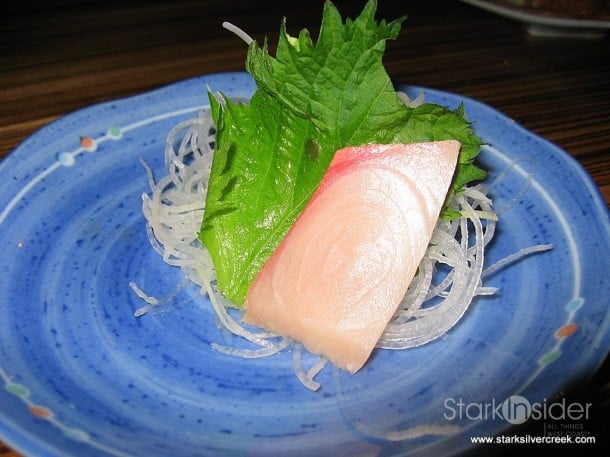 My first visit to Mikuni Sushi was a couple of months ago while I was in Sacramento. Their 49er roll left a memorable impression on me. So, when I found out Northstar at Tahoe had a Mikuni Sushi restaurant, I was happy to take one for the team and assess the quality of this establishment.
The Mikuni Sushi restaurant in Northstar at Tahoe is located just off the central skating rink and has a cozier atmosphere than the Sacramento location which conveys the feeling of a converted industrial warehouse. When we arrived on a Friday evening, the main part of the restaurant was already filled with patrons and so they opened up a new seating area and we were able to get a booth.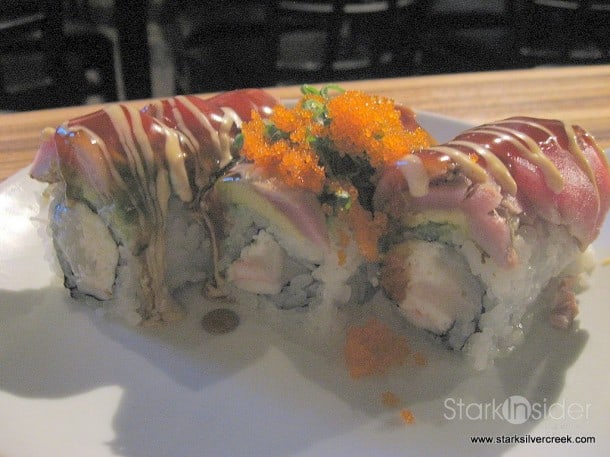 The 49er roll ($15) was not on the menu but the waitress noted that if they had all the ingredients, the chef could make us a special order. We also decided to try what I have deemed a "benchmark dish" for sushi restaurants, the spider roll ($14.50). A roll that is difficult to get right and offered at most sushi restaurants.
The sashimi we ordered was fresh and delicious. However, we were disappointed with the portion size of the fish pieces when compared with how much Mikuni was charging for the dish. We suspected that the prices and portion sizes were reflective of the fact we were at a resort in Tahoe.
Later we dined at a couple of other establishments, including a Tahoe Mountain Club members-only restaurant which were evidence that steep ski hills did not equate to steep restaurant prices for high-quality.
The 49er roll was not as good as I remembered it in Sacramento. The roll needed a bit more sauce and missed some of the crunch by the less than generous sprinkling of panko bread crumbs and fish eggs.
The spider roll, we all agreed, was very well executed. The shell of the crab was tender and not over-breaded, with just the right amount of crunch.
The eel roll I ordered was good, but not exceptional. What makes an eel roll exceptional, getting the right balance of ingredients, going easy on the rice and the BBQ sauce.
A surprising hit was the salad which was a great way to start the meal. Less than traditional but a great refreshing appetizer.
Overall, I thought it was a decent place to satiate your raw fish cravings while up in Tahoe, but definitely count on a light appetite or a much lighter wallet when you walk out.
Mikuni Sushi in Northstar at Tahoe
5101 Northstar Dr
Truckee, CA 96161
(916) 576-2641
www.mikunisushi.com