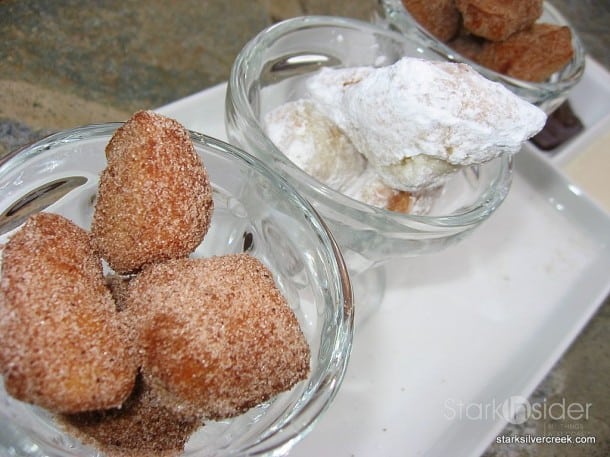 Amidst the family fun in Northstar at Tahoe, The Chocolate Bar has a club-like feel which welcomes couples and singles that may not have a little Johnny running around.
The outside patio area beckons pedestrian traffic to halt, grab a large armchair and relax beside a stone gas fire pit which is a work of art in itself. The colors and textures on the exterior of The Chocolate Bar are consistent with the rest of the decor of Northstar at Tahoe which sprung up as part of a master plan. The interior, well that's a different story. Bold blacks, reds and metallic sheen grace the long, modern lines of the bar area inside and the black geometric silhouette of a women on the large mirrored door of the women's restroom screams old-school-style James Bond. The waiters and waitresses were all well above-average looking.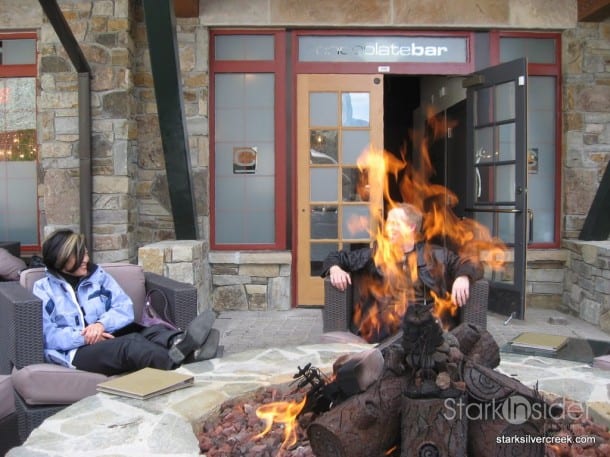 The contrast was startling and one quickly realizes the interior would make a wonderful evening or late night hangout for the singles or young couples crowd who find themselves done with skiing but candle-making and jewelery-making not to be their cup of hot chocolate. In fact, move over hot chocolate, because the drink revered at The Chocolate Bar is the Chocolate Martini…doesn't that just say it all? The rest of their menu is also dominated by chocolate including the "C Bar chocolate fondue" which was very reasonably priced ($7 for 1 person, $10 for 2 people, $20 for 4 people).
With the sun streaming down from an almost perfectly blue, cloudless day, I decided to collapse in an armchair beside a toasty fire pit outside and ordered the ultra-comfort food, a hot chocolate (dark – $4, if you want a shot of liqueur +$4) and the doughnut sampler ($8). I almost choose the creme brulee sampler, but decided after an exhausting morning of running around, doughnuts would hit the spot.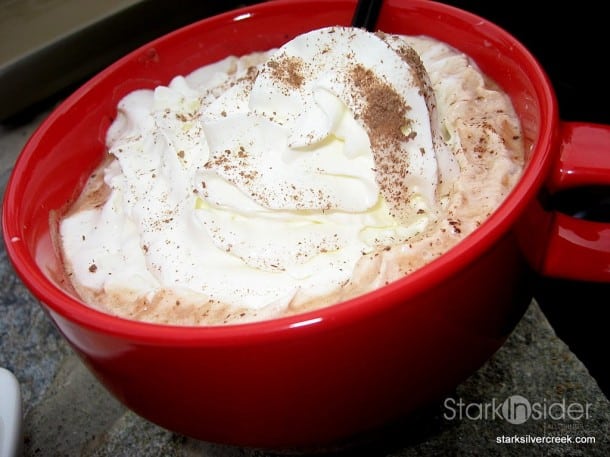 The dark hot chocolate came in a thick rimmed red cup shaped like a bowl. For the ultimate in decadence, there was a healthy dollop of whip cream on top. The doughnut sampler was elegantly presented in three small glass goblets with three dipping sauces. I found out the doughnuts, like a lot of their menu items, are made at the restaurant. The hot chocolate was creamy and rich, the doughnuts were just a little crispy on the outside and warm and chewy inside. I never thought I would say doughnuts were gourmet, but these were. Surprisingly, our favorite donuts were the ones rolled in sweet powdered sugar…perfect pairing with the dark chocolate.
Chocolate Bar at Northstar


Phone: 530-562-1800
Hours: 11:30 a.m. -12:00 a.m. (during ski season)