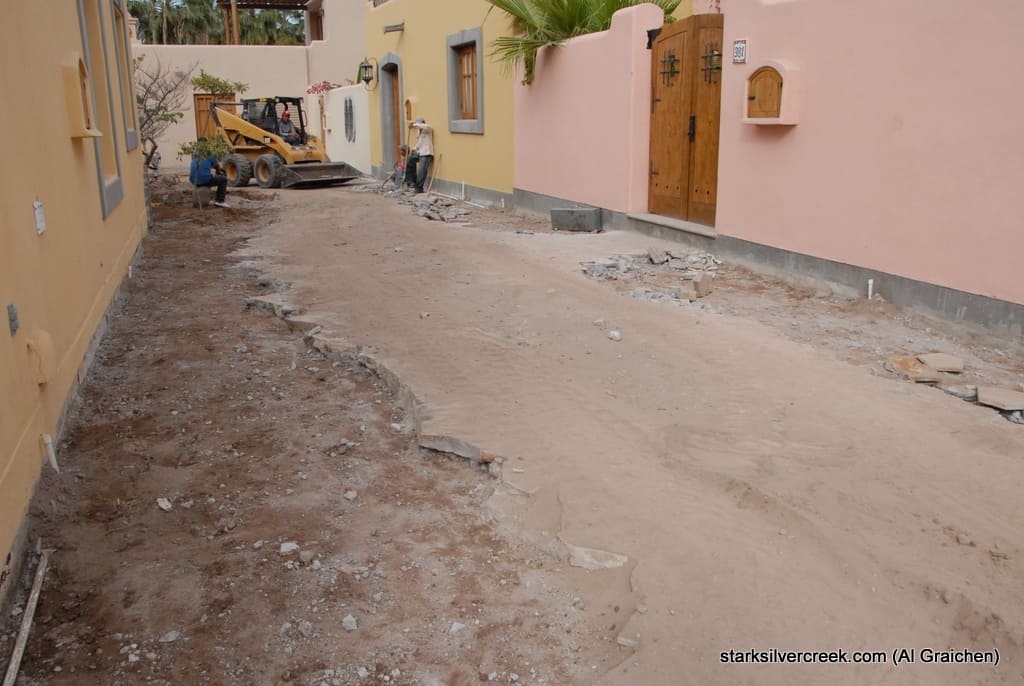 The sun came up this morning with more than a few clouds in the sky and unfortunately lots of wind dropping the temperature you feel significantly enough to forget the Loreto Sun will BURN you quickly without protection. I can already feel that my knees will not forgive me tomorrow as I sat with my feet up for two hours reading Jimmy Buffet's Where is Joe Merchant. (Interesting fact about Jimmy is that he is one of about only 5 other authors to have been on the NYC Best Sellers list of Fiction and Non-Fiction at the same time. That might be a good Stark Reality quiz question – who are the others. It will surprise you.)
The big news in Loreto, at least for some people in Founders, is that the pool is functioning. No you can not swim in it yet, but the pumps were working today and someone was cleaning the sludge from the bottom.
In addition, the walkway and courtyard between 376 and 377 was completely redesigned to more conform with the sweeping walkways. The completed walkways were jack-hammered to conform with the new designs. In addition to this work, there has been work going on to complete the walkways along the Paseo on the western side.
Let's hope the wind drops for the rest of the week.