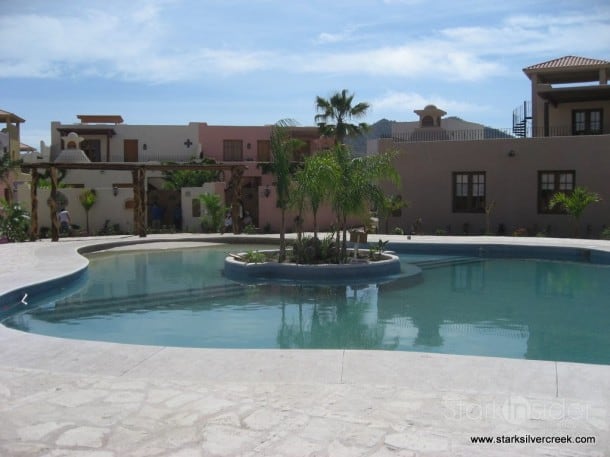 The first reports of the newly completed Loreto Bay swimming pool came from Pat R. who shot a couple of photos while down in Loreto and tossed it over the wall to all us envious dreamers not there, but still hungry for some Baja California sun. This was followed shortly by Jane L. and Sharon D. who did some on-the-scene reporting.
So this past trip to Loreto, we decided we needed to see the pool for ourselves…up close and personal. See is the operative verb here as there are warning signs one is not to swim in it yet unless you want to risk the possibility of an electric shock…at least that is what I think the sign in Spanish was trying to tell me.
There were several landscapers working on the surrounding landscaping and what I think was the pump and engine for the hot tub.
I also took some close up photos of the sometimes overlooked restrooms. The swimming pool may be the star of the show, but after several margaritas, a bathroom may start looking pretty good. If you want a sense of vertigo, I suggest you stand on the large grates just between the women's and men's area and look down. I thought the outdoor showers were also a nice touch.
The pergola had very interesting supporting pillars of twisted large trunks, quite an artistic piece.
Whomever is the first homeowner that belly flops in the swimming pool, SSC wants to know about it.