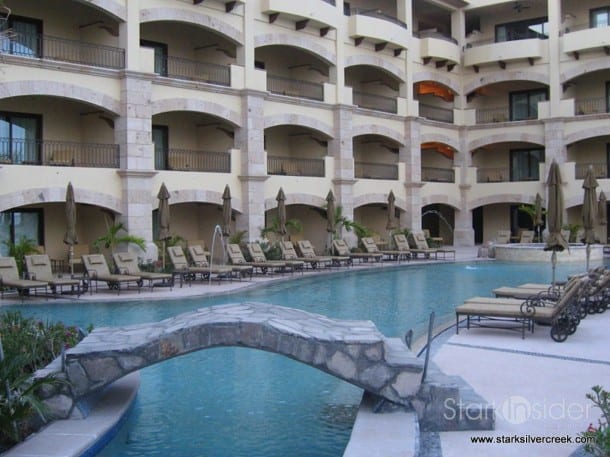 The last entry on the newly constructed La Mision Hotel, Loreto Baja still had quite a bit of construction going on. I was promptly reminded that it was about time we revisited this hotel on the Loreto Malecon after a reader wrote in with concerns over their upcoming stay at La Mision hotel seeing photos of it still under construction.
Clint and I were fortunate enough to tour the hotel and the quality of construction is more impressive up close than in some of the photos sent into Stark Insider.
Firstly, the sheer scale of the hotel, the feeling of newness and the nicely paved sidewalks in front of the hotel makes a casual visitor along the Malecon take notice. There are little polished scooters out front that can be rented and two chalkboards inviting you into the hotel.
Secondly, up close you will notice the luxury finishing and detailing that span every corner of the hotel: ornate light fixtures, natural stone floors and moldings, stone mosaics and finally intricately painted murals.
Murals adorn several of the walls on the inside and outside of the hotel. I was fortunate to catch a mural that was still being painted. The artist had left for the day but the pots of paint in muted browns, blacks and whites were on the floor along with a photocopy of the inspiration for the mural.
Some of the finished murals can be seen in the foyer and on the outside of La Mision, breaking up what otherwise may be plain and rather large walls.
The outdoor spaces on the first floor and the second floor are equally impressive. The first floor on the same level as the pedestrian traffic on the Malecon is a large picturesque pool and bar area with what looks like a big wood-burning oven.
I hope the next time I go this hotel along the Malecon will be brimming with life; both those that are staying at the hotel and those dropping in for dinner or dessert. From an architectural perspective, this hotel is top-notch.
P.S. I did get a tip from another Loreto Bay homeowner to check out the faux-wood vinyl windows which she swore looked like wood. I did get some strange stares as I leaned my head very close to the trim on a window to give my first-hand opinion on the matter. I pride myself on the ability to ascertain real wood and stone from the fake stuff. I have to admit the faux-wood window trims were an impressive copy of real wood in the dim light of the setting sun and the glow of the incandescent lights in the hotel. A true assessment will need to be made in the broad daylight with no consumption of pina colada or wine.