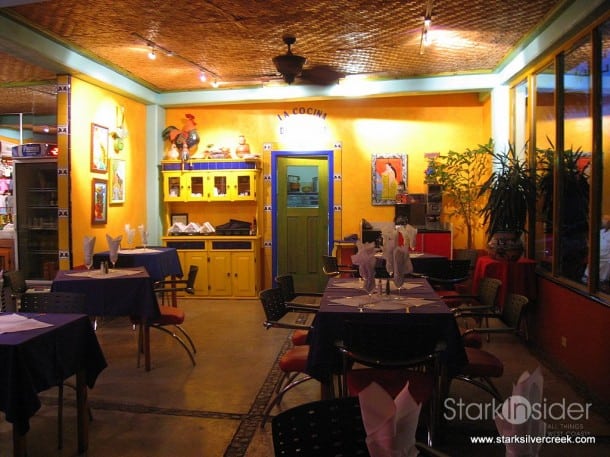 While walking along the Malecon exploring the various options for dinner one evening, a bright and colorful restaurant caught my eye, Islas Restaurant & Bar. On a dark evening along the Malecon, the bright and bold orange, blue and red colors of Islas is like a beacon along the Sea of Cortez.
The inviting interior beckoned us and we went in. It was a quiet evening in Loreto and Islas was no exception. Normally, Clint and I would be hesitant to be the only diners in a restaurant but the waiter was so friendly and the colorful interior gave the entire restaurant a cozy and lively feel.
Near the center of the restaurant, they even had a little wine rack with a selection of wines from Mexico, Argentina and California. Is it just me or have restaurants in Loreto started to expand their wine selections?
Throughout the restaurant there are interesting pieces of artwork to look at. The waiter gave us carte blanche on table seating so Clint and I chose a little table against a window overlooking the Malecon. It wasn't long after we sat down that another group of patrons sat down at a table across from ours.
Clint and I ordered a Sopa de Tortilla (Traditional Tortilla Soup – 40 pesos) and an Ensalada Aguacate (Loreto Islas Special Avocado Salad – 45 pesos) to share. For our main courses, I ordered the Pollo Barbeque (Grilled Chicken with Barbeque Sauce – 75 pesos) and Clint requested the Ribois (Ribeye Steak – 150 pesos).
The tortilla soup came nice and hot in a modern-style white bowl which was a nice contrast to a restaurant so alive with many primary colors. We really enjoyed the tortilla soup which was delicately made with thin crispy strips of corn tortillas and meticulously pulled cheese that was just stringy enough and melted into the soup. This cheese and chips with the rich broth balanced well with the pieces of avocado which were perfectly ripe.
The salad, unlike many other places in Loreto, was beautifully presented and offered with the choice of ranch or Italian dressing. We chose Italian dressing thinking it was just going to be "ok". We were pleasantly surprised. The salad was artfully presented and the dressing was tasty without being too acidic. The lettuce, tomatos and avocado were fresh, no limp lettuce here.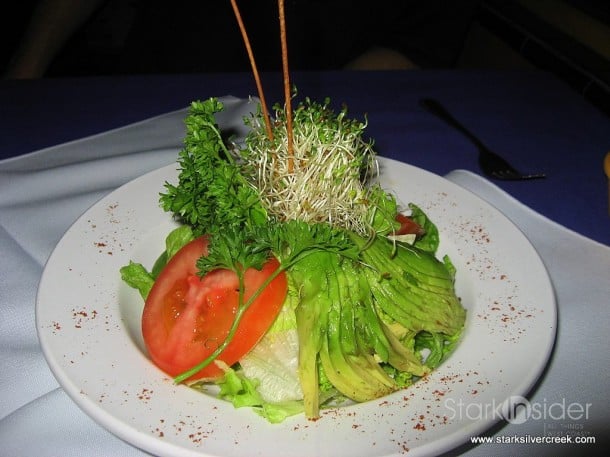 Both the soup and the salad with highlights of the meal and I could see myself returning if only for these two dishes.
The barbeque chicken dish was well presented on top of a bed of rice, topped off with alfalfa sprouts…again set against a plain white plate. The dish was good, but not extraordinary. The barbeque sauce on top was sweet and smokey and then had some real kick and heat at the backend.
The rib eye was decent but Clint notes, "This is definitely not a steakhouse steak". It was a skinny cut of meat compared to traditional rib eye portions. Clint does concede he may have done better with a fish dish at this restaurant. The potatoes could have been cooked a little more, they were slightly crunchy still. At the price of 150 peso, you do get what you pay for. The dish was on par with steak served at US chains such as Chilli's.
Another dish we didn't try but may on another visit is the Pescada Menier (Fresh Fish in Islas Mariniere Sauce – 95 pesos).
Overall, it was a great meal, good value and a wonderful visual experience. I really enjoyed the cheerful restaurant decor and the plating by Loreto standards was excellent. Some of the best tortilla soup and salad I have had in this little town.
Islas Restaurant & Bar

Address
A. Lopez Mateos ESQ. Salvatierra
Loreto, Baja California Sur. Mexico C.P. 23880

Website: www.palmarojagallery.com