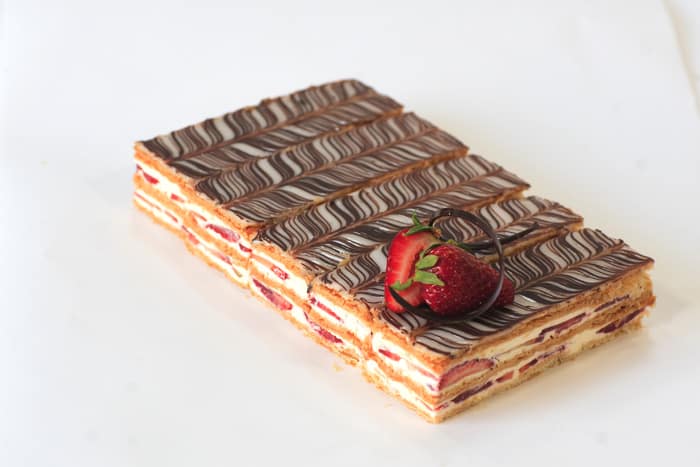 When in Santana Row, you have many selections when it comes to scrumptious appetizers, entrees and drinks. However, when it comes to desserts, I usually make a beeline to Cocola Bakery which has many types of pastries to tempt all taste buds, even when I am stuff from a great meal elsewhere. In fact, the nice stroll is a great break between entree and dessert.
My favorite dessert is their Millefeuille/Napoleon ($4.60), which is described as, "Layers of puff pastry, whip & orange pastry cream, fresh strawberry and fondant". It will not be the fanciest looking dessert on display, but with a nice latte, it is the perfect finish to any meal.
However, tastes do vary and while my sister was in town, she thought the Bamboo (Mango & Passion Fruit Mousse) looked delectable and later confirmed it tasted as good as it looked. She commented that the dessert tasted as described, "Light almond genoise, mango & passion fruit, white chocolate mousse". She loves mango & passion fruit as well as mousse. I, on the other hand, don't really care for mousse.
My sister, Wendy also tested their hot white chocolate, but was not impressed with it as she is use to the one from a coffee chain which tastes more like one is drinking liquid white chocolate. I, again, am not a fan of white chocolate. The lattes I've had here were very delicious although I have to tell most coffee places to make mine extra hot.
If you are dining in Santana Row and don't see any desserts that stand out at the restaurant you are at, do not despair. Remember, Cocola Bakery is just around the corner.
Cocola Bakery

333 Santana Row
San Jose, CA 95128

Phone: 408.551.0018
Website: www.cocolabakery.com