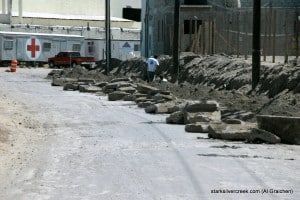 It's Sunday and sunny. Temperatures in the low 80's with an occasional breeze. The mosquitos have been out each morning this week but head for shelter once the sun comes up and heats the air. If it were humid and hot, I suspect we'd have a swarm all day long. Off works pretty good and spraying Raid in the areas they congregate tends to keep them under control for 2-3 days.
There was not much going on in AV this weekend. A few workers in select spots on Saturday, and none that I could find other than two men sitting in the shade this morning. There was a radio playing in the 60's but if there were people there, they were not making any noise.
Del Borracho was full of people at lunch time getting ready to fly out. I had a wonderful meal of Huevos Rancheros for 40 pesos. Jeff could double his prices and still be one of the cheapest places to eat in town. Besides being in full view of the airport so you can see when the incoming plane arrives, he's got the best prices around.
For those people that arrived today, they have already found that the southern entrance is "closed for maintenance." As a warning to those coming in on Tuesday, from the looks of things the southern entrance will be closed for a few more days.
Also for those coming in on Tuesday, be careful on the Paseo as you enter Agua Viva. The road is only 1 car width wide (see picture) from the south side of what will become city center and the split where the "botanical garden" was to go. In addition, just past the Golf Club entrance the Paseo is only one lane (for both directions). With cars parked on that side, two lane traffic can be "interesting" if two large trucks are trying to get by.
The weather seems to be holding so next week will be another adventure in paradise.