All the way from Maine, artist Carla Sanders has been diligently working on a large painted mural to be placed in the new visitor center for Grupo Ecologista Antares, the ecology organization that helped create the Bay of Loreto National Marine Park. Carla even extended her trip to ensure she could fully experience Loreto, the whales, and the process of her creation. I first discovered Carla on the web late January and heard about her trip to donate her time and talent, and haul art supplies to Loreto. Having never been to Baja or Loreto, Carla felt called to come and it happened serendipitously through Colin Garland of Global Classroom and Fernando Arcas of GEA. You can learn more about GEA here:
www.loreto.com/marinepark/index.html
Carla was paying her way on everything so I decided to get a note out on the Loreto Community Yahoo group and within a few hours she had a place to stay in town with Julie on Calle Davis. Isn't it great how how technology supports our ability to communicate and then take action in support of our community?
When I arrived in town I visited the downtown GEA office and Park Museum and met Carla who was in the back room painting away (and still is as I write this). I invited her to go with Francisco (Paco) Rosas, Paola Galvaviz, and I to come experience the Gray whales on the Pacific side to 'round out' her whale experience.
We were blessed with the most calm ocean and bluest sky I had ever experienced this time of year at Puerto Lopez Mateos. Colin had suggested Sergio Garcia Tapia's operation because of the quality and knowledge of his captains/guides. As well as their respect for the whales. We were not disappointed!
We saw a whale breach four times in a row in the distance, but none of us had our cameras poised–besides, sometimes it's more important to experience it than try to capture it.
We drifted along with mama and bay and then she surprised us by coming right along then under our panga. Note to Loni: we have a wonderful video of this but don't know how to post it–can we? how? (Loni: yes, you can email us video files too, or post them to YouTube and send us the link)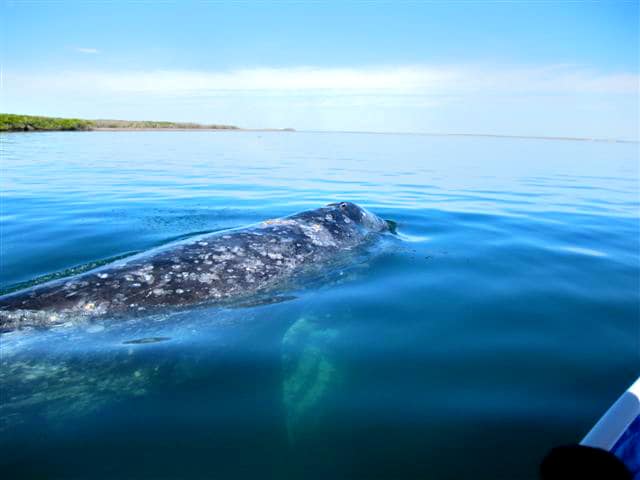 We're being checked out or maybe it's the National Geographic Boat in the background that they decided to pose for?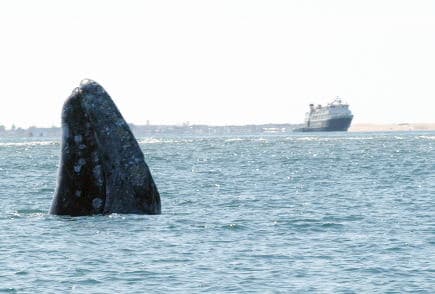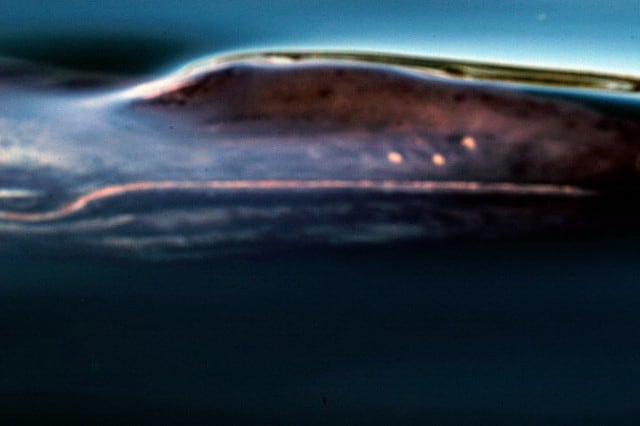 The quality isn't great on this photo, but it does capture the baby's eye as he glided by. Look at the left side of photo…seemed a little sleepy to me.
At Lopez Mateos, Sergio is the stand to the right of the large and main building. He can be contacted at 01(613)131-51-19. A real key is to go and arrive at the port early. We were there about 8:40 and had left just before 7 a.m. We even made a few photo stops along the way. Osprey's in their nests littered the road.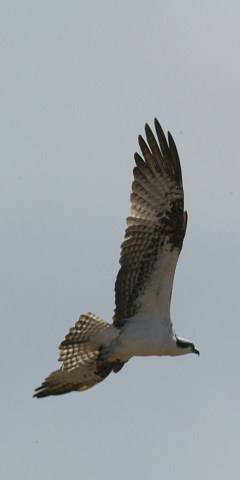 And I will never be forgiven for not stopping when we saw a deer along side the road. I had always heard there were deer on the Baja. Now I saw my first and only one after 15 years. And NO PICTURE! Egads. I believe it was a subspecies of mule deer and there are an endemic peninsular variety. Mule deer live in the lower foothills and canyons and have exceptionally large ears which alert them to danger. Adults are prey to mountain lions, while fawns are prey to coyotes. I didn't really think the side of the road on the flats to Insurgentes is where I would likely see one.
Paco must of worked that missed opportunity into the conversation at least 20 times that day. All the time with his twinkling eyes and bright, sincere smile.
Now I've searched high and low for an image of a Odocoileus hemionus peninsulae — and evidently I'm not the only one who's never gotten a photo…Not one on the web …Anywhere!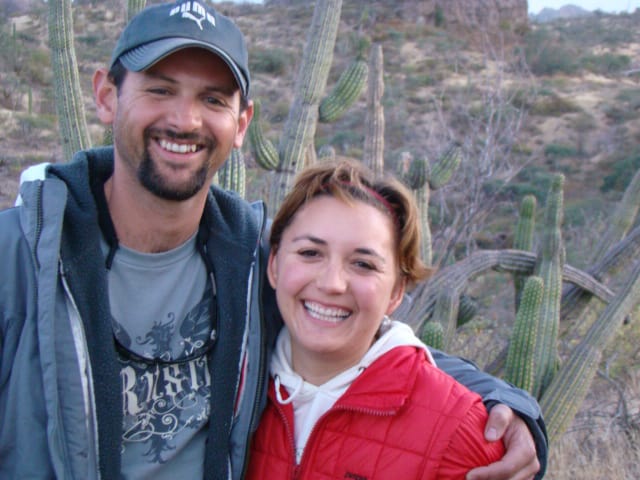 If in Loreto you should stop by the Marine Park Museum on the main street next to the paper goods store. You'll find Carla in the back room working away. And you may run into Veronica from Uruguay. She is studying Orca sounds. And talked to me about how elusive they can be.
Remember, just get out there! A miracle is waiting to be seen on the water.
If you can help with a few bucks for Carla's art supply use this link below. I'm sure she would appreciate it.
And if you fall in love with Loreto and want to call it home…please contact me about your real estate needs.
Warm regards,
Deborah Scanlon