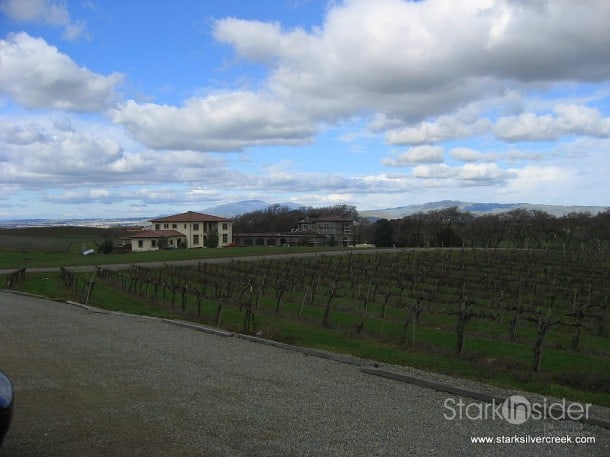 On our way to Livermore through a "scenic route" as Clint would claim, we whizzed by a little green sign which pointed up a hill with the label, "Wine tasting today".
The little understated sign intrigued me, but by the time I started pointing to the sign and communicated the desire to Clint that he should slow down and turn up the hill, the sign was a blur in the rear-view window. As chance would have it it wasn't long until we were on another one of our "scenic tours" and was just about to pass the sign once more, only this time, we made the turn up the hill.
As we went up the hill, we passed several large homes newly completed or still in the midst of construction with surrounding vineyards. I wasn't sure if this area started off as plots of vineyards whose owners coincidentally decided to up-size their residence or whether this was the result of an entrepreneurial developer who sliced up the land and marketed them as vineyard lots. Either way, it was a pretty area.

Just when we started to wonder when we would know we hit the location where wine tasting was actually happening, a building with a quaint outside patio area and a sign over the door, "Tenuta Vineyards".
As we parked and walked up to the winery, we noticed a large limo parked outside which should have given us fair warning of the little party happening inside an otherwise tranquil exterior.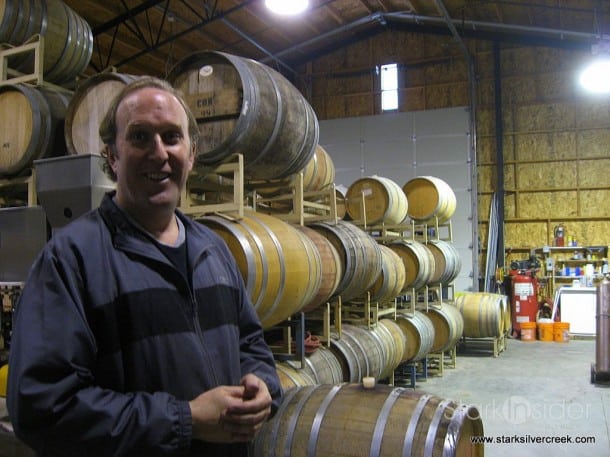 Inside, there was already a large group of people gathered around a substantial semi-circle wine tasting table poured out of colored concrete. Besides the energy in the atmosphere that hit us when I entered the winery, I couldn't help to also notice all the pieces of original artwork that adorned the large tasting room, all available for sale.
We were greeted by Rich Rollins who turned out to be both the winery operations manager as well as the boyfriend of winery owner and winemaker, Nancy Tenuta. He declared that the motto of this winery was "Give us 30 minutes and we'll be friends for life". This is a good thing as the winery only consists of 3 paid staff. The rest of the helpers are all friends and volunteers who "work for wine" as Rich puts it.
He proceeded to grab us a couple of wine glasses, dispensing both wine and tidbits of information about the winery and Livermore region.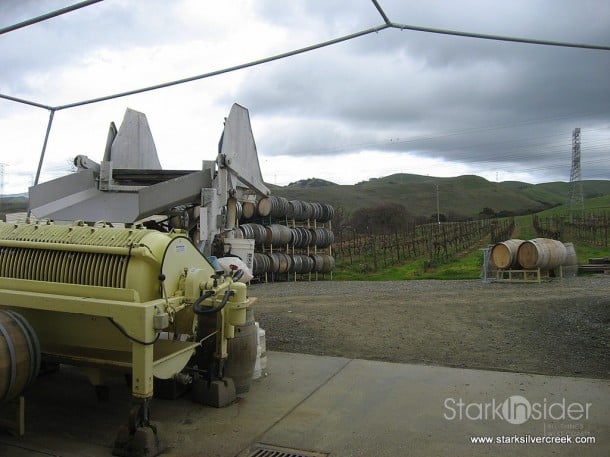 Tenuta Vineyards produces about 30,000 cases of wine which places it third in wine production in the Livermore area. The first and second spots are held by Wente Vineyards (300,000 cases a year) and Concannon Vineyards (200,000 cases a year) respectively. Only 3,000 cases of the 30,000 is released under the Tenuta label. The rest is private labeled.
Rich also shared with us that Tenuta Vineyards was the first winery in the Livermore area to produce Pinots. Then with the popularity of the movie, Sideways, many of the other wineries in the area also started to produce Pinots.
The wines overall were good quality. Their chardonnay and pinots are made with estate-grown fruit while the rest of the varietals on the tasting menu had fruit sourced all over the region. I enjoyed their Monterey County Pinot Noir 2002 ($26) and their Estate Chardonnay 2006 ($26).
When the crowd from the limo parked outside retreated, Rich offered to show us around the barrel rooms and taste some of their futures offering. In particular, their Zinfandel was very interesting having Port-like qualities. All the futures were being offered at $28/bottle with a 6-bottle minimum. The retail price upon release will be $45.
Clint and I purchased 1/2 a case of their 2003 Cabernet which has been sitting in barrels for 5 years. Rich noted the Zinfandel was very popular and they were almost sold out of their futures, however, Clint is not a big fan of port. I just collect ports because they can be stored a long periods and 10 to 20 years from now, perhaps I'll enjoy a nice port.
Rich also showed us an area out back where they are offering rows of a vines for sale to individuals and corporations who want to grow their own fruit and make wines. There is the initial purchase of the row(s) and then an annual maintenance fee.
We thoroughly enjoyed our visit and stayed much longer than we expected. Clint and I finally had to leave in order to make it in time for the Fenestra SouPerBowl event where we were to meet up with Jay, Judy and a couple of their friends.
And yes, we did become friends with Rich Rollins who lives up to the winery motto.