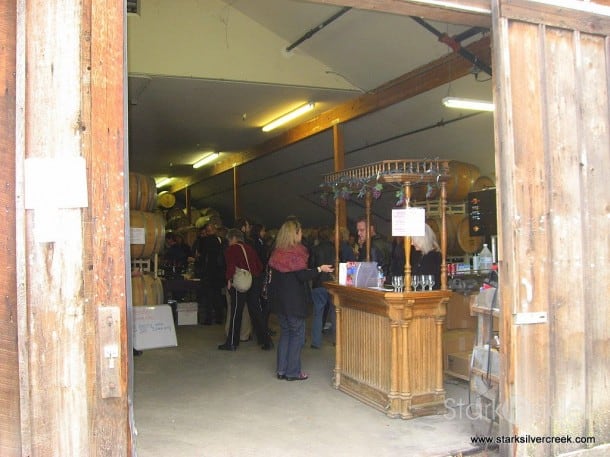 Last weekend, Clint and I attended Fenestra's SouPerBowl event in Livermore, CA which was a unique event where wines were paired with soup. When we arrived, the place was packed. Fortunately for me, Jay and Judy spotted me as I was purchasing the tickets at the front ($10/person, $5 for children and non-drinkers)
It was an interesting combination, soup and wine. I'll admit, I prefer my wine tastings with cheese, especially a nice slab of aged, aromatic Parmesan. For ratings, Clint and I don't pair the wine with anything, which sometimes can leave me craving for a fatty, smokey piece of BBQ ribs or a delicate sweet piece of sea bass in butter sauce.
At this particular event, some of the soups left a lasting impression and on reflection, would make a perfect appearance on any Super Bowl party food table. With all the chips, salsa, chicken wings and pizza, it won't be long before a big cauldron of piping hot soup, stew or chilli starts to look mighty comforting.
I tasted six soups and here are my two favorites.
Pear and Gorgonzola Soup with Carmelized Pears. This was the first soup I tasted and it had wonderful texture and was memorable because it was deliciously unique. The soup was a wonderful creamy yellow with specks of Gorgonzola cheese that held together until they hit your tongue. The addition of the caramelized pears at serving gave the soup an added nice sweet accent notes. The recipe calls for 1/3 cup of Fenestra's 2007 Viognier. I am sure if you don't have any in your cellar, another Viognier will do until your next trip to Livermore wine country.
Chilli. Simple name but delicious flavors and textures. A lot of time I don't like chilli because the beans are too firm and the sauce too tomatoey. This one had the nice balance of smokey, sweet and tomato flavors. If you had this at your Super Bowl party, I think it would be emptied quite quickly. Paired with the 2005 Estate Syrah, Livermore Valley, I could also see it do well on its own with some freshly baked bread for dipping.