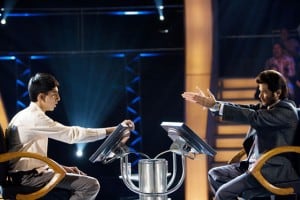 I thought for a moment it could not be true: a Bollywood movie with no musical dancing number? Say it ain't so. But then again, this was an edgier style of Indian movie, not just a feel good dance fest, so maybe it did suit the occasion to not have everyone join in for a hoot 'n' nanny. Then it happened. They could not resist. During the end credits, no less, they managed to squeeze in a Bollywood dance number. And it was especially good. I smiled. I could not  help but feel the joy of the actors on screen… because 'Slumdog Millionaire' is indeed triumphant.
By now, word of mouth has really grown on this gem that almost went straight to DVD last year. And its plot, involving a rag to riches story of a poor Indian boy who somehow wins the top prize on 'Who Wants to be a Millionaire?', gripped me from the opening scene which provokes us to guess why this uneducated boy could possibly know all the answers.
The direction is clever, although it does challenge at times with the complexity of three interweaving story-lines set at different moments in the boy's life with a present day narrative driving most of the flashbacks. After about 30 minutes, though, the movie establishes a nice rhythm and I was able to understand the artful storytelling. We discover how Jamal, the boy and one of three childhood "musketeers" that grow up together in the slums of India, learns the answer to each of the questions from the game show. His life is full of adventure, heartache and survivalist instinct.
At times, Slumdog Millionaire reminded me of the equally fast paced movie, Run Lola Run. Characters seem to be constantly running, jumping and scrambling across garbage, trains and rooftops. 
The acting is solid. The lead actor, Dev Patel, is a little bland, although perhaps that's exactly the point. He relies on two repeated tricks: a dumbfounded expression of disbelief in his rising fortunes and big ears. The other actors are okay. One standout was the actor who portrayed the Indian version of Regis Philbin. His coiffed hair, ear ring, and used-car salesman demeanour are pitch perfect, and add edginess to the tense moments leading up to the final answer. His motives are a curiosity that play out well.
The images that surround the actors are striking and colorful. You can almost smell the decay among the trash-infested slums and makeshift living quarters.
Slumdog Millionaire (2008)
Rating
4 out of 5 stars
Tom says:
"An intriguing story told in an exciting, frenetic and colorful style. The direction is superb, and although the acting is just okay, there are some standout performances and eye opening moments that will keep you riveted right to the obligatory closing Bollywood dance number. "
Genre
Drama, Bollywood
Category
Movie reviews
In one scene, which I won't give away, one of the young boys defines the word persistence in the lengths (and depths) he will go to seek an autograph from a famous Indian action movie star. Let's just say it involves an outhouse with no escape except for the… oh, you'll just have to see it, to believe it.
We also learn that if a stranger offers you a frosty bottle of Coke in the middle of the scorching Indian heat, his motives are probably not pure.
There are also intriguing scenes that Western audiences will likely smile in nodding approval, or nodding frustration, involving call centers and training sessions designed to teach agents the local behaviors, knowledge and accents of their long-distance callers. You may be surprised at how well an Irish accent comes across, "I live just down the street from you, at Loch… Ben!".
Inevitably there is tragedy along with triumph.
This is superb movie-making with skilled direction that takes us on an unforgettable adventure that also teaches us a thing or two about humility, friendship and that no Bollywood movie (even this one) is complete without that ever happy, addictive closing dance number.