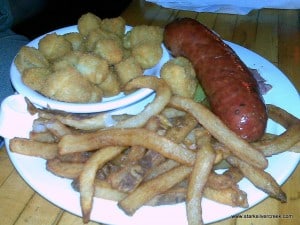 For lunch today my colleague and a customer brought me to Scholz Garten. A local stomping ground since 1866 when it was first opened by August Scholz (1825-1891) who bought the old boarding house and surrounding property for $2,400 and turned it into a public bar and cafe.
The view from the entrance of the bar reminded me of a mess hall with simple wooden tables and uniform black stackable chairs. Walking past this large spacious area which later I found is used for banquets, we entered a smaller room with uniform round tables which seated four around. There was also a bar with a large selection of beers on tap. Some called this the "Beer Garden" for a reason.
We found a table at the far end and sat down. The table was simply laid out with laminated menus, rustic utensils rolled up in paper napkins. Around the walls were signed football memorabilia and photos, interrupted only by black boxy TV sets, mounted in strategic positions so that those seated could catch a glimpse of the current game being played. I am told during a football game, the place would be so packed there would be people pressed against these walls. I wondered if it was as packed as some of the public transit buses I rode in while in Beijing, a plastic sealed Peking duck pressed against my thigh.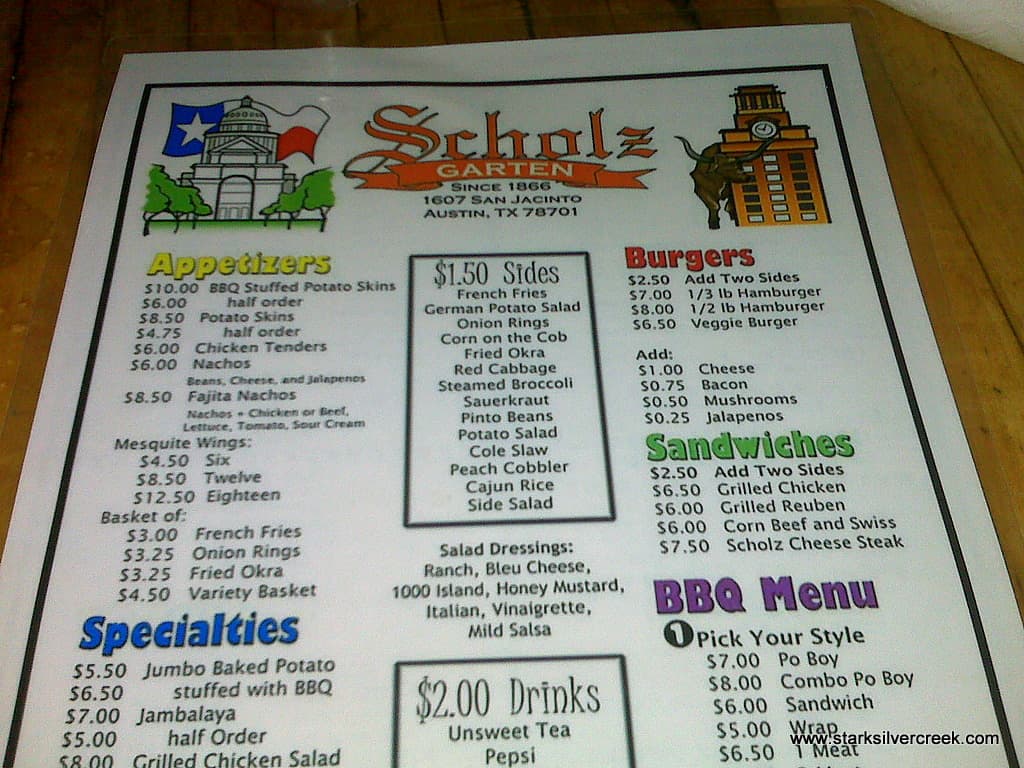 I got a diet coke ($2) which only came in one size, extra large. Plastic tumbler in hand, I proceeded to study the menu.
I ended up ordering "Twosy" ($7.50) basically a BBQ Plate where you can select two choices from a selection of: 1/4 Chicken, Beef Brisket, Elgin Sausage, Grilled Bratwurst, Smoked Turkey, Pulled Pork and Chopped Beef. Then you can pick from a selection of sides (1-$1.50, 2-$2.50, 3-$3.50).
My specific selection was Smoked Turkey, Pulled Pork with Steamed Broccoli and Peach Cobbler. My entire meal was absolutely delicious. The plate came with a very puffy warm bread, the steam broccoli was delicious dipped in the honey mustard dressing. The Smoked Turkey was flavorful and tender. The Pulled Pork was tender, flavorful and thoroughly pulled. The peach cobbler was not too sweet, very moist and comforting. Everything about the dish was wonderful.
I even got to try the Elgin Sausage which is locally made and also very famous. A tradition around Austin is you run 5K and then stop for sausage. It was spicy, sweet and juicy.
Loni says, "Definitely a must stop while in Austin."
Scholz Garten
Since 1886, The Oldest Business in Texas

1607 San Jacinto,
Austin, TX
78701

Phone: 512-474-1958
Fax: 512-474-1527