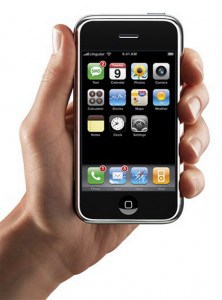 I've been a confirmed PDA user since the days of the Sharp Wizard. I upgraded over the years to the Zaurus, then to the various HP models of PDA. When my HP screen "went south" I took advantage of an AT&T offer to get the windows driven HTC 8525 and cursed the thing from day one. While everyone jumped on the iPhone bandwagon, I stayed with the HTC and continued to suffer through the trials of Windows Mobile. Finally last week, in frustration I put it on eBay and it sold immediately for almost twice what I had paid. I was committed to making the plunge.
I walked into AT&T with the intent of getting the next generation HTC (Fuze) but my wife convinced me that I should try the 3G iPhone. If I didn't like it after a month, she'd upgrade her 1st generation iPhone and I could go back to Windows based phones.
I'm now two days into Apple iPhone ownership and I'm pretty convinced that the new unit is well worth the hype. Granted my big fingers take a bit of getting used to the virtual keyboard that does not allow stylus access (a minus in my mind). Still the ease of use of the phone, the simple setup and the ever growing availability of applications has convinced me this form factor will be a major influence in phones to come.
Set up was a breeze. The tech at AT&T took down my pertinent information, changed my data plan to correspond to what the iPhone needed (surprisingly less than my Windows data plan), and in less than 15 minutes I walked out with a fully functional phone. Once at home I connected to my main computer and iTunes asked if I wanted to upgrade to the latest versions on the phone. Replying yes, the upgrades took about 5 minutes. Each step of the way informational messages popped up keeping me appraised of what was happening.
Adding music and books was a simple matter of choosing auto sync or manual sync. I choose manual as I keep a lot of books and music in my iTunes library. I choose a few dozen songs and a few books and simply dragged them to the "folder" of my iPhone in iTunes. Next up, download a few applications and begin using my new productivity "tool." Now that there is an Excel App for the iPhone, I can do pretty much what I did on my Windows system. I'm still looking for a Project Management App, but I'm certain that will be along shortly.
I'll admit, the price of entry for the 3g iPhone is a bit steep, but so is a good windows based "phone" that supports Microsoft Applications. This diehard Windows "user" is a convert. The iPhone is great and much faster in its 3G form.