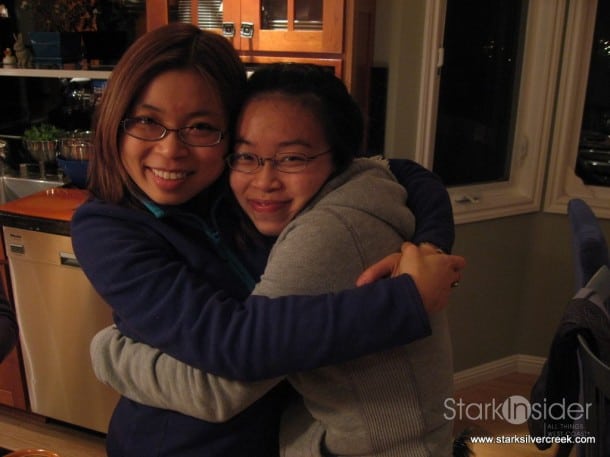 This past week, my one and only sister Wendy was in San Jose, California having flown all the way from Toronto, Canada to visit during her reading week. She is significantly younger than me, so much that we have the same Chinese zodiac symbol. Let's just say it probably took my parents a number of years to recover from my childhood, I was a stubborn one.
In celebration of her visit, or just because my Susan O— wanted to make an extravagant Paella, we were guests to another wonderful meal.
The recipe called for chorizo sausage, chicken, lobster tails, jumbo shrimp and clams, many spices, hand-crushed tomatoes and even peas. Susan even added some large scallops just for good measure. The Paella dish was delicious with the surprising star being the special Bomba rice that soaked up all the juices from the other ingredients and provided a savory comfortable texture and backdrop to the pieces of seafood, chicken and chorizo.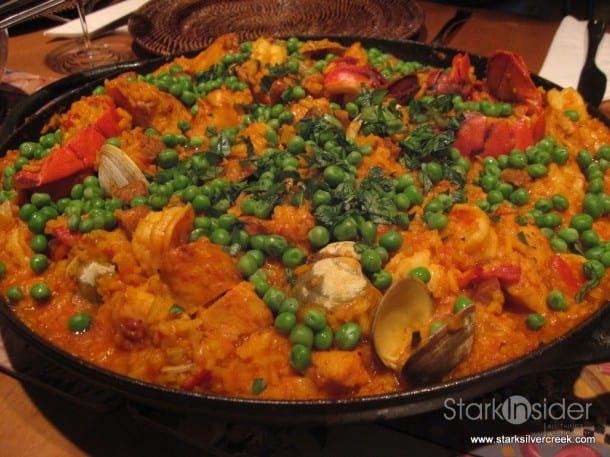 Prior to the Paella dinner, Carl O— had hot smoked some salmon, which layered over a cracker and a dollop of mayonnaise and sprinkled with some peppercorns was a definite highlight of the meal. They just purchased and set up the hot smoker in their backyard several weeks ago and have already smoked a litany of meats and seafood. He has promised to write about the hot smoking process one of these days.
Carl also smoked some brisket for the first which was very tasty. Some of the best brisket I've had was in Austin, Texas. Carl's brisket turned out well, but by far, his smoked salmon took the prize.
The meal came together beautifully with some great wine pairings. To top it all off, dessert was a delicious strawberry pie from the local farmer's market with some mint and vanilla ice cream.
Clint, Wendy and I rolled out of the Orthliebs completely stuffed.
Wendy left this morning to go back to Toronto, Canada. The end of her reading week. It was a fun week having her here and hopefully she doesn't think her sister is too quirky.