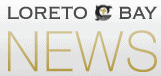 Loreto Bay News just sent another update informing Loreto Bay homeowners of a couple of changes. My commentary:
Loreto Bay Corporate Accounting, Sales, Marketing and Reservations have successfully transitioned from Scottsdale to the Loreto office to increase efficiencies and improve internal communications. I've already noticed this with the coordination of construction payments and home construction issues. They are not necessarily being addressed faster, however, I am able to send emails to all the parties involved and make sure they are all talking as opposed to in the past where I felt more like a liaison between different functional groups.
With the master condo regime and sub-condo regimes starting up, Robert Toubman has been announced as the new administrator of the Loreto Bay condo regimes as part of the "Loreto Condominium Services", which I imagine is the equivalent to the HOA management firms we have here. I think he has a big gap to fill and will have a hectic first 90 days of drinking from the fire hose; good he has been with Loreto Bay for a while.
Embree C. Bedsole, Interim President of Loreto Bay Company also confirms that there have been numerous visits to the project from interested buyers over the past weeks. Based on limited past experience and the information we received prior, my interpretation of this is that initial bids were received in January and due diligence process is now happening with the prospective buyers who have passed first rounds. As one can imagine, "buying" a property like Loreto


It is much harder to be the team that is trying to build the sandcastle, than the few that just want to poke it and destroy it.

Bay will take several of these visits.In the meantime, I am impressed with the professionalism of the employees of Loreto Bay who are on the ground keeping the project moving forward. An endeavor such as Loreto Bay is challenging even in the best of economic situations; to persevere even in the economic turmoil, I commend all of them. Even in childhood, we learn that it is much harder to be the team that is trying to build the sandcastle, than the few that just want to poke it and destroy it. There are so many great things about the community and the goals that for me, they outweigh the short-term challenges.
Here is the actual letter: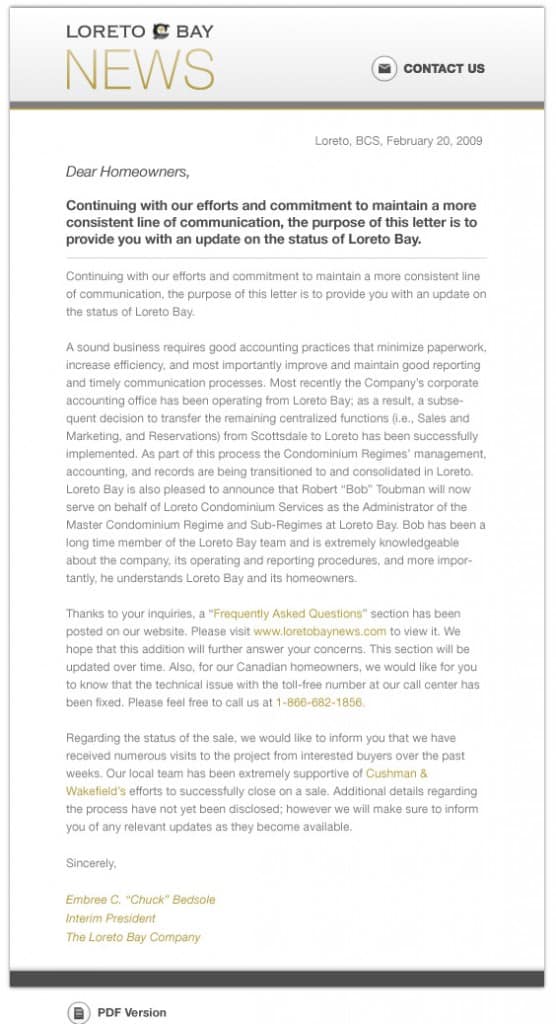 Access PDF version here: Loreto Bay News Update, February 2009 (PDF)
A couple of snippets about Robert "Bob" Toubman.
(Good biography I found)

Bob Toubman
President of Hospitality Operations

Bob brings more than 30 years of hospitality, tourism, and operations experience to his position as Vice President and Director-Mexico. Bob lives in Loreto where he oversees all hospitality operations including the Inn at Loreto Bay, Property Management, Homeowners associations, and the Vacation rental program. He is also responsible for the operation of all future hospitality related projects including golf and tennis, the Beach Club, Ecotourism activities, and additional restaurant projects. In addition, Bob is the President of the Loreto Bay Community Enterprises division which works with the Abodera, Ecoscapes, Road9, and Arte Solide. He is also working on development of the Medical Clinic and the Private Bilingual School.

Previously Bob has served as general manager and in corporate positions for a variety of independent and branded resorts, private golf clubs, conference hotels, and hotel companies. He has also served as a city commissioner and chairman of the City of Scottsdale Tourism Development Commission. His experience in asset management, multi-property operations, sales, and marketing, destination marketing, mixed-use developments, and pre-opening management has prepared him for the challenge of creating the new residential and tourism destination of Loreto Bay. He also brings experience in rental programs, homeowner associations, and property management.

Bob has been with Loreto Bay Company since April of 2003 in a variety of positions including Vice President for Hospitality and Tourism and Senior Vice President for Sales and Marketing.
March 7, 2001.

Bob Toubman
Scottsdale Chamber Board of Directors

Bob Toubman currently serves as Hotel Division President for Samoth Capital Corporation, a diversified North American real estate investment company and merchant bank. In that capacity, he is responsible for asset management of the Samoth portfolio of 15 hotels, totaling 3,149 rooms. Additional responsibilities include franchise and lender relations, and development of the hotel's Internet sites.

Over the past 27 years, Toubman has also managed a variety of resort, conference and airport hotels throughout the U.S. He has also worked with Sheraton, Radisson, Regal, and Hilton, in addition to independent hotels.

A graduate of Scottsdale Leadership, Toubman remains heavily involved in the community. He is the current Chair of the Tourism Development Commission. He has also chaired the Scottsdale Chamber's Luncheon Series, and served on the board of Scottsdale Leadership. In addition, he has served on the Visitor Industry Advisory Committee; was a Board member for the Boys and Girls Clubs of Scottsdale; and continues to serve as a U.S. Marshal posse member.

Toubman holds a bachelor's degree from the University of Maryland.
June 13, 2007
LORETO BAY COMPANY ANNOUNCES EXECUTIVE PROMOTION

Scottsdale, Ariz. (June 13, 2007)—Loreto Bay Company, currently developing The Villages of Loreto Bay, a seaside community in Baja California Sur, today announced the promotion of Bob Toubman to president of hospitality operations. Toubman also serves as president of community enterprises and executive vice president for strategy and development.

Toubman has been with Loreto Bay Company since 2003 and was previously based in Scottsdale as senior vice president for sales and marketing. He relocated to Loreto where he served as director general.

"Bob continues to be a tremendous asset to the company," said Jim Grogan, president and CEO for Loreto Bay Company. "His knowledge and expertise of the industry will help Loreto Bay reach a new standard of hospitality for our guests, ensuring a unique guest experience as they discover the beauty of the Baja."

Prior to joining Loreto Bay Company, Toubman was employed by Sterling Capital as senior vice president, where he managed assets for more than 30 hotels in the United States and Canada. He also served as chairman of the Scottsdale Tourism Development Commission.

"It is an honor for me to work for such an innovative company in one of the most beautiful locations in Mexico," said Toubman. "Loreto Bay offers a unique experience to all its guests and I'm glad to be a part of making that experience even more memorable."

About Loreto Bay Company:
Loreto Bay Company, headquartered in Scottsdale, Arizona, is developing the Villages of Loreto Bay, a series of seaside villages in walkable neighborhoods built near the historic fishing village of Loreto, Baja California Sur, Mexico. The Villages of Loreto bay will be a showcase for sustainable development practices. Founded in 2003, the company is led by Chairman David Butterfield, president and CEO Jim Grogan and CFO Tom Nolan.
June 1, 2007.
Global Staff Movements/International Appointments
(excerpt)
Robert Toubman has been promoted at Loreto Bay in Mexico to the position of President of Hospitality Operations. Toubman also serves as President of Community Enterprises and Executive Vice President for Strategy and Development. He was most recently the Senior Vice President for the company. Some of his responsibilities were previously held by Steven Ast, who had the title of Executive Vice President Hospitality and is now the President of the Boca Raton Resort and Club.
January 3, 2006

LORETO BAY COMPANY ANNOUNCES NEW VICE PRESIDENT AND DIRECTOR OF MEXICO OPERATIONS
~Loreto Bay's Rapid Growth Drives Restructuring~

(LORETO, BAJA CALIFORNIA SUR – January 3, 2006) – Scottsdale-based Loreto Bay Company, developers of The Villages of Loreto Bay, today announced the promotion of Robert Toubman from Senior Vice President of Sales and Marketing to Vice President and Director – Mexico. Toubman has moved to Loreto Bay where he will oversee the development and construction of all projects at Loreto Bay in Baja California Sur, Mexico. He will also be responsible for all governmental relations and liaison with Loreto Bay's strategic partners in Mexico.
"Bob's knowledge and experience in the hospitality industry and his passion for Loreto Bay and its future make him the natural choice to lead operations in Mexico," said David Butterfield, chairman of Loreto Bay Company. "This transition marks another milestone within the company as we grow and advance from a 'start-up' to a company focused on long-term operations."

Toubman brings more than 30 years of hospitality, tourism, and operations experience to his new position. Previously, Toubman served as general manager for a wide variety of independent and branded resorts, private clubs, and conference hotels. He has also served as a city commissioner

and chairman of the City of Scottsdale, Arizona's Tourism Development Commission. Toubman's experience in asset management, multi-property sales, marketing and operations, destination marketing, mixed-use developments and pre-opening management has prepared him well for the challenge of creating the new residential and tourism destination of Loreto Bay. He also brings experience in rental programs, homeowners' associations and property management.

Toubman replaces Edwin Tait as director of Mexico operations; Tait will now serve as Executive Vice President of Development Services, a newly-created division of Loreto Bay Company that will evaluate and launch new business opportunities within the Loreto Bay Master Plan itself as well as overseeing project development, budgeting and leasing where necessary.

About Loreto Bay Company
Loreto Bay Company, headquartered in Scottsdale, Arizona, is developing The Villages of Loreto Bay, a series of seaside villages in walkable neighborhoods built near the historic fishing village of Loreto, Baja California Sur, Mexico. The Villages of Loreto Bay will be a showcase for sustainable development practices. Founded in 2003, the company is led by Chairman David Butterfield, President and CEO Jim Grogan and Partner and CFO Tom Nolan.

source: Loreto Bay (cached)
Baja Peninsula getaway
Tranquil Loreto may not be secret for much longer
By Michael Martinez
SAN JOSE (CALIF.) MERCURY NEWS

LORETO, Mexico — Three days on the Sea of Cortez. Three days of brilliant sunshine. Three days to snorkel or sail or kayak — or do any of the things that bring visitors to this cozy little beach town on the Baja Peninsula.
That was the plan, anyway. But then it began to rain. And rain.
Everything I had read about Loreto boasted of its warm weather and endless sunny days, at least 300 of them a year. Storms are more common in September and October, not in the winter, when tourists often come to hike or fish or watch for whales.

Rain? "Es muy raro," a taxi driver told me one morning. Very rare.

Visitors who had hoped to work on their tans were probably disappointed. But Loreto, I discovered, is more than just sand and surf.

Some 30 years ago, this town was designated by the Mexican government as one of five areas to be developed and promoted as a major tourist destination, along with Cabo San Lucas, Cancun, Ixtapa and Huatulco. While the others have become tourism glam spots, Loreto has remained quiet and largely unknown.

Its inviting beaches and crystalline waters are prime attractions, although for many the allure is Loreto Bay National Marine Park, a protected area that stretches from Coronado Island in the north to Santa Catalina Island in the south — more than 510,000 acres. Small, flat-bottom boats, called pangas, take visitors on snorkel trips and sightseeing excursions, where the views can include sea lions, bottle-nose dolphins, a variety of colorful fish and, during winter and spring, 15 species of whales.

And while the sun is always welcome, it's not a necessity for Loreto's other popular activities: scuba diving, kayaking, hiking, biking and sport fishing, where a day's catch might be marlin, yellowfin tuna, red snapper or dorado.
The difference between Loreto and Cabo San Lucas, located at the southern tip of Baja California, is stark.
Cabo is party central. Loreto is tranquil.

"We're not loud," said Jesus Jacques Ayala, director of tourism for this town of 14,000 residents. "That's not what we want."

But Loreto may not remain a secret much longer.

South of town, construction on a 6,000-unit residential complex, including retail shops and an 18-hole golf course, already has begun. A 155-room hotel, the Inn at Loreto Bay, opened several years ago and caters to the five-star crowd. Several other developments, aimed mostly at American baby boomers looking for vacation homes, may break ground soon in the region.

Across the street from Loreto's malecon — a paved walkway that curves along the water a few blocks from the central plaza — luxury condominiums are rapidly rising to meet demand. Some residents worry that the town may lose its quiet charm.

The people who are developing Loreto's new residential community, the Villages at Loreto Bay, insist they want to preserve the area's pristine nature. Of the 8,000 acres they purchased, only 3,000 will be used for new construction; the rest will be left in their natural state.

"We want to maintain the character and the reasons that people come to this area in the first place," said Bob Toubman, an executive of the development. "We're very sensitive to that."

(continued at: https://www.azstarnet.com/sn/printDS/226404)
Friday, February 5, 1999
Samoth hires industry veteran to head hotel divisionPhoenix Business Journal – by Stephanie Balzer
Scottsdale-based Samoth Capital Corp. has hired Robert Toubman as vice president of the company and president of its hotel division.

Toubman has worked in the Valley's tourism and hospitality business for 10 years.

At Samoth, he will be in charge the performance and operations of Samoth's hotels.

"Bob is well-known throughout the Valley of the Sun as being a specialist in hotel management and operations," said James Grogan, president and chief executive of Samoth.

The real estate company has additional corporate offices in Canada and is traded on the Toronto Stock Exchange.

Samoth is focused on real estate lending, investing in hotels, master-planned communities and multifamily projects.

The company owns 28 hotels with 4,619 rooms and maintains a portfolio of real estate investments throughout the United States.

(source: Phoenix Busines Journal)