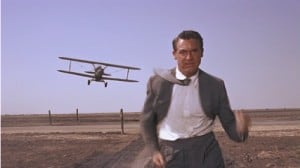 Aren't Hitchcock movies amazingly timeless? North by Northwest is a great example. You could choose just about any scene and call it a classic. It's that good. And wildly entertaining with lots of tongue and cheek dialogue that still has zing even today.
The crop duster scene is one for the ages.
In the middle of nowhere and chased by unknown foes, Cary Grant still manages to maintain GQ form with classic, well pressed suit and tie — inspiring fashion trends for leading men decades later.
The action that ensues set a new benchmark for Hollywood effects. But I like the way the scene takes its time. The crescendo builds dramatically, punctuated by Bernard Herrmann's riveting score.
North by Northwest (1959) – The Crop Duster Scene