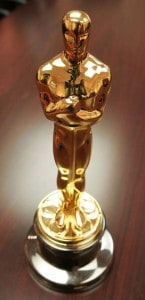 Will you struggle to watch the whole 81st Academy Awards show tonight, or just FF with your DVR? I will probably do the latter, work on my laptop and get a jump on the week that will be.
As if Brad Pitt and Angelina Jolie need more attention or accolades. Both, yes both, are nominated. What's the conversation like at dinner… how was your day? Oh, just picked up an Academy Award, adopted another child, injected my lips, and cashed another $20M check.
In any case, not that I'm some kind of prognosticator, here are my predictions for who will win the big categories.
Best Director
Danny Boyle (Slumdog Millionaire) – yes, it might just be a breakthrough Bollywood year
David Fincher (Benjamin Button)
Gus Van Sant (Milk)
Stephen Daldry (The Reader)
Ron Howard (Frost/Nixon)
Best Actor
Mickey Rourke (The Wrestler) – this would be at least his 5th win if it wasn't for an odd boxing career detour
Sean Penn (Milk)
Frank Langella (Frost/Nixon)
Brad Pitt (Benjamin Button)
Richard Jenkins (The Visitor)
Best Actress
Kate Winslet (The Reader)
Meryl Streep (Doubt) – my upset pick, as I believe Winslet is favored
Anne Hathaway (Rachel Getting Married)
Angelina Jolie (Changeling)
Melissa Leo (Frozen River)
Best Supporting Actor
Heath Ledger (The Dark Knight) – the reaction will be interesting if he wins
Robert Downey Jr (Tropic Thunder)
Philip Seymour Hoffman (Doubt)
Josh Brolin (Milk)
Michale Shannon (Revolutionary Road)
Best Supporting Actress
Penelope Cruz (Vicky Cristina Barcelona)
Viola Davis (Doubt)
Taraji P. Henson (Benjamin Button)
Marisa Tomei (The Wrestler) – a longshot I think, but it would be good to see her win
Amy Adams (Doubt) 
Best Picture
Slumdog Millionaire – too much buzz, too quirky, too colorful not to win
Milk
The Curious Case of Benjamin Button
Frost/Nixon