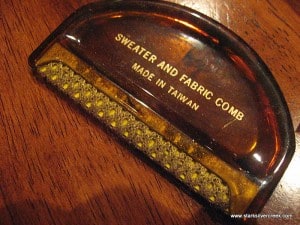 Now that it is finally settling in that the holiday season is coming to an end, I took a moment this morning to appreciate the many wonderful gifts and stocking stuffers Clint and I received.
One of them in particular struck my fancy because it was a curious thing that had ended up in my stocking and upon first glance, I was thoroughly puzzled at what it was. When it was explained to me, I thought it would be useful, but the full impact did not hit me until after I returned to San Jose, California and put it to good use.
A sweater and fabric comb (like this one here for only $2).
I love wool and on a cool winter day in California, nothing beats a warm wool sweater or shawl.
The challenge?
Wool also has a horrible tendency to pill and I have many nice sweaters that are rendered unwearable because of this affliction. Years ago, I remembered used an electric razor-like device to remove pill but found out quickly that one misstep and you can take a chunk out of a nice piece of clothing. Hence the cure was worse than the disease.
This manual sweater and fabric comb, with a little elbow grease (you provide the power by swiping it over a wool item), will nicely take the pill off of any wool item. I have already rejuvenated a Salomon ski sweater which is ultra warm and a wool throw Clint and I use over an ottoman.
What a nifty little item for around $2.79 (you can find it on Amazon, "Evercare D-Fuzz-It Sweater and Fabric Comb") which is far less of an investment than the $20 for its fancy electric counterpart which can be dangerous on fine wool clothing.