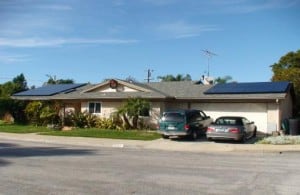 It is amazing how January flew by.
In the middle of January, we did get an email from Jim Hamilton who had previously asked us about the Sunpower beta solar power monitoring unit that we had installed in our home by Horizon Energy Systems. Jim had finally gone live on January 14, 2009 with his system and was able to also get onto the beta program as well. You can find photos and more information on his installation here. Congratulations Jim!
He also informed us that the beta program has ended and the monitoring system is now an option which offered as part of a solar panel installation. This option now costs $1,600.
After hearing this, I am really grateful to Rick Niemi of Horizon Energy Systems who alerted and offered us the option to be part of the program.
If I was extremely pleased with the professionalism and quality of work Rick and his team did for us almost a year ago, this is absolutely the cherry on top.
January overall was a sunny month for this time of year in Northern California. You can see some dips in solar energy production on a couple of the days of the month and these were the only rainy/cloudy days. As much as I love the sun, I fear we may be heading into a drought situation this summer if we don't get more rainfall.