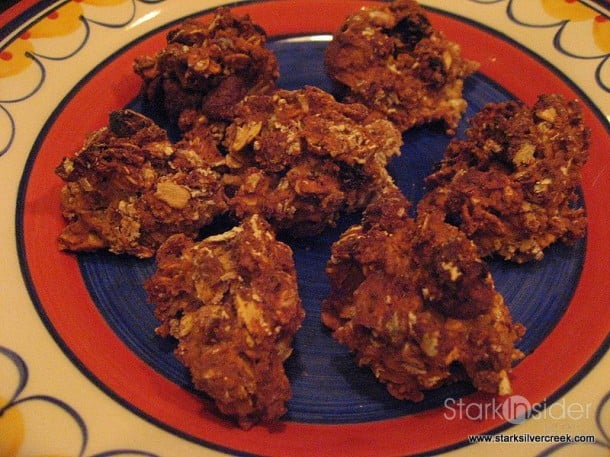 How do you create something that is naughty but nice? By allowing no vice.
I created this recipe about a year ago driven by the need to wean myself off of highly-processed fruit cereal bars and to curb some of the chocolate treats Clint likes to have when he gets a little hungry.
Since then I've modified it until last week, I declared it was a recipe good enough to share.
At the Stark's we have a jar of these cookies on the kitchen island.

Loni's 'Naughty but Nice' chocolate almond oatmeal raisin cookies
(aka. Loni's 'Naughty but Nice" cookies)

Feel free to half this recipe. This makes two large cookie sheets of approx. 1 1/2″ in diameter cookie mounds.

The Naughty

1/2 cup of semi-sweet chocolate chips. Sometimes I will take a large bar of Ghirardelli chocolate and chop it up with my special ulu knife from Alaska
2 tablespoons of butter
1/2 cup of brown sugar (sometimes I put in even less)
2 medium-sized bananas

The Nice

1/2 cup of organic raisins
1/2 cup of toasted, unsalted, sliced almonds
4 cups of oats (old-fashion, not the quick cook)
1/2 cup of organic, non-fat, plain yogurt
1/2 cup of flax seed meal

The Rest

2 cups unbleached all-purpose flour or whole wheat flour
2 teaspoons of baking powder
1 teaspoon of baking soda
2 large eggs
2 tablespoons of vanilla extract
Get the oven toasty hot at 375 degrees Fahrenheit.
In a large bowl, combine flour, baking powder, baking soda, and salt. Mix thoroughly.
Add in oatmeal, raisins, chocolate chips, flax seed meal, and almonds.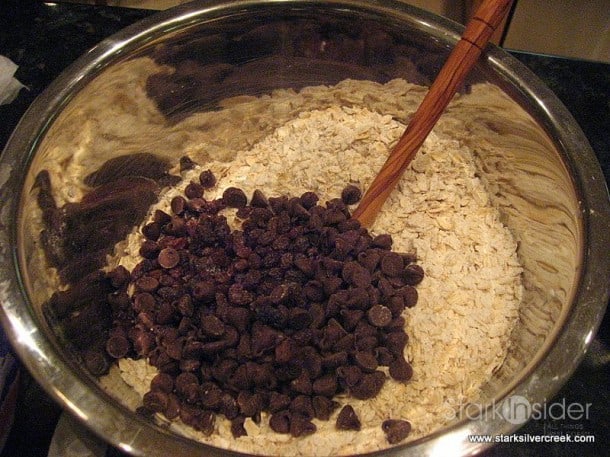 In a deep bowl or large measuring cup, mix together butter, bananas, eggs, yogurt, vanilla extract and sugar with a hand blender.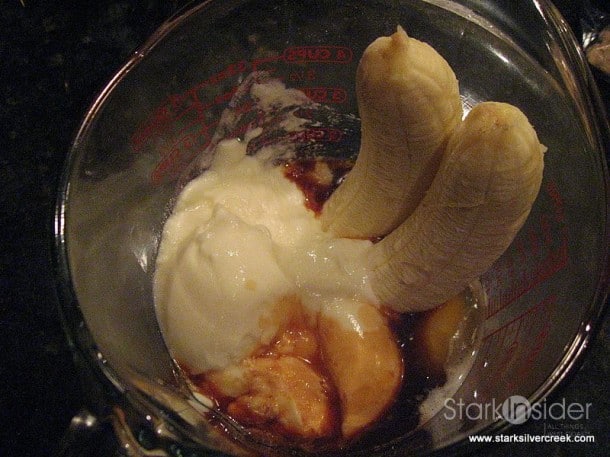 Pour wet ingredients into the large bowl with the dry ingredients. Use a spoon to combine mixture gently.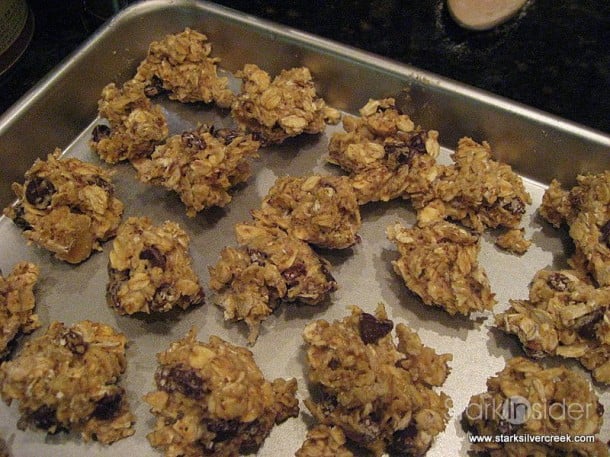 Drop small tablespoons of batter onto baking sheets. You can vary the size of your cookies, but I like them small and bite-sized.
Bake until cookies are medium-brown on the edges which should take around 15-20 minutes. I like to keep my cookies in the oven for even longer as I like my cookies nice a crunchy, but it is all personal preference at this point.
Store in an air-tight jar and enjoy!