I spent this past Wednesday in Universal City, California where I had the privilege to speak at the first ever FPPOA – National IT Conference & Expo.
Often times, when I speak at these events, I am given very little information about the characteristics of the speaking venue. I have an idea of the topic and length of the presentation, c'est tout. For this reason, I usually show up a couple of hours prior to my presentation to get a feel for the audience and the venue.
I didn't have the luxury on this trip. When I showed up, I was surprised that I had an audience of about 90 people (remember, this was the first year for this show) and there was quite an expansive stage with two large screens where my slides and self would be projected. So, I underestimated the speaking venue.
However, this was nothing compared to my underestimation of the last couple of words on the menu of Karl Strauss Brewing Company for their Ahi Poke.
The restaurant's menu stated:
Sashimi grade chopped ahi, tomatoes, cucumber, red onion, and cilantro tossed in spicy firecracker sauce. Served with wonton chips.

$11.25 Diced avocado add $1
"Firecracker sauce": I so underestimated this ingredient that until I read it over again on their website right now, I don't even recall this item when I ordered this as my lunch.
All I remember was that Jenn and I after my presentation decided to grab a bite to eat before I headed back to LAX.
I decided to order something light so that I would never have to go through the Isagenix diet experience ever again (it did work, but it was almost inhuman). The Ahi Poke sounded delicious. I ordered it with the avocado and made a mental note to only have a few of the fried wonton chips. The waiter also endorsed the dish so that sealed the deal.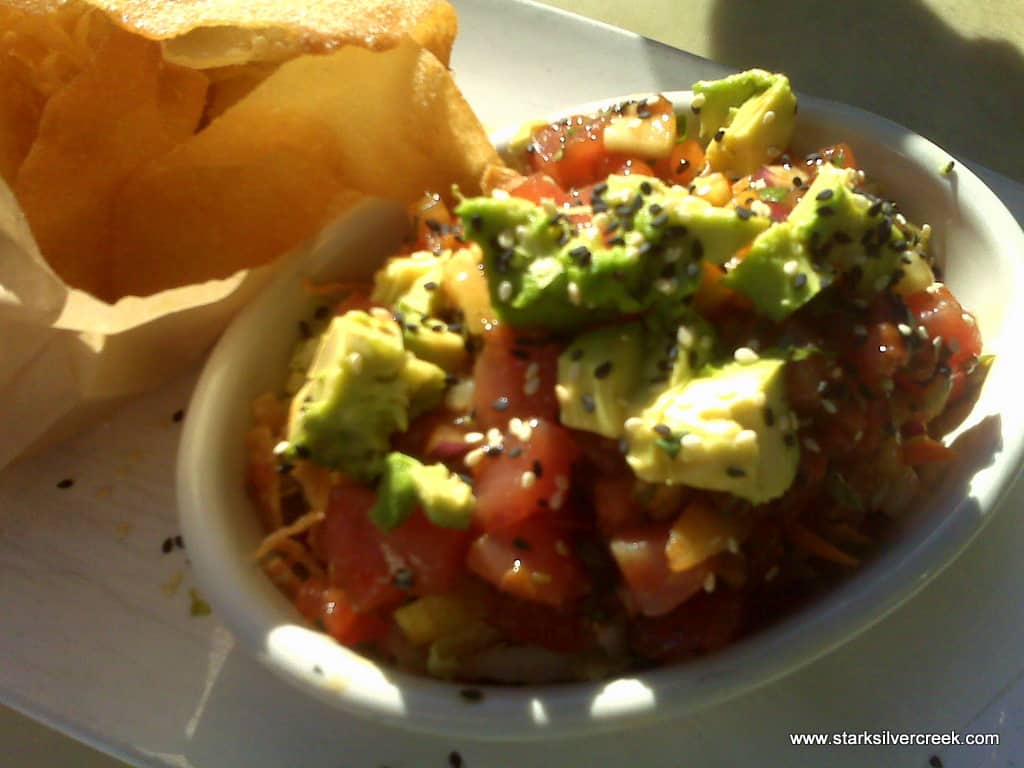 When it came, I noticed the bits of tuna was quite large, not like a tartar. My benchmark for ahi tuna and avocado appetizers is the Pyramid of Tartar at Blowfish Sushi in Santana Row, San Jose.
The dish was disappointing.
The raw ahi tuna was very fresh, as was the avocado however, the spicy firecracker sauce lacked character. I would have liked it if the hotness of the sauce was balanced with a little bit of citrus sweetness. Also, the texture of the tuna cut into large pieces did not come together well with the avocado. It was almost as if you could be eating two different dishes, one of avocado and the other of ahi tuna.
The fried wonton chips, as I suspected, were delicious and a highlight of the meal. Very crispy and light. They could have been a treat on their own.
True to the menu description though, the firecracker sauce was very spicy and I ended up drinking both my glass of diet coke and water trying to relieve my burning tongue. I knew a couple of chugs of milk would have really been what I needed, but I was too macho for that.