Guest post by Carl Orthlieb
The guest travel blogging Uncle is back to educate, luminate, and elucidate you on Bucerias, the small Mexican town outside of Puerto Vallarta. Bucerias is approximately 20 minutes north of the Puerto Vallarta airport, hugging the coast of the Bahia de Banderias or Banderias Bay. Most people are familiar with the state of Puerto Vallarta, Jalisco, and you will be prompted to put that on your immigration form by the helpful attendants on the plane. However good their intentions, Bucerias is just over the state line in Nayarit, which is being billed as the Mexican Riveria (or so the big billboard on the highway claims).
The town is split in two by Highway 200 with the nicer houses and rentals on the beach side.  The beach is public access and clean with a fine to pebbly consistency. The water is like most of the water in the Bay: warm, blue-green, and opaque due to the silt washed down from the various river deltas.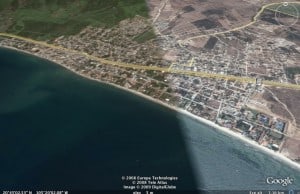 Like most Mexican towns, the central square is the hub of the town and dominated by the large whitewashed church, Nuestra Senora de la Paz (Our Lady of Peace), and small shops and restaurants. It's a pleasant place to spend the day on the beach or touring the streets and there are lots of hidden gems to find (more on that later). Wave action is relatively mild unless there was a storm the night before so this is perfect for novice boogie boarders or kite surfers. There is no undertow to speak of which means the children can splash in the surf without fear.
Be on the look out for mermaid's tears in the washed up areas of the sand. This is multi-colored glass and ceramic that has been tumbled smooth in the surf. We filled a jar with our findings over our last few visits and use it in vases and bowls as decoration. It's a great reminder of your time spent strolling along the water's edge. Don't miss out on the sunset which brings a warm pink and orange glow to the sky and disappears quickly over the mountains on the north point of the Bay.
I'll start to fill in a proper map of the town and point out some good places for food, fun, and frolicking in my next post.