Guest post by Carl Orthlieb
Welcome back to our posts on Bucerias. I promised that I would start to fill in places on the map with found "gems" and today is the first post in the fulfillment of that promise. You might be thinking that I'll point out some outstanding restaurant, an interesting shop, or spectacular site. Nope: today it's the basics. When you're traveling there are a few essentials that are absolutely required for life to be tolerable. Sunscreen, sunglasses, and  swimsuit are all important, true. Some folks bring their own toilet paper. Susan and I must have coffee.
Susan and I are avid coffee drinkers but more in quality than quantity. It's important that we get that daily cappuccino or latte by 2pm in the afternoon otherwise we start to flag. A cup of  l'eaux de chaussette from a Brewmaster just doesn't do it so during our vacation in Bucerias it was imperative that we locate a decent quality espresso shop that could provide us our fix. Our accommodations were along Lazardo Cardenas, a newly paved road just up from the waterfront so it seemed to be a natural place to start our hunt.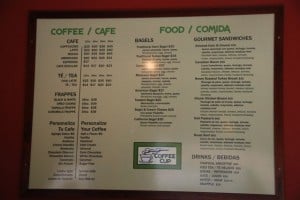 Just a few blocks from the house on the right hand side past Morelos St. is a place that we call Wendy's but is actually named the Coffee Cup. Wendy is the proprietor and she greets you with a smile and a big hug. Her latte's are very decent ($2.25US) and she even stocks soy milk for my lactose intolerant wife. The kids reported that the Oreo-cookie frappes ($2.90US) are outstanding.
One of the secrets of Wendy's is that she makes killer bagels and sandwiches. The Mexican Bagel ($2.85US) is made with smoked ham, egg, cheese, jalapenos, tomatoes, and onion. It is a tasty meal that is equally good for breakfast or lunch. The "Pechuga de Pollo" or Chunk Chicken Breast sandwich ($4.25US) is juicy and chock full of meat.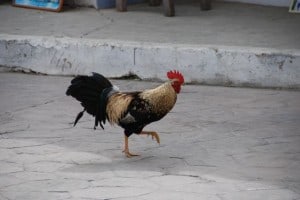 There are tables and chairs to sit at and a wireless internet connection for the laptop/iPhone crowd (ask Wendy for the password). We had a chance to observe the local wildlife as we sipped our capps, much to the delight of the kids.