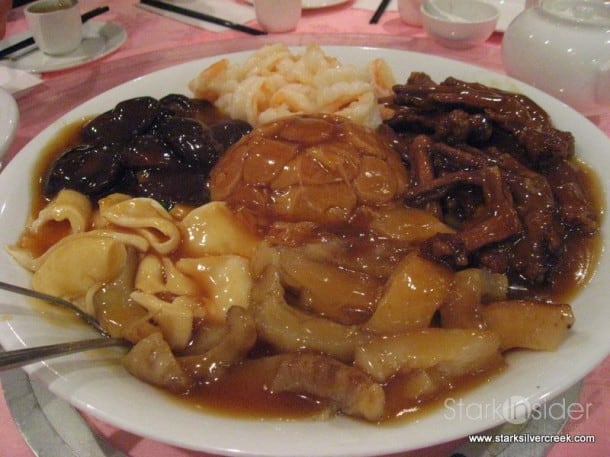 Last Saturday evening, Clint and I spent it at a cozy restaurant with family in Toronto, Canada's Chinatown. This is one of my family's favorite Chinese restaurant. Considering my entire family loves eating, this is quite the endorsement.
New Sky Restaurant is located on a busy street, Spadina Avenue. It's exterior is unpretentious and simple, this style carries throughout it's interior.
When we arrived at 5:30 pm, we were one of the first few families in the restaurant. However, by the time our dishes started to arrive on the table, the entire restaurant was packed. The restaurant actually had a few small white stools instead of regular chairs at certain tables in order to squeeze people in around tables. No one complains as they are just happy to have gotten seats in the long narrow restaurant.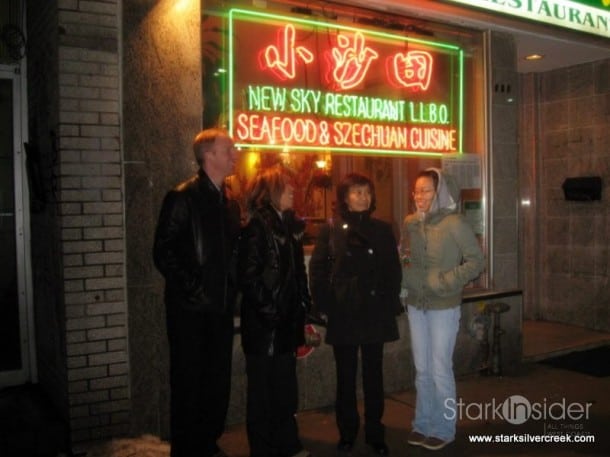 One of their most famous dishes is a seafood platter which costs about $80 and needs to be ordered at least a week in advance. The dish includes well-known items such as shrimp, but also less known creatures such as sea cucumber.
If you are not certain of what to order. Some of my favorites are the sizzling beef and onion cast iron platter, their seafood fried noodles and of course, their lobster.
Besides great food at this restaurant, this restaurant also provides great value. For our group of 14 people, the total bill came out to $380 (CAN) including tip.
New Sky Restaurant
Address: 353 Spadina Avenue, Toronto, Ontario, Canada, M5T 2G3 (Chinatown)
Phone: (416) 596-8787
Cuisine: Chinese, Szechuan