The Niles Canyon Railway (NCRy) is a heritage railway that still runs through Niles Canyon in the San Francisco Bay Area, in the heart of Livermore's wine country.  Operated now by the Pacific Locomotive Association, the railway offers public excursions between Sunol and the Niles district of Fremont; a portion of the First Transcontinental Railroad constructed in 1860s.
During the rest of the year, Niles Canyon Railway has special events spanning school field trips, wildflower explorations, and wine tastings.
However, Christmas is an extra special time of year when the Pacific Locomotive Association holds its annual "Train of Lights" fundraiser. Tickets were $25 per passenger and can be purchased online here. The trains are decorated front to back with 15,000 electric Christmas lights, a ropes of fresh garlands and wreaths.
Clint and I boarded this spectacle of lights and holiday cheer yesterday evening with family and friends. The train left promptly at 7 pm and we just barely made the boarding as the GPS system took us through a "scenic" route to the station.
Aboard, families were getting settled in. The train consists of over 10 cars including 7 passenger cars, 2 outside cars, and a caboose. There was also a lounge car which had a private party in progress. Each car was individually decorated and we could walk freely from one car to another, a freedom we took advantage of to explore all the sights and sounds on the train.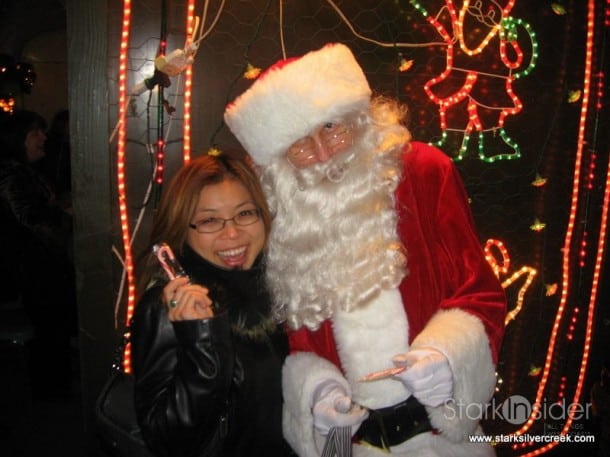 Grown-ups and children aboard sang Christmas carols accompanied by a musician with an instrument that resembled a guitar, but which later I was told was some other type of instrument.
There were also two cars that sold cookies, chips, coffee and apple cider…all for a dollar each! Clint and I shared a coffee and two chocolate chip cookies.
During the ride, we decided to walk the entire length of the train and what an adventure! We bumped into the conductor and also Santa Claus!
The outside cars had the best evening views but the passenger cars were warm and toasty.
If you are looking to jump start your holiday with some Christmas cheer, the "Train of Lights" is a surefire remedy.