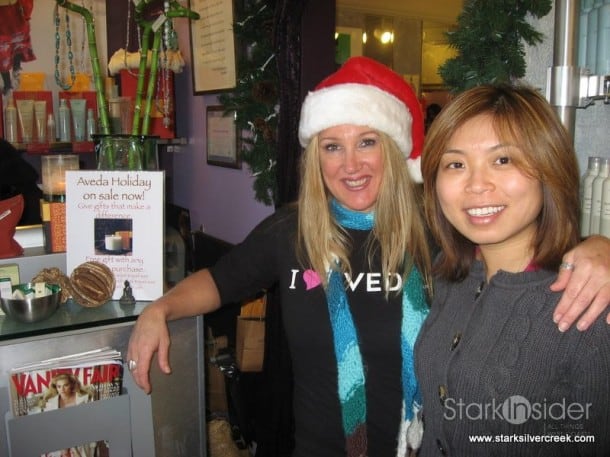 Several comments from dinner parties these past several days has reminded me that one of the most important accessories a person has, if they have it, is their hair. I say this because this holiday, I have gotten my disproportionate number of compliments about how nice my hair looks.
Just to set the context, I am not one to fuss over my hair. The only thing I do to my hair is wash it, blow dry it upside down and apply a smidgen of whipped wax to it to give some structure. Some days, I'll sheepishly admit I just roll out of bed, brush my hair and face the day with nothing but my optimism.
Because I like my hair low maintenance, it does mean I lean heavily on hair stylists to give me a style that will look professional by day and carry onto evening functions as well.
For just over a year, I have been going to Nirvana Salon in Los Gatos, CA for my hair color and styling and have received numerous compliments not just at at these past holiday parties, but impromptu moments throughout the year. I have finally decided that not only am I qualified to give a review of the place, but that they have more than earned it.
The salon.The salon is located just off the main Los Gatos shopping street, North Santa Cruz Avenue. It is a cozy and friendly place with about seven stations. They always have When you first enter, you are greeted by a receptionist who will take your name and ask if you want anything to drink. Usually they have a selection of tea, wine, beer and water depending on the time of year.
The "waiting area" is just to the right. There are two benches and a coffee table that is brimming with magazines and a jar filled with chocolate chip cookies and shortbread. On my last visit they even had grapes and strawberries.
Besides all these amenities, this is the first Aveda Concept Salon in Silicon Valley that is "Green Certified". Lauré Chicoine, the salon owner and master stylist went through an extensive process of evaluating and changing certain processes at Nirvana to ensure they met the standards needed to be "Green Certified". The salon is also involved with many local charities and holds fund raising events several times a year in support of these charities.
The Nirvana Complimentary Sensory Experiences. One of the things I love about this salon has nothing to do with the hair cut, it is the little extra care and attention you get during your visit. Even before you get a haircut, you are given a quick, soothing scalp massage with Aveda aromatherapy oils. Then, during the washing of your hair, you are given an even deeper scalp massage with your choice of essential oils. If I want a refreshing experience, Tangerine is my favorite. If I want to feel relaxed, Sandlewood would be my recommendation. Sometimes, if you have a long wait between treatments, you can try out a Hand Relief Massage.
The Haircut. You are probably wondering when I will ever get to this. All the other elements are nice, but without this last element, the rest would not matter. Lauré Chicoine is my hair colorist and stylist and she does a fantastic job with my hair and really sets out a plan of where she wants to go with it. She takes my input about my lifestyle, what I think are my facial flaws and comes up with a hairstyle that would suit it. I like hairstylists that can make decisions, run with it and all I have to do is relax and sit in the salon chair. Just as I think I am an expert in my profession, I don't like to stand in the way of others in their profession. If I don't trust a hairstylists to do what they need to with little direction, then I should not be going to them in the first place.
If you are looking for a change of hairstyle and wondering where to go, definitely pay Nirvana Aveda Concept Salon in Los Gatos, CA a visit.
Nirvana Salon
224-b N. Santa Cruz Ave.
Los Gatos, California 95030
Phone : 408.354-7979
Website : www.nirvanasalon.com

Hours of Operation
12 pm – 9 pm – Monday
12 pm – 9 pm – Tuesday
10 am – 9 pm – Wednesday
10 am – 6 pm – Thursday
10 am – 6 pm – Friday
9 am – 5pm – Saturday
Closed – Sunday