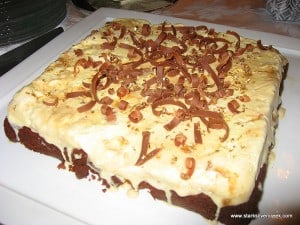 For those occasions you want to impress and yet keep it simple, think form factor and edible gold flakes.
To dress up a classic dessert of brownie and ice cream for a night of glamour (shall we say New Year's eve party):
1. Grab your favorite brownie recipe and bake in a square pan.
2. Take another pan of the same dimension and wrap inside with aluminum foil making sure the piece of foil is large enough to hang over the edges of the pan.  Press slightly softened ice cream into the foil-covered pan until it is a flat layer (ideally the same depth as the brownie in the pan). Put the ice cream in the freezer until hard.
3.  Make sure the brownie is cool and on a large plate. Pull the ice cream out of the pan using the edges of the foil. If it is difficult to do, dip the pan into a sink of hot water. Quickly flip the ice cream ontop of the brownie and then slowly peel the foil off the ice cream.
4. Use a grater or vegetable peeler to shave semi-sweet or dark chocolate onto the 2-layered cake. Use good quality chocolate for this.
5. Sprinkle lightly with edible gold flakes. Nothing says glamour than gold.
Some things to consider. If you have an elaborate brownie recipe full of nuts or unusual ingredients such as dried apricot pieces, keep the ice cream flavor simple such as vanilla bean. However, if you have a simple brownie recipe, you can get creative with your ice cream flavor choices.