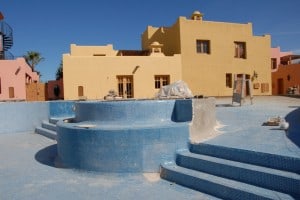 Here are some photos from Al G. of the progress in the common areas of Loreto Bay.
I am impressed with the work that is being done on the pool and can't wait to see the final results. In previous shots of this swimming pool, I thought there was a tree in the middle of the circular structure, but maybe it was a different part of this winding pool.
It will be exciting when the large square pool in Agua Viva around our home gets started. The view of that pool in the foreground with the estuaries and the Sea of Cortez behind it will be spectacular.
Another area that is seeing quite a bit of activity is along the main Paseo. Since we visited, the winding paths along the streets seems to be moving along as well.