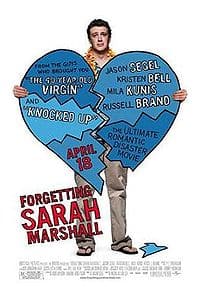 This past Friday was movie night again. It was a toss up between 'The Dark Knight' (the latest in the Batman movie series) or 'Forgetting Sarah Marshall'.
In the end, humor won out and we chose the latter, a comedy. Initially, Clint described this movie as a chick flick. However after seeing the movie, we both agree the movie fit into the new genre of comedy which I have deemed as "uncomfortably quirky". I think 'American Pie' was the first lay claim to this genre. The only similarity it did have to a chick flick was in its predictability of plot.

Forgetting Sarah Marshall (2008)
Rating
4 out of 5 stars
Loni says:
"An uncomfortably quirky comedy that will have you laughing and wincing at the same time. Not recommended for first dates or anyone you would not swear in front of."
Genre
Comedy, Romance
Category
Movie reviews
The film opens with Peter Bretter (Jason Segel), a composer who has been in a five year relationship with Sarah Marshall (Kristen Bell) a star in a TV crime drama, Crime Scene: Scene of the Crime. Flash backs of their relationship and all the photos around his home sets the stage for the devastating breakup. Like all quirky comedies, this could not happen in an ordinary fashion. No, instead Peter is caught naked in shower towel as girlfriend Sarah pops in and delivers the bad news: she wants to break up and there is another man, a hip-gyrating sappy rock star who is supposedly the hottest thing since sliced bread.
The story unfolds in a predictable manner. Peter goes to Hawaii to forget about Sarah and as he is checking into the hotel, who shows up? None other than Sarah Marshall with her rocker boyfriend. What follows are many funny and awkward moments as Peter tries in vain to avoid Sarah only to fail miserably. The shenanigans are accessorized by the unforgettable leading characters of 'Super Bad' who play hotel staff and guest.
What the plot lacks in creativity, the treatment of scenes and comic timing more than make up for.
If you are looking for some good laughs for the holiday season this is a great movie to watch with your significant other. I would not recommend this movie for first dates or watching with kids because of some risky scenes involving male frontal nudity.