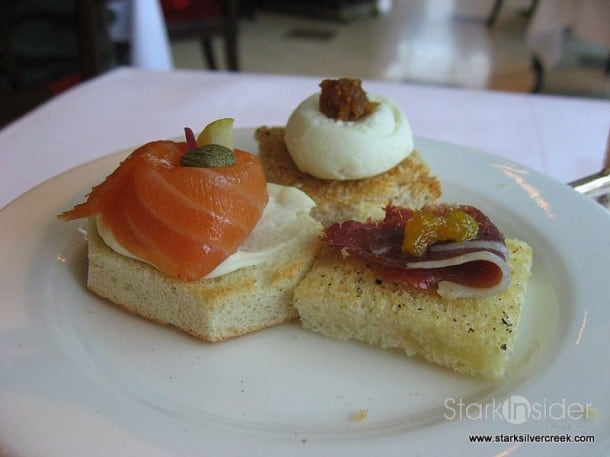 This is the third year of a family tradition where we spend Christmas eve day at Zoe's Lounge in the Chateau Laurier for afternoon tea with Clint's grandmother.
Afternoon tea has its roots in England. It was introduced by Anna, the seventh Duchess of Bedford in 1840, during a time when it was fashionable to serve the evening meal quite late at eight o'clock. Unfortunately around four o'clock in the afternoon, Anna would get hungry and request a spread of tea, cake and sandwiches be brought to her. The modern day version of solving this age-old problem would have been a fridge raid.
High tea is definitely a more elegant method of addressing the problem of hunger and to top it off, Anna started to invite her friends over and it became an elaborate social event. Similar to the Hollywood stars of today, members of royalty were the trend-setters back then. People aspired to emulate royalty and the tradition of afternoon tea was born. Now how is that for a history lesson!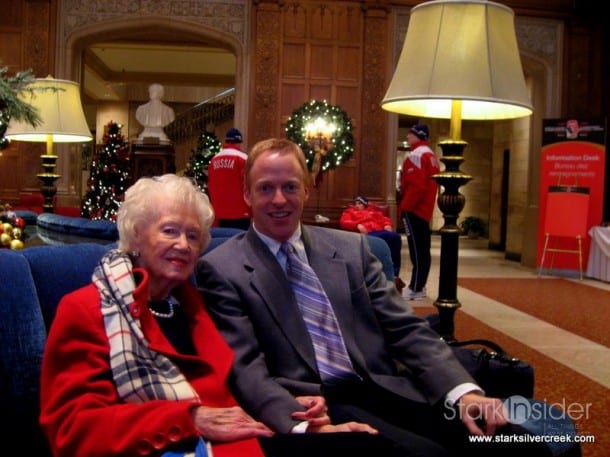 Zoe's Lounge inside the Chateau Laurier in the heart of downtown Ottawa, Canada, is one of the premier places to indulge in this extravagant tradition. It is recommended to call ahead of time, especially for the Christmas season as they only take one reservation every 15 minutes. They also hold a special "Tea with Santa" event on December 22 and 23 where Santa Claus makes an appearance. They have festive music playing on the grand piano in the Lounge and a special tea menu for princes and princesses. I made reservations for December 24 so that we would have a more quiet venue to catch up and enjoy afternoon tea.
This year, we were in for a special treat as hockey players from the World Junior Hockey Championships were staying at the Chateau and we got some glimpses of the Russian Team members in the foyer.
The lounge is located on the right side when you enter the foyer. If you are staying at the Chateau Laurier, you can check into valet parking. If not, there is a parking garage you can park in to the left of the hotel. If you want to have a view out to the streets of Ottawa, ask for a table by the window when making your reservations.
There are three tea menu choices: Holiday/Traditional Afternoon Tea, Canadian High Tea, and Champagne Tea. The latter is the most decadent with caviar, Foie Gras and strawberries with warm dark chocolate fondue. I tried this spread two years ago and I found it to be a nice treat to have tried, but my absolute favorite is the Canadian High Tea selection with little open faced sandwiches, a cheese board and delicious cranberry scones.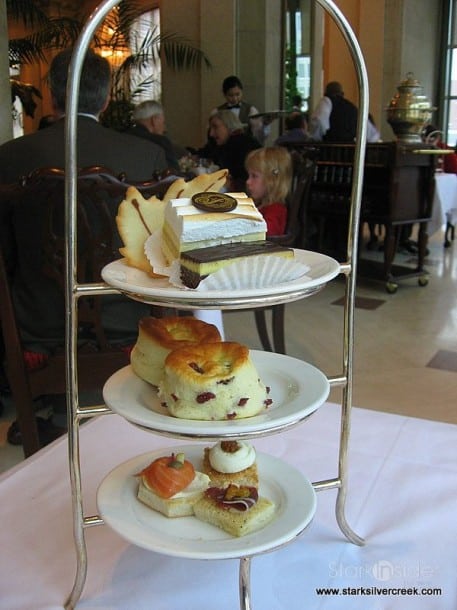 In addition to selecting from these delicious treats, Zoe's has a tea cart that travels around the lounge. When it gets to your table, you get to select from a wide variety of loose leaf teas. If you are unsure, you can ask the tea sommelier for recommendations and the sommelier can even put some of the tea into a silver bowl so you can smell it to see if you would like the aromas. Renee ordered a classic Orange Pekoe, Clint selected a Safari Masala Chai and I chose a Hazelnut Vanilla black tea.
The little sandwiches and desserts come in three tiered plate towers and always look delectable. My favorites were the smoked salmon and goat cheese sandwiches, the Maple Mouse cake, and the cranberry scone, which I like to put some clotted cream and berry jelly on. My tea was wonderful. Clint's tea had a distinctive spicy kick to it which I have never tasted in a tea, quite unusual.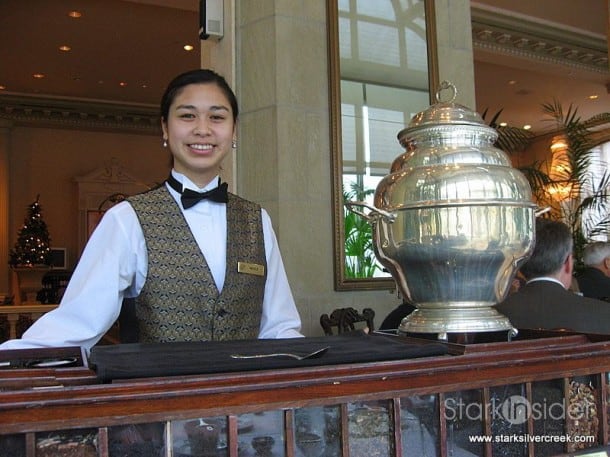 We passed 2 1/2 wonderful hours having tea, never feeling rushed at all. The service was fantastic.
If you are looking for a really special, intimate place to catch up with some friends or relatives or celebrate a special personal moment, Zoe's Lounge for Afternoon Tea is one such place.
Is it decadent and a splurge? Definitely, and some of life's moments are worth such a setting. The Duchess of Bedford would surely approve!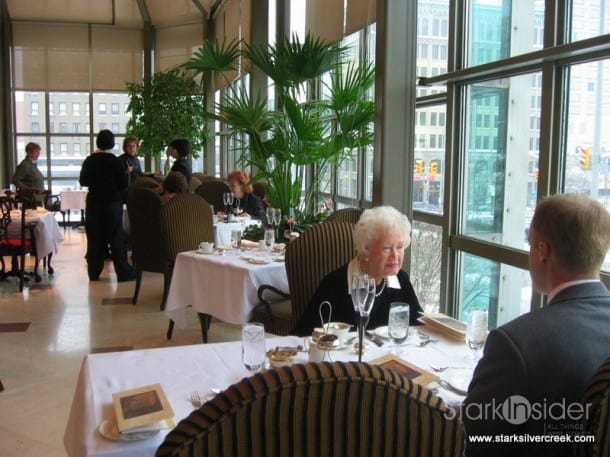 Zoe's Lounge, Fairmont Chateau Laurier
Address: 1 Rideau Street, Ottawa, Ontario, Canada, K1N8S7
Phone: 1-613-241-1414, 1-866-540-4410 (toll free)
Afternoon Tea (Reservations Required)
Hours: M – F 2 TO 5:30 p.m., Sat-Sun 12 TO 5:30 p.m.
Holiday Afternoon Tea: $30, Canadian High Tea: $37, Champagne Tea: $49