Guest post by Jane Lurie.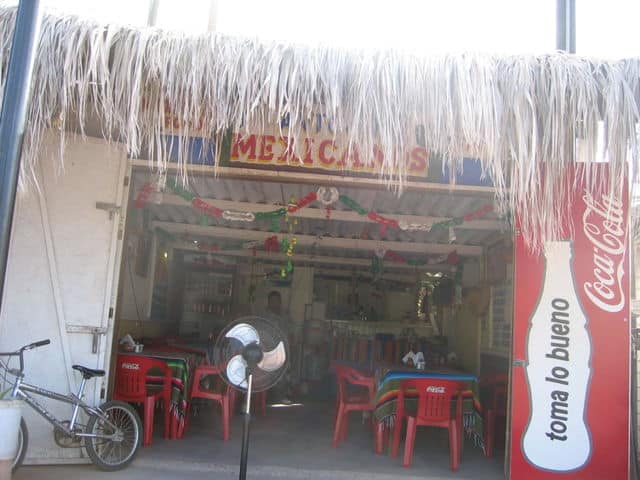 On our last trip to Loreto, we discovered a wonderful small restaurant, known for their great Chilaquiles.
I first met the owner, Odilon, when he was a waiter at the Inn at Loreto Bay. He was always a joy to be around and made sure that we had our "Margaritas sin alcohol" (in those days the mention of a Margarita without alcohol usually drew a blank expression from bartenders and waiters).
A year ago, Odilon and his wife opened this place. While they serve all kinds of Mexican food, we were told that they have the best chicken Chilaquiles, which we've never eaten. We were very excited when we arrived to discover that Odilon was the owner. His wife, Maria Elena, is the chef. The Chilaquiles consist of chicken, beans, tortillas, Maria Elena's special sauce, meltedcheese and sour cream and they were delicious. (about 110 pesos for 2 Chilaquiles and 2 cokes). We were only sorry to have discovered them on our last day in Loreto. We will definitely be back for more on our next trip.
The sign on the outside Odilon's restaurant says Mexican Food and Antojitos Mexicanos. (You'll notice I haven't mentioned the name of the restaurant…well, I don't think it has a name..there is no sign of a name…but I never asked..despite my many years in the news business, Loni and Clint, you are way better reporters.) Please comment here if you find out that the restaurant actually has a name.
This wonderful restaurant is located on the main street, Salvatierra, past Pescador on the right side of the street, heading towards the Malecon. It is just down from the Cactus store and before the real estate office.