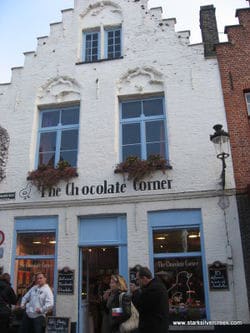 For those that have read my entries from several weeks ago, you know that I spent two weeks in Europe on a tour meeting Adobe's government customers and partners.
Between the two hectic weeks, was a precious weekend where I tried to squeeze as much tourist "to-dos" as possible. One of them was a tour of Bruges and Ghent, both charming places in Belgium.
So to kick off my series of entries profiling my two days (aka. weekend) in Belgium and UK I will share with you my indulgence of chocolate on the Saturday. They say that food entices all of your senses, so I tried to entice my sense of smell and sight more than my taste buds. I think the ratio of truffles consumed to photos of chocolate shops I sighted was probably higher than I will disclose publicly…or even to Clint.
No captions, pure 100% chocolate.