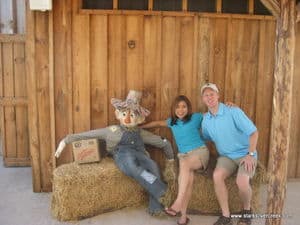 With about 4 Gigs of photos and videos from our last trip to Loreto, I didn't know where to start. To share the experience and simultaneously… selfishly… savor it all again.
As I toggled through all the photos, I smiled just a little more when I got to these particular photos I have of our last day in Loreto.
Perhaps it was the perfection of the english muffin… slightly crisp on the outside, warm and chewy on the inside with just a thin touch of butter – the perfect prelude before one's teeth sank in. Possibly it was the fact that one could not imagine having such an incredible yet simple American breakfast in the midst of the stark Baja landscape. Alas, it may have been with bags packed and the flight time etched in memory, I had no expectations of finding another gem of an experience… for hadn't the curtains come down on another Loreto adventure?

The shell of a papaya was the only evidence of an unorthodox brunch left on the white linen tablecloths in room 102 of the Inn at Loreto Bay. Tangled ethernet cables and the flashing of the lights on the wireless was all I needed to finish off my last blog entry before I headed off to the airport. Over the past three days, I had grown a fond of this makeshift business center.
I shot out a twitter wondering whether Jane would get it before or after the email I sent her letting her know where we were.
The door flew open, I glanced up. The quick flash of a Macbook announced the entrance of Jane. "We have to do the Loreto airport thing," she exclaimed. This involved swinging by the airport to check in. With boarding pass in hand you make your way to Del Borracho's where you have breakfast, hang out, before you need to return to the airport to get through security. "We must get to Del Borracho's before noon, that is when they stop serving breakfast and I must have their special."
I didn't think much of it, Jane and Sharon were nice enough to give us a lift to the airport and even after I consumed half of a large papaya, I was infamous for out eating bigger dudes.
The hands of the clock were quickly approaching noon as Clint and I buzzed around building a nest of rollers, laptop bags and backpacks. Time was not on our side. "Let's go to Del Borracho's first and then go to the airport," I exclaimed, knowing the nagging obsession one gets when one has a craving.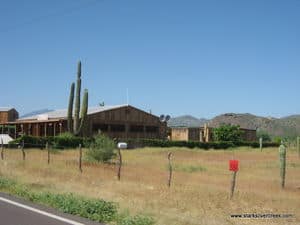 Dust settled as we pulled into the parking lot for Del Borracho's. Above a Corona Extra sign swayed gently. If I didn't know better, I would have thought I had been transported onto a quirky western movie set. In the distance was a jungle gym where two children played. Beyond, a large cactus with "Cactus Cowboy" hanging by a leg.
We walked into the saloon, the bustle of activity and energy filled the air. Jane and Sharon had already rushed ahead, placed their orders and had their jars of pink lemon-aid in hand.
"I'll have the eggs over-easy, ham and an English muffin…" I stammered hoping I had ordered right. I was probed for my choice of drinks. I caught the words "diet coke" before they escaped my lips realizing that pink lemon-aid seemed the specialty. Total: 70 pesos.
Our orders came promptly to our table under the large wooden pergola. My order looked as expected. I squeezed a dollop of ketchup and mashed the yolks of my over-easy eggs… just the way I love it. It was then I turned to my English muffins. Conversation stopped… silence… damn!
The meal was good, but the English muffins were beyond verbal accolades. I didn't miss my flight that day, but if my plane was about to take off and someone dangled one of those English muffins in the opposite direction… the choice would be tough.
A Loreto must visit!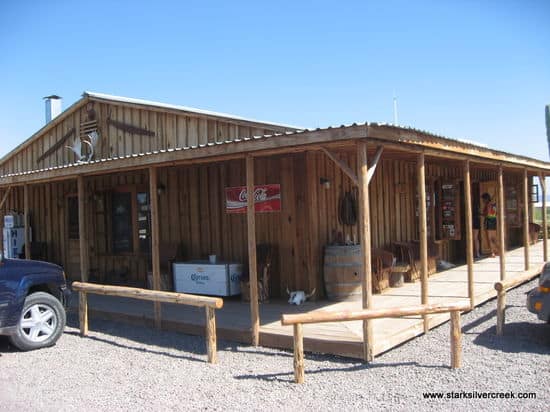 The owner of Del Borracho, Mike is a colorful character. In a past life he was a framer so he built the entire restaurant and his home next door himself.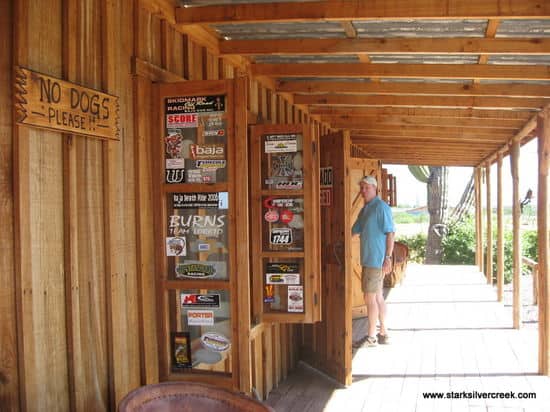 Clint runs ahead to the entrance.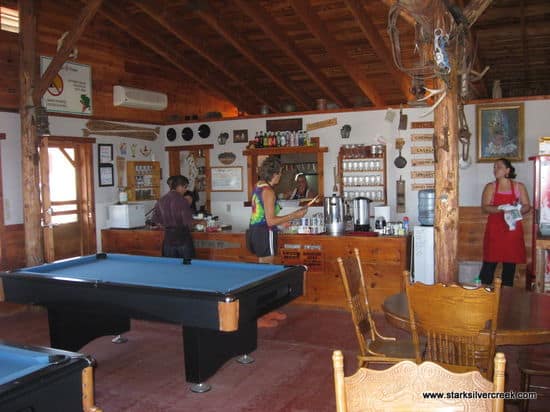 Jane and Sharon place their orders like true experts.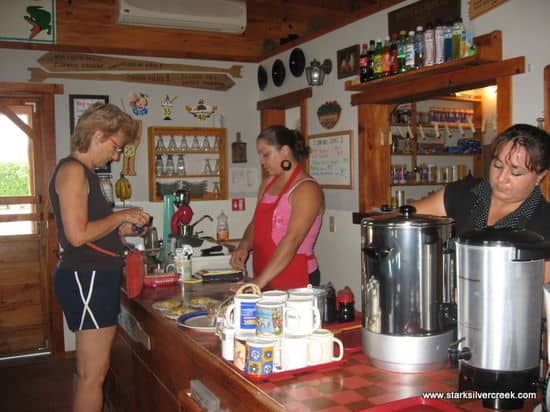 Eclectic mix of mugs used for coffee. Canning jars are used to fill with pink lemon-aid.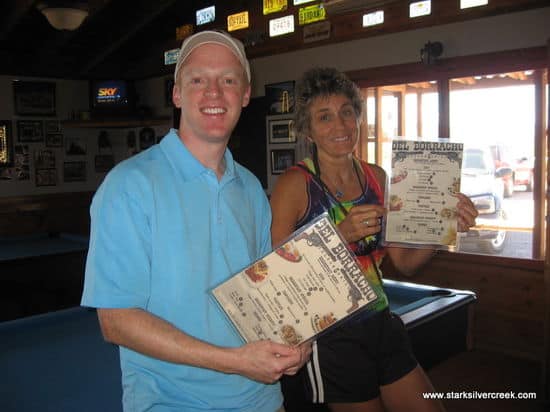 Clint and Sharon pose Vanna White-style.

For those planning to visit the restaurant, here is a copy of the breakfast menu so you can decide ahead of time. Jane ordered something not even on this menu…Jane, what did you order?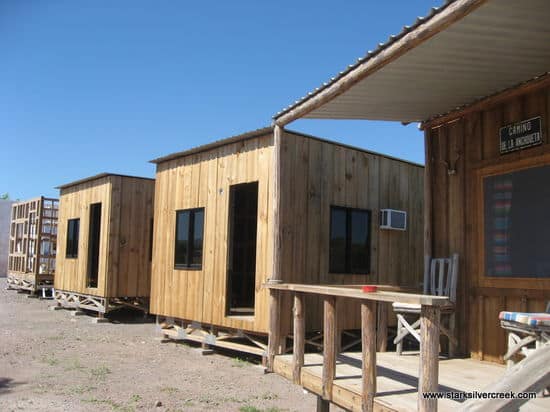 The little cabins Mike the owner is building. Once completed, he will rent them out to customers who are passing by and want to have a place to rest for the night.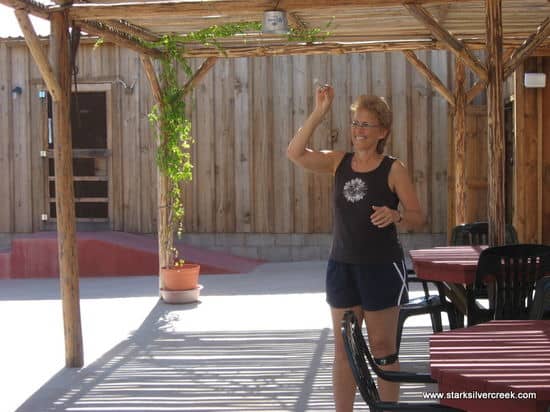 Jane passes the time before our orders come by trying to hook a metal loop into a nail on the post of the pergola.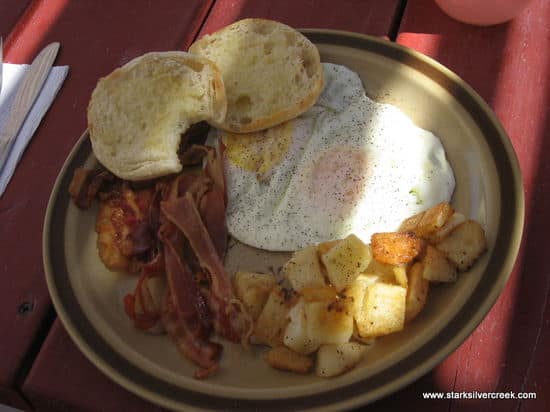 Sharon's order. He took a bite out of his muffin before I was able to take a shot.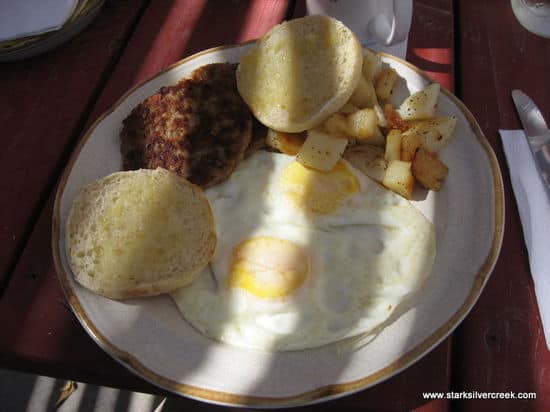 Clint's order, same as mine but with sausage instead of ham.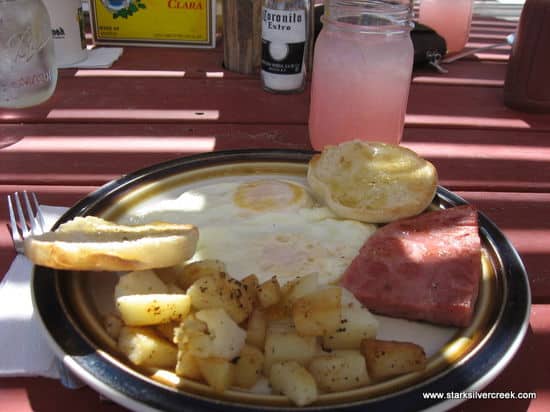 My order. The pink lemon-aid was delicious. This is coming from someone who isn't a big lemon-aid fan.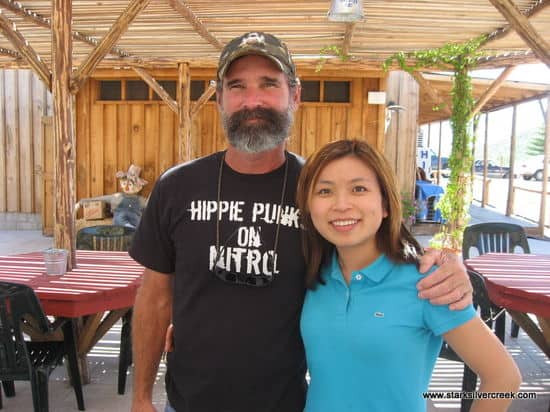 We were lucky enough to meet the owner Mike. Before he built the restaurant, he was actually the captain of a ship. He and his wife Andrea move around and build businesses where ever they choose to settle. Quite the serial entrepreneur.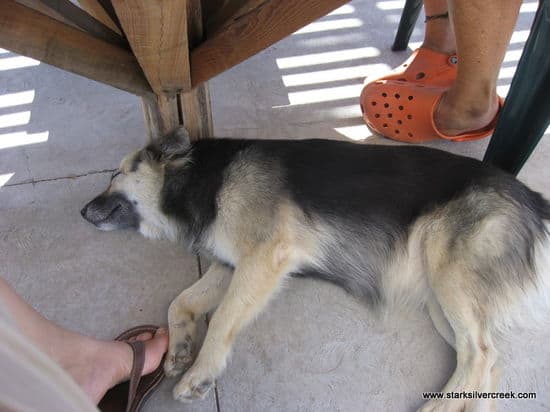 Mike's dog. He was so cute. Decided to rest under our table beside my leg. I sneaked him a small piece of my ham.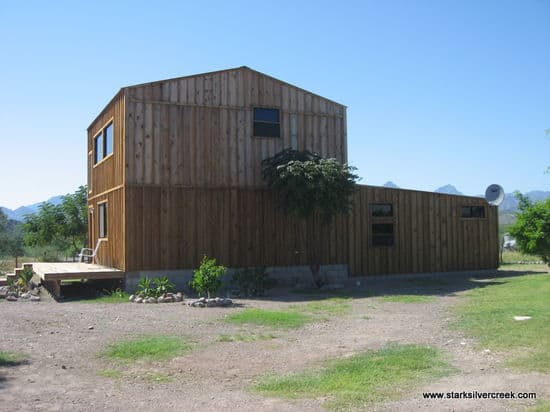 Mike's home next to the restaurant which he built himself as well.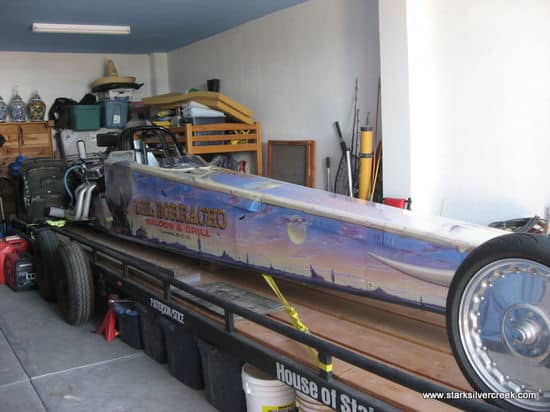 The dragster in the garage which Mike races. Painted on the side is the name of the restaurant…great promotional vehicle as well.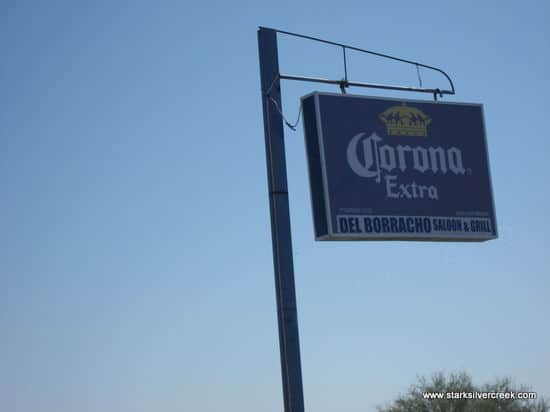 The Del Borracho sign outside.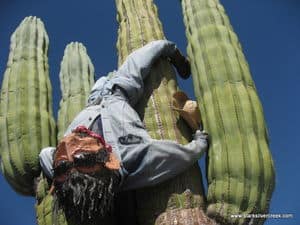 Memory of this trip to Del Borracho was the inspiration behind the April photo in the 2009 Loreto Calendar. Hope it brings you great memories of your trips to this Loreto hangout. Get your copy here and support Animalandia.