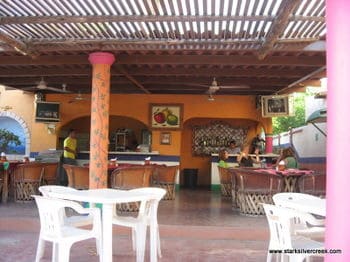 A bunch of us decided to head down to the downtown Loreto for the Day of the Dead celebration. According to the many posters around town the celebration was to start at 4:30 pm.
Sure enough, true to how things work in Loreto, by 4:30 pm there were only a few signs in the town square across from the Mision of a celebration that would take place. Then whispers and rumors started to spread that the party was really going to begin at 6:30 pm.
With time on our hands, we decided to head over to Cesar's for some drinks and for those that were hungry, some tacos.

The restaurant, like a lot of places in Loreto, is colorful and festive. Tacos are their specialty coming first on the menu. Cesar's offers a variety of taco types including: beef, chili pork, fish, shrimp and a cheesy, beefy mixed kind. Further down the list they offer other fare such as hamburgers, BBQ chicken wings and fish and chips (calling it "Fish with French Fries in a Basket"). The pricing was very reasonable with no menu item over 70 pesos.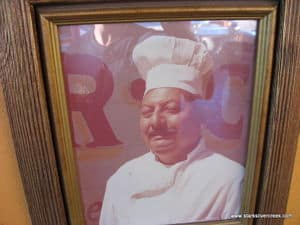 Like the photo of Cesar hanging in the restaurant, equally cheeky was the statement on the menu, "If you liked it pass the word if not don't mention it…thank for your visit" [sic].
Well, I liked it so I'm passing on the word.
Having eaten at several restaurants in Loreto already during the day, I ended up only ordering a "cola light". I think Deb did the same as well… Clint ordered a beer. Jane and Sharon ordered the fish tacos to share which they said were fantastic. I thought they looked delicious, thin fillets of fish dipped in batter and delicately sizzled until golden brown.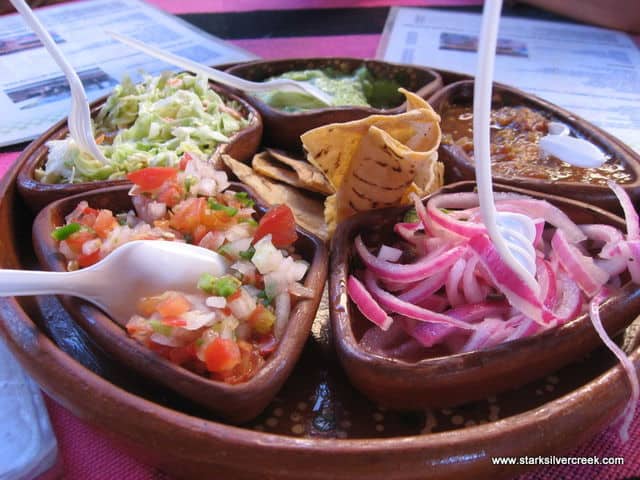 The complimentary nachos at the table with plenty of wonderful condiments/dressing. My favorites were the guacamole and the cold slaw. The guacamole tasted of fresh avocados and the cold slaw had a wonderful crunch and sweet & sour taste.

One of the highlights of the little meal we had at Cesar's was what we didn't order. A bunch of nachos with condiments/dressing came to the table which is equivalent to the US bread basket presented at the table. It was delicious.
If you have a craving for tacos or nachos, stop by cesar's, grab a chair, order some goodies and watch the world go by.