Guest post by Jane Lurie.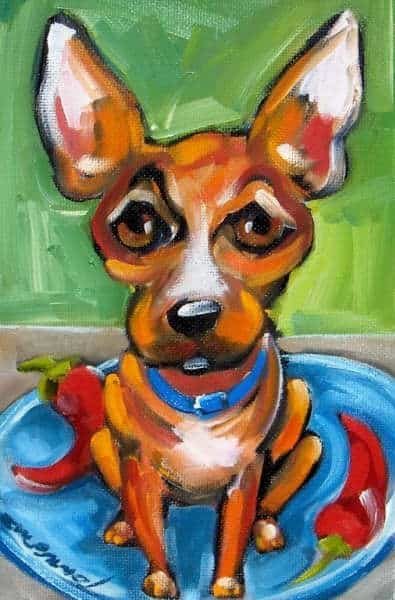 When we first met Charlie he had no name, he was covered with fleas and he was trembling in the arms of Rich Rajicich, a supporter of Animalandia. Rich was walking with the now famous, Lola, the poster dog for the work that Animalandia can accomplish when properly funded.
They came upon a small white dog, lying in the dirt, looking very frightened. Rich scooped him up in his arms and brought him home. He and his wife Jean, gave the unnamed dog a bath, hoping that they would be able to find him a home.
Animalandia is a non-profit community based group in Loreto that Loni and Clint have designated as the beneficiary of all net profits from sales of their Loreto Calendar. The following statement is on their website:
"Whereas: the world is inhabited by many species sharing a common ecosystem of air, earth & water. We recognize & value our interconnectedness with all animals. Therefore, AML is dedicated to protecting & enhancing the quality of life for the animals of the world we share. We pledge our energies to inspire & mobilize society to create a world in which all animals, who depend on humans for their well being, experience as a minimum, 5 essential freedoms. Freedom from hunger & thirst
Freedom from pain, injury & disease.
Freedom from distress.
Freedom from discomfort.
Freedom to express behaviors that promote well-being."
Anyone who has driven and walked around Loreto has seen some of the many homeless dogs who wander the streets and dusty fields. The original founders of Animalandia saw a desperate need to help these homeless animals, try to find them homes and to insure that an affordable spay and neuter service was available for all of the domestic animals of Loreto.
In this video you will meet Lola and hear how she won the hearts of Rich and Jean. And you will hear about the work of Animalandia. This is a wonderful example of how the longtime citizens of Loreto can form an alliance with the newer arrivals, like those of us from Loreto Bay, to solve a serious problem in the community.
After Rich and Jean had given the frightened dog a bath, they contacted their friends, Ariel and Peter, residents of Loreto Bay. Ariel and Peter had been talking about getting a dog. They welcomed that dog into their home that night. Now Charlie is probably the happiest, most playful dog you will ever meet. Here is a link to a few seconds of Charlie and Peter walking on the beach:
You can make a huge difference in the lives of these dogs. Animalandia has plans to complete their clinic and some day to have a shelter and a formal adoption program for all of the homeless animals of Loreto. Also education programs for all of the citizens of Loreto. You can help here on this site by ordering the Loreto Calendars. You can participate in the silent auction and benefit at the Inn at Loreto Bay on November 16, if you are in Loreto and by checking out their website,