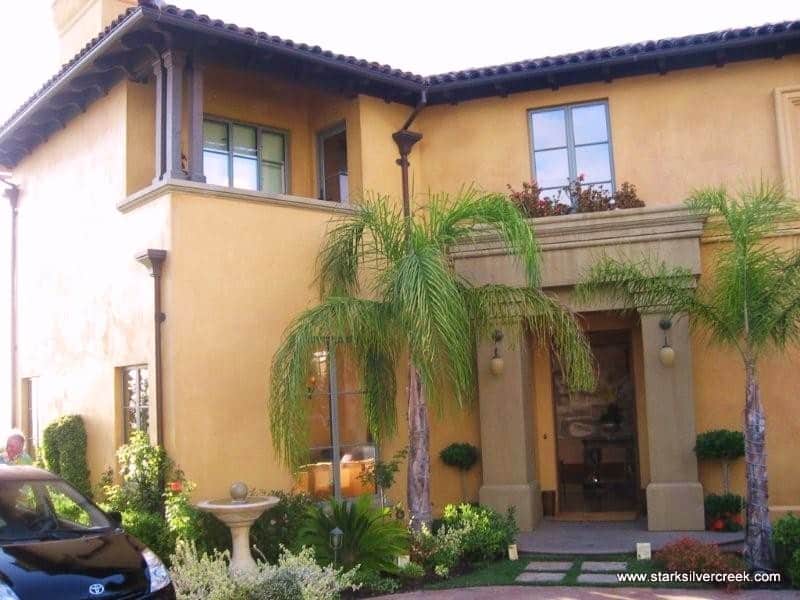 Mike's home in Piedmont, CA – host of the latest Loreto Bay Homeowner's Potluck party. About 60 homeowners descended upon this event.
No, the San Francisco Bay Area Loreto Bay homeowners did not fly all the way out to Tuscany for our latest get-together. However, it sure felt like I was transported back to Italy when I arrived at the latest event hosted by Mike B. and organized by Jane L. and Sharon D..
As I carried in the "Pepperoni and Mushroom Pizza Bites" appetizer I made earlier in the day, I marveled at how I had the foresight to bring something Italian. Ok, maybe it was more coincidence than foresight and my propensity for Italian dishes.
Earlier in the day, we experienced the first rainfall in ages in the Bay Area. With the dampness in the air, I had a yearning for the smell of freshly baked pizza dough, warm mozzarella, and the accents of pepperoni and mushroom wafting from a hot oven. And since it was the weekend after an eventful workweek, I gave into my desires for pizza bites!

Rolled out herb infused pizza dough that came ready made from Trader Joe's. I used a cookie cutter I usually use for shortbread during the winter holidays to make little pizza bites.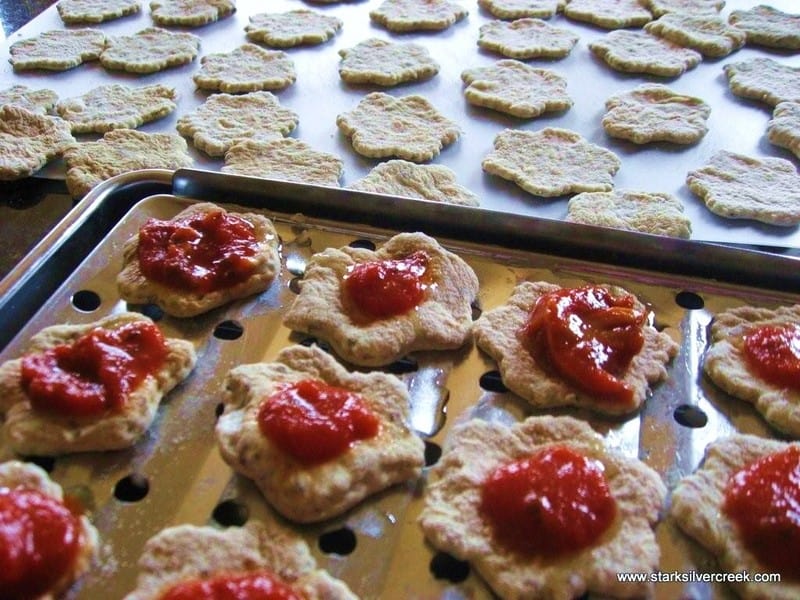 Each bite had a drizzle of olive oil and a dollop of mushroom & olive tomato sauce.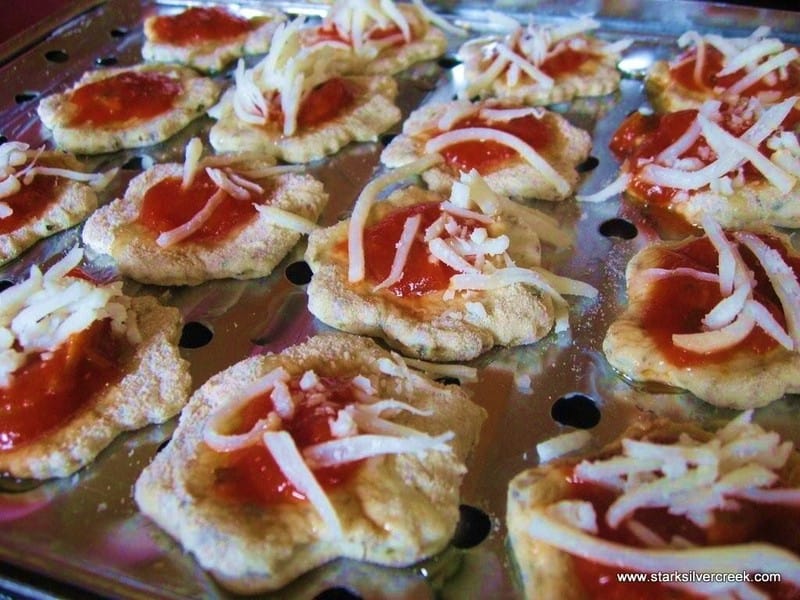 A sprinkling of mozarella, a half a piece of pepperoni, a chunk of mushroom (use a flavorful one like shitake, oyster or porcini…I used a special type that my mom brought over last time but I threw away the container and can't recall the name), another sprinkling of mozarella creates a scrumptous stack.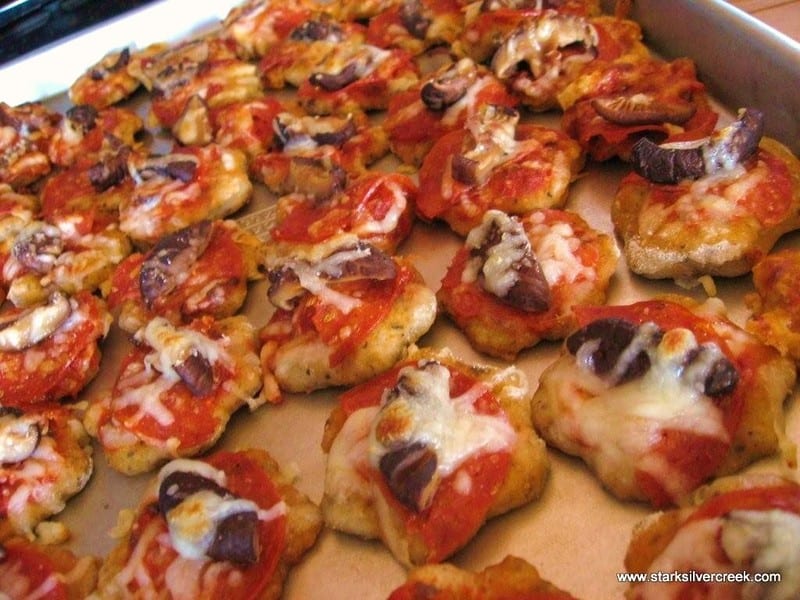 Out from the oven after 8-10 minutes at 400 degrees Fahrenheit. Clint and I taste tested a couple to make sure they were going to be as yummy as they looked.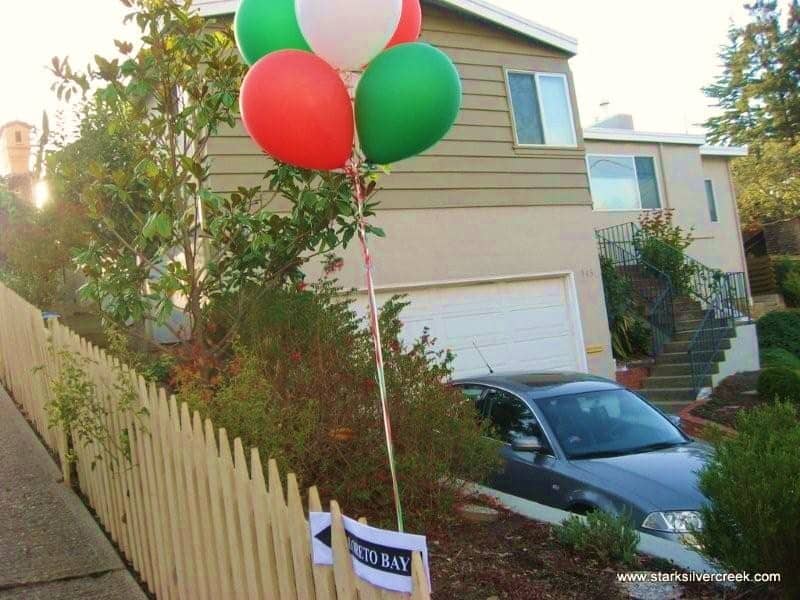 A very understated entrance and driveway to a spectacular home and event.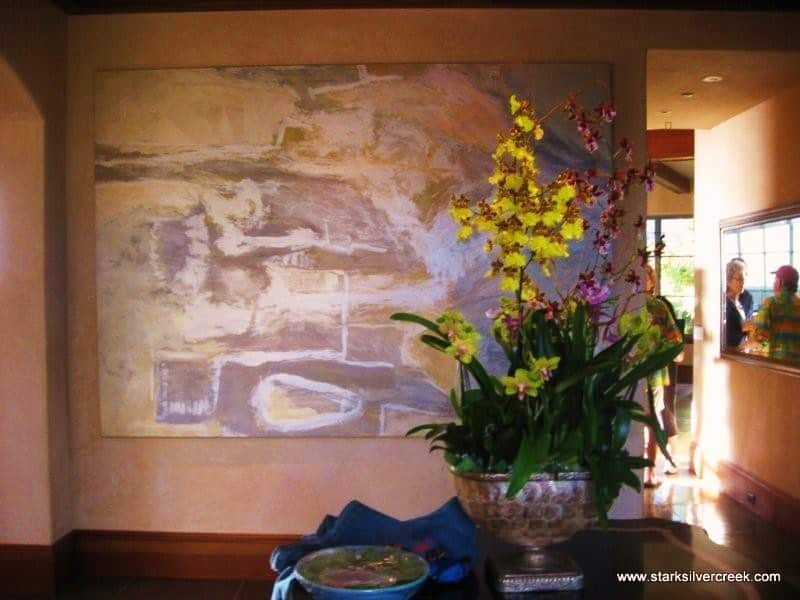 I love this photo of the foyer area. The serenity of the foyer and the expectations of a party which is only revealed by the mirror on the right. I think I see the back side of Chuck in his colorful party shirt.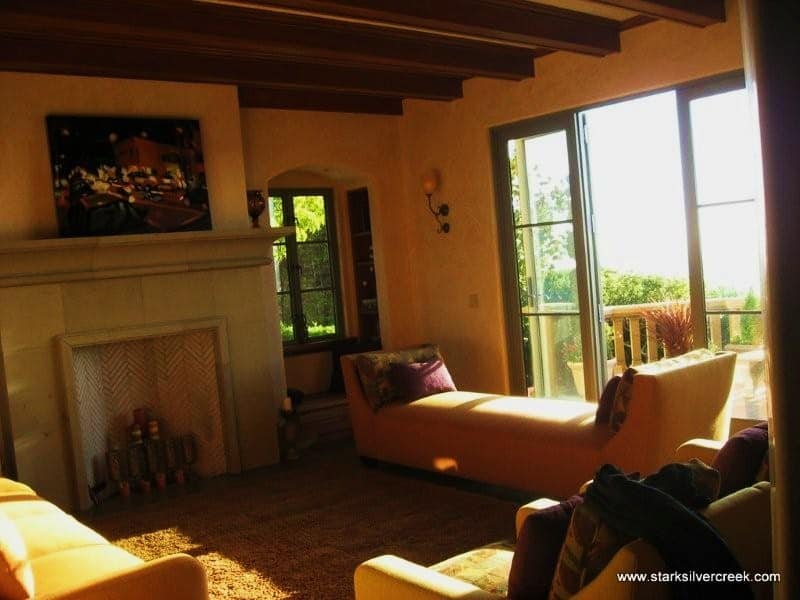 One of the many cozy places in Mike's home to hang out and chat with others in the Loreto Bay Community.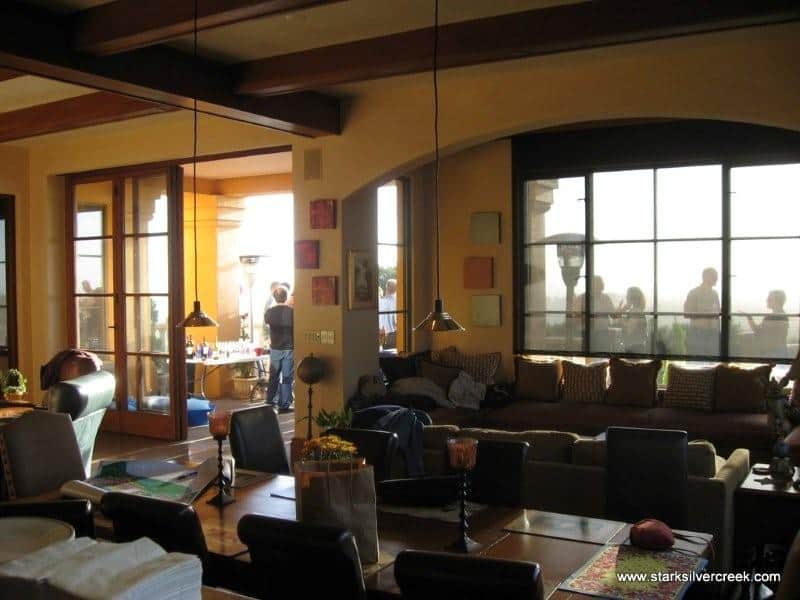 The rain that was in the Bay Area earlier has cleared and everyone is outside enjoying the wine, food and breathtaking views. The home is designed and constructed by Mike – a true labour of love.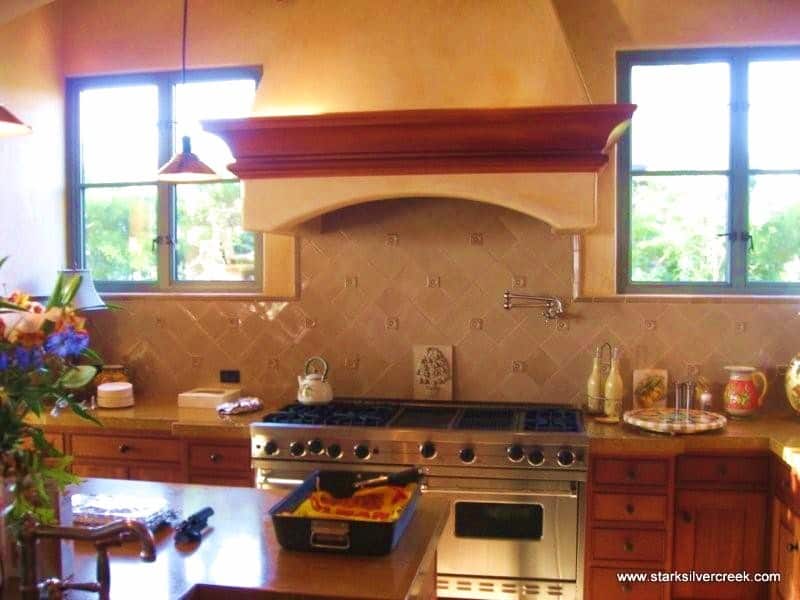 I popped my pizza bites into the oven where other dishes were also being warmed up.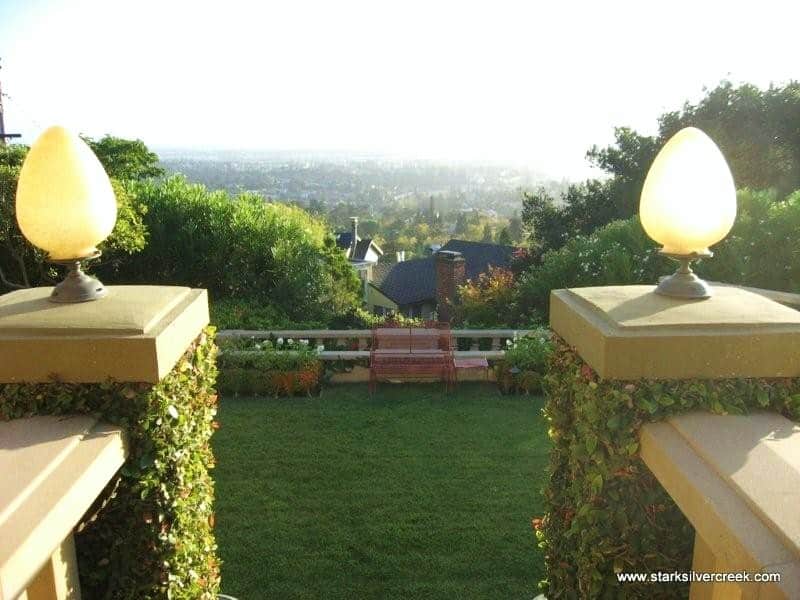 The backyard is on multiple levels. Standing at the stairs down to the lower level.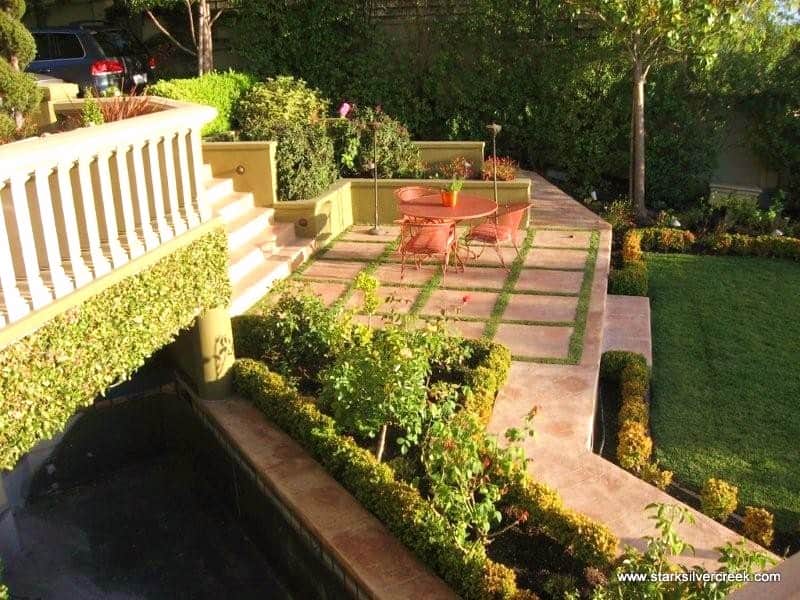 Like I noted before, we weren't in Italy, but at a moment like this one would swear you were in the beautiful hillsides of a Tuscan wine region.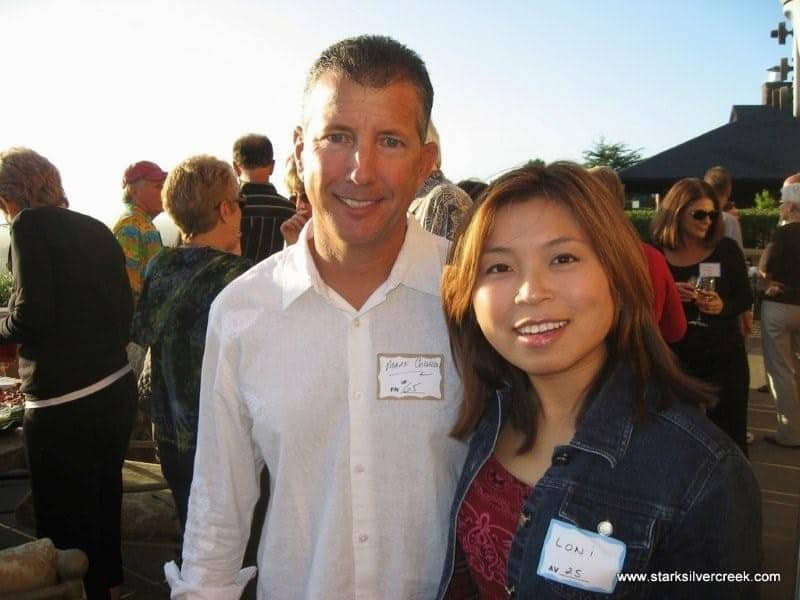 Mark Codiroli who we talked with in our inaugural podcast. He finally made it to one of our events, I'd like to think it was because of my persistence!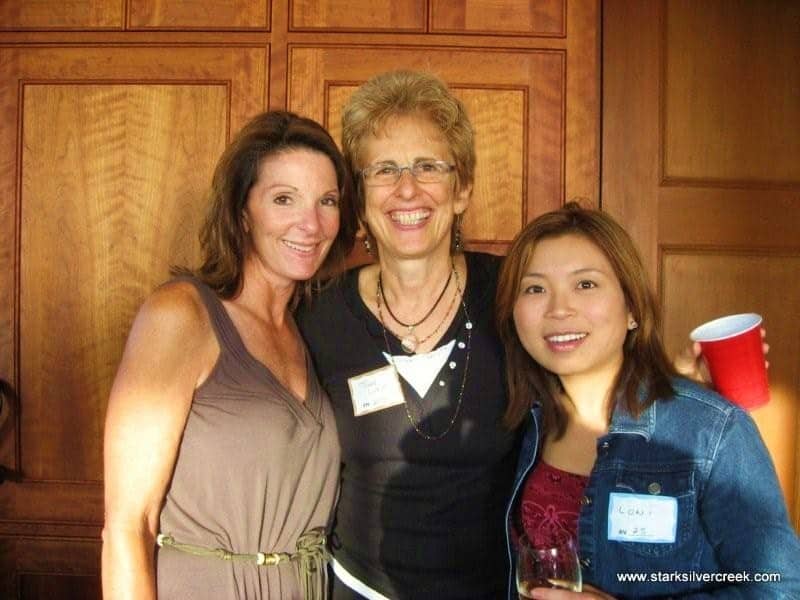 Julie, Jane and me, posing for a glamour shot in front of Mike's refrigerator. It is very hard to look glamorous when you have to compete with gorgeous wood panels.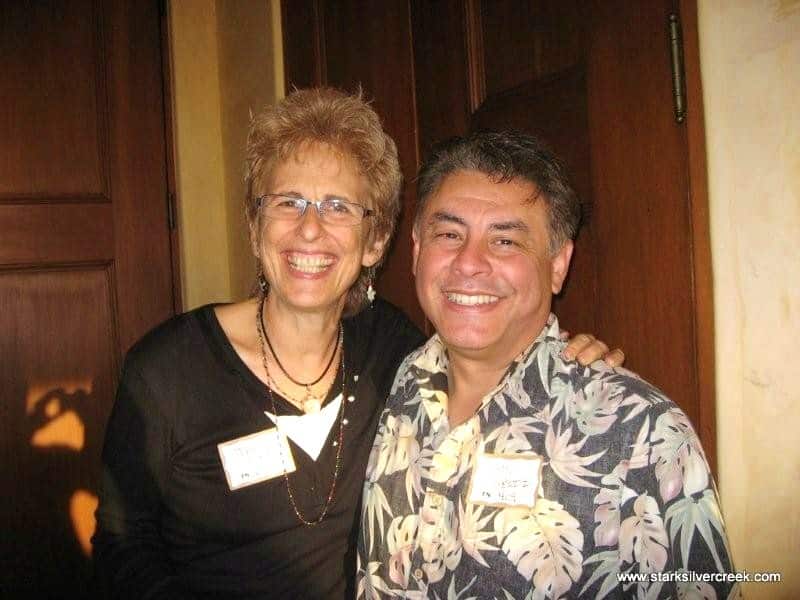 Jane and Tony. Anne and Tony are now in the Silver Creek community in San Jose as well so we are neighbors in Loreto Bay and here in California!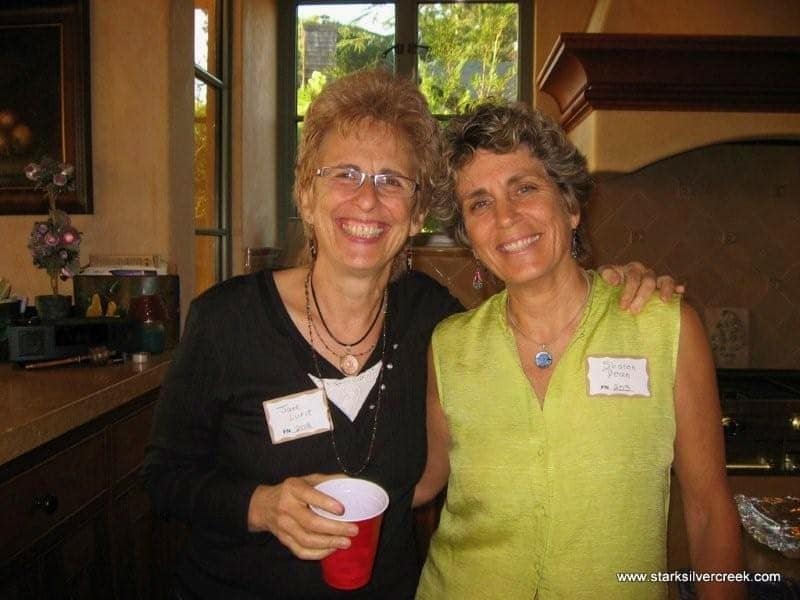 The dynamic duo, Jane and Sharon – organizers extraordinaire for this event.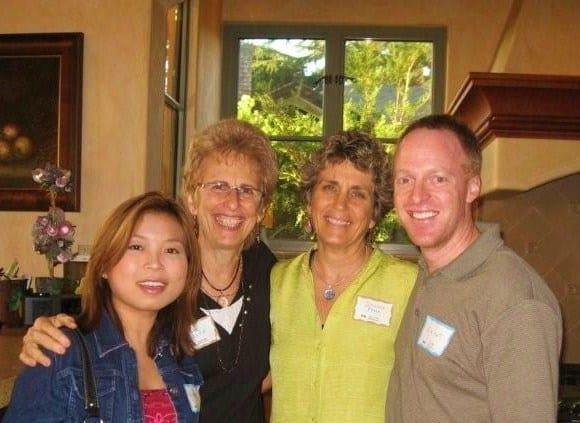 We had to get in on the action. Thanks Julie for being behind the camera.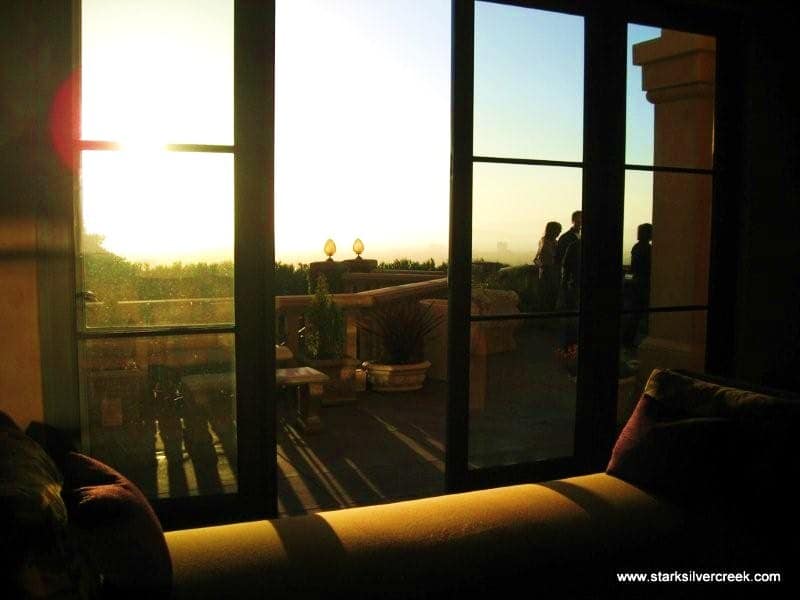 Dusk settles in and the party keeps going. I wonder if Mike knew what he was getting into when he decided to host this event. I found out he needs to leave for Loreto tomorrow on a 8/9 am flight! Such a bunch of jetsetters, no?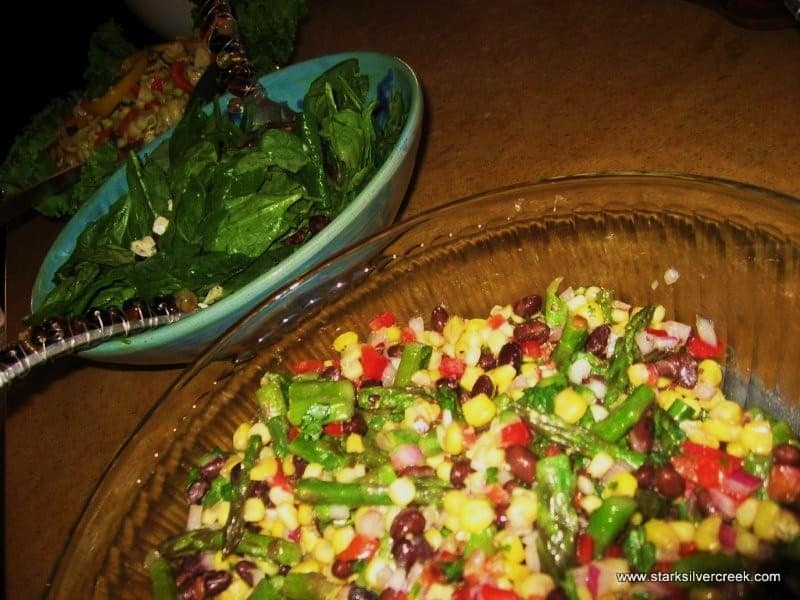 We learned this time to take some photos of the great food before it gets devoured by hungry homeowners.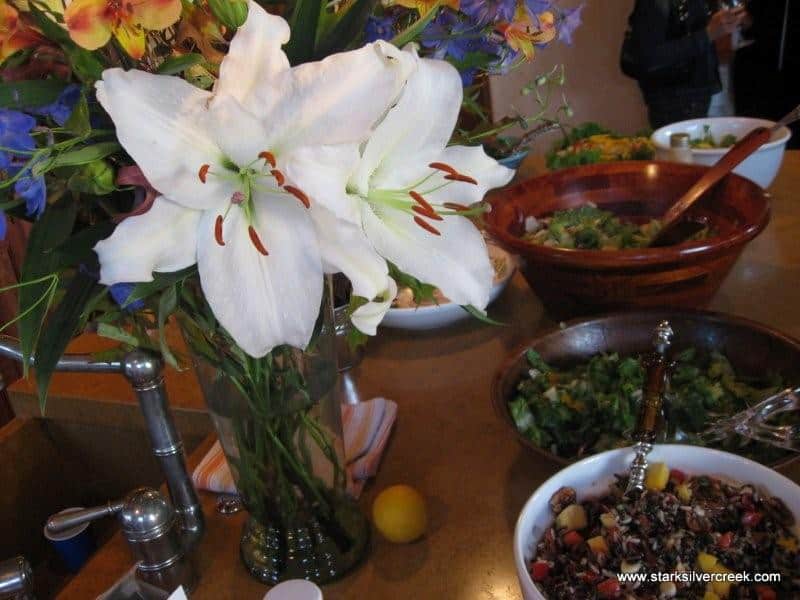 There were beautiful bouquets of flowers all over the home, would make Martha Stewart jealous.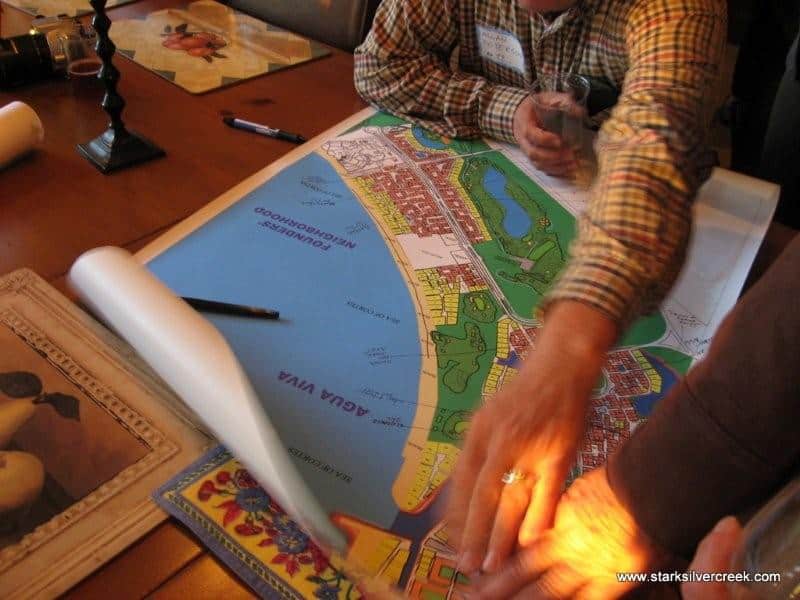 I still haven't figured out who provides these wonderful, large full colored maps of the area so that we can all scribble our names and lot numbers on at each of these events but I think it is a great idea.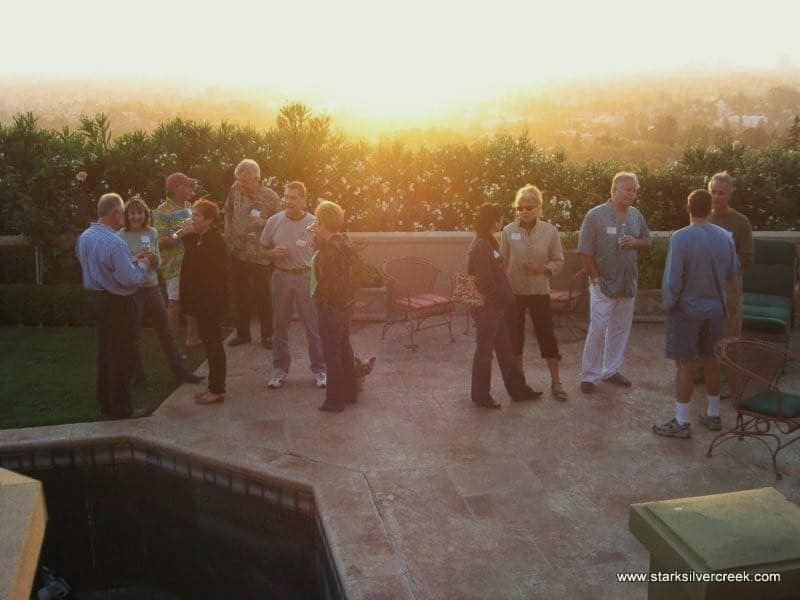 I wonder what everyone is talking about?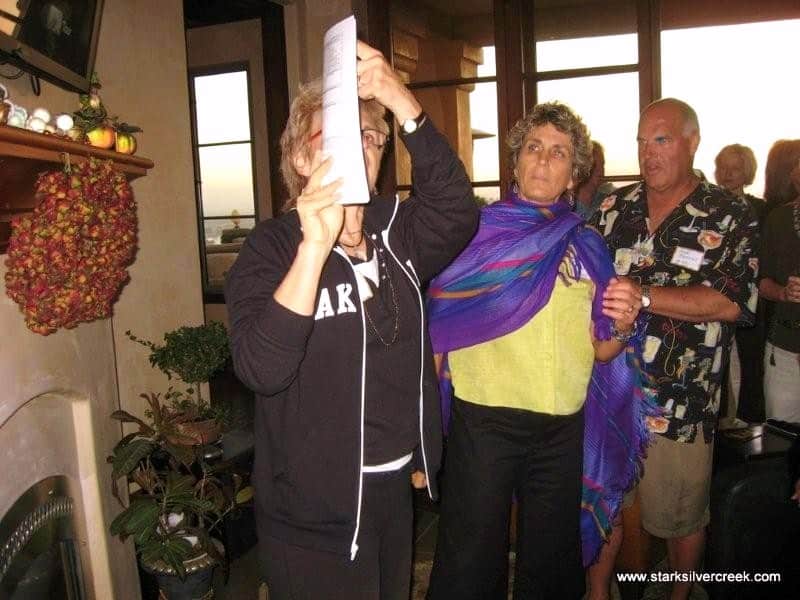 Loreto Bay meeting is called to order by Jane L., Sharon D. and Mike B. Jane has put together a touching slide show of all our greatest moments. This was the part I got a little embarrassed because Clint had sent quite a number of photos to Jane to select the 3 she requested. Well, all the photos ended up all getting put into the slide show. Sorry to make you all sit through many photos of Clint and I.

Intent audience listening to the instructions around getting and keeping an FM3 in Loreto. After this, Jane showed a video of a could of the homes in Loreto Bay including our beloved Agua Viva Lot 25!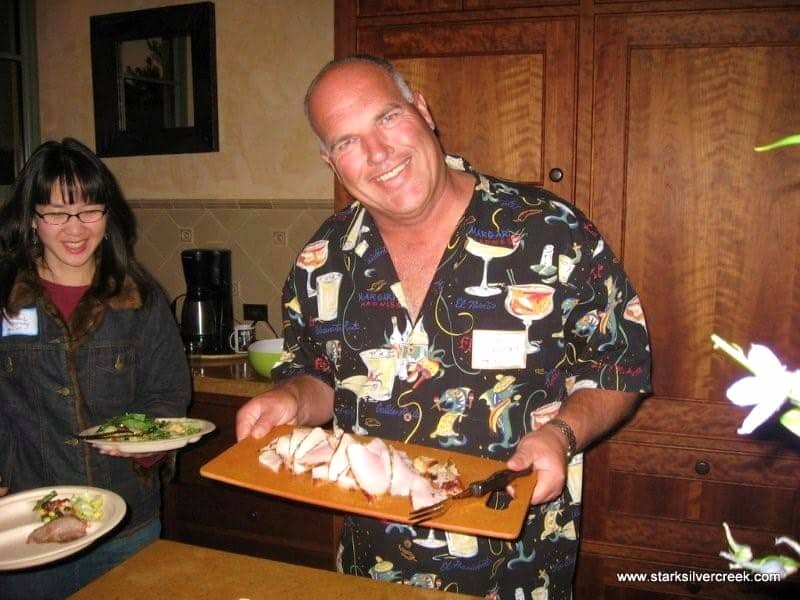 Mike B., a natural-born host. Where's the veggies?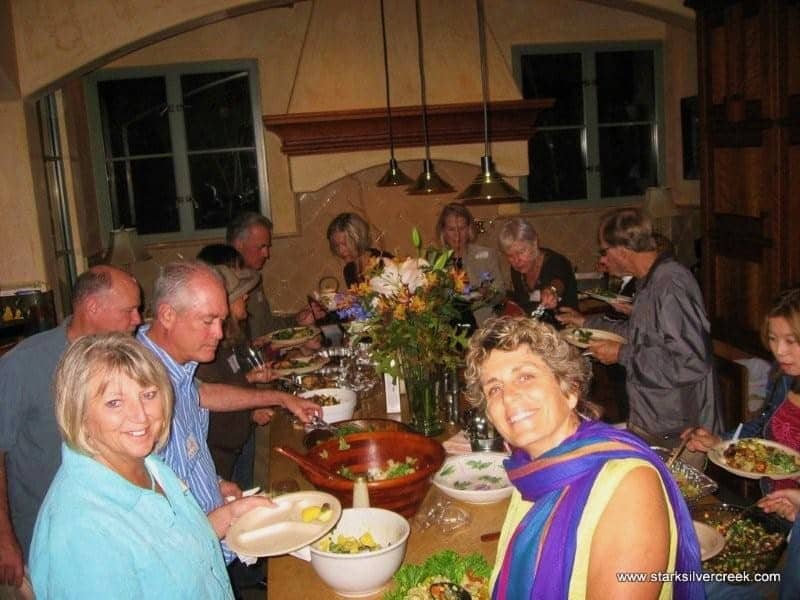 Sharon, didn't realize how stunning your scarf looked until we saw this photo.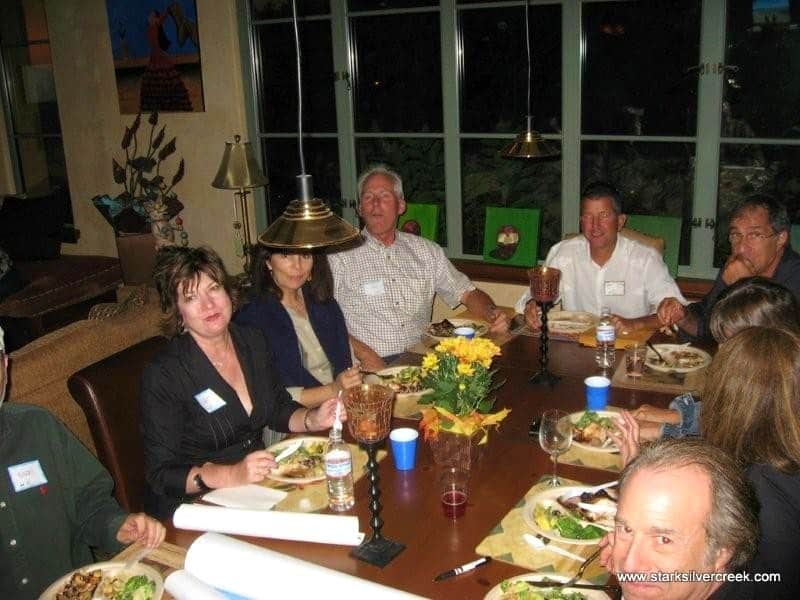 Some high-end cutlery and dinnerware I see…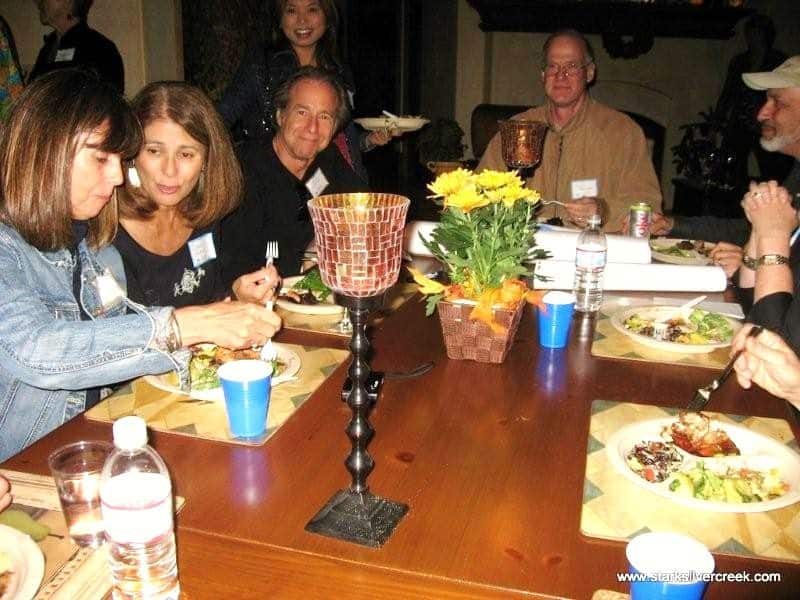 Some great camera work by Clint as he takes a photo from the other end of the table.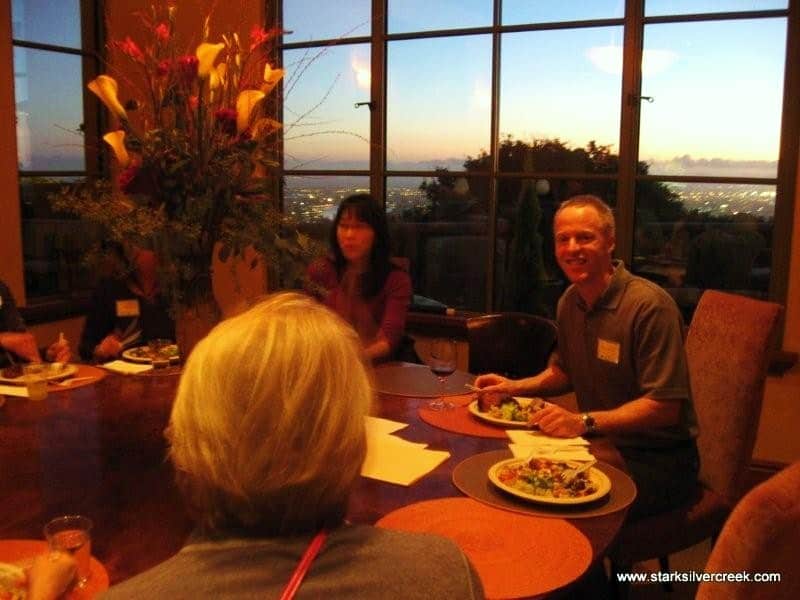 Clint and I were able to grab a pair of seats at the round dining table with Al and Lois. I actually grabbed Al's seat by accident and we spent the rest of the dinner arguing who was actually going to sit in the seat. We almost got into a fist fight as he absurdly suggested he kneel at the table while I got to sit. I didn't allow that to happen but who ever said chivalry was dead?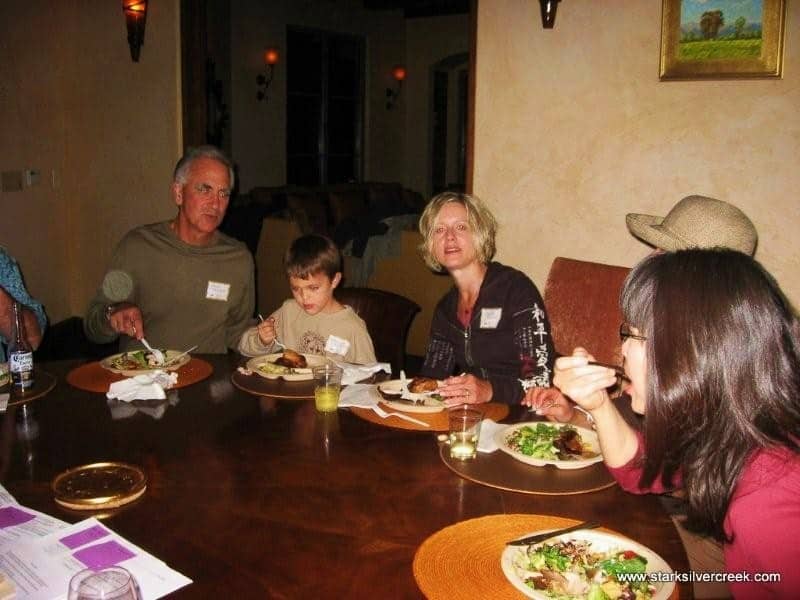 Loreto Bay homeowners, we just recruit them in younger and younger don't we?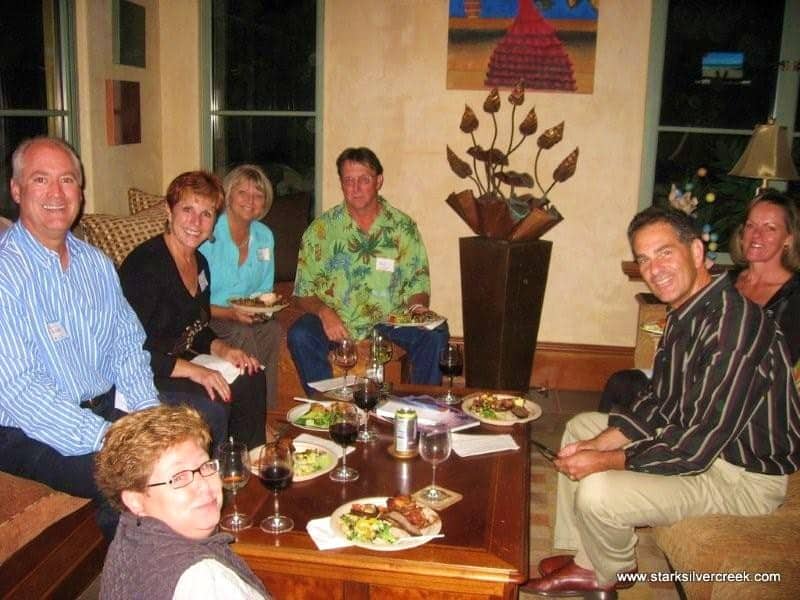 Lisa W., Bill and Gail B. and the rest of the crew. If I don't recall your name it can be because of three things. You weren't annoying enough to me at the party, you didn't post a photo of yourselves in the Loreto Bay Homeowners Yahoo Group "Group Members" album and/or my brain is failing me.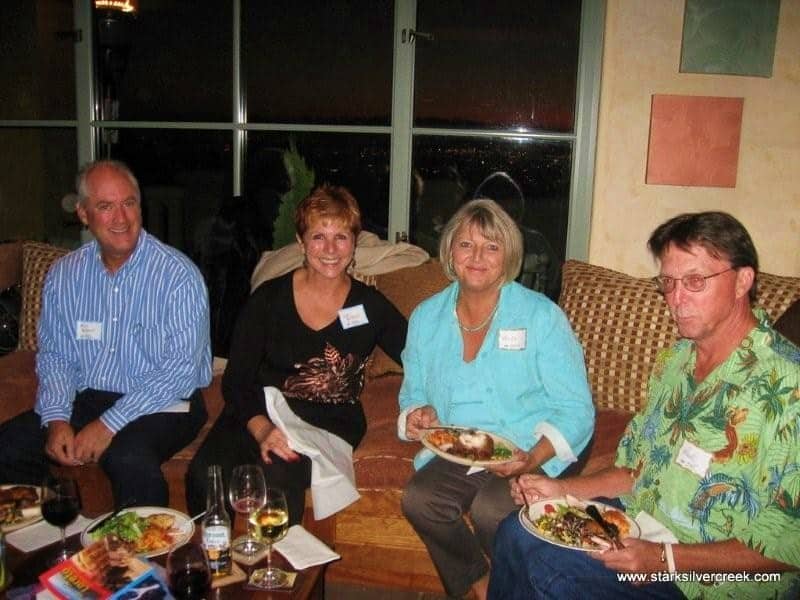 Wish I got a chance to sit on the window seat…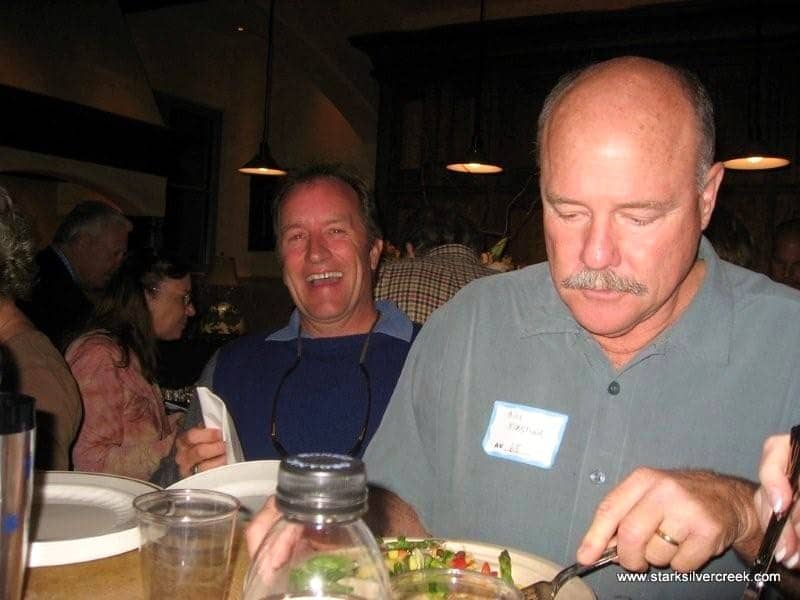 Brian joking around while others are hard at work eating.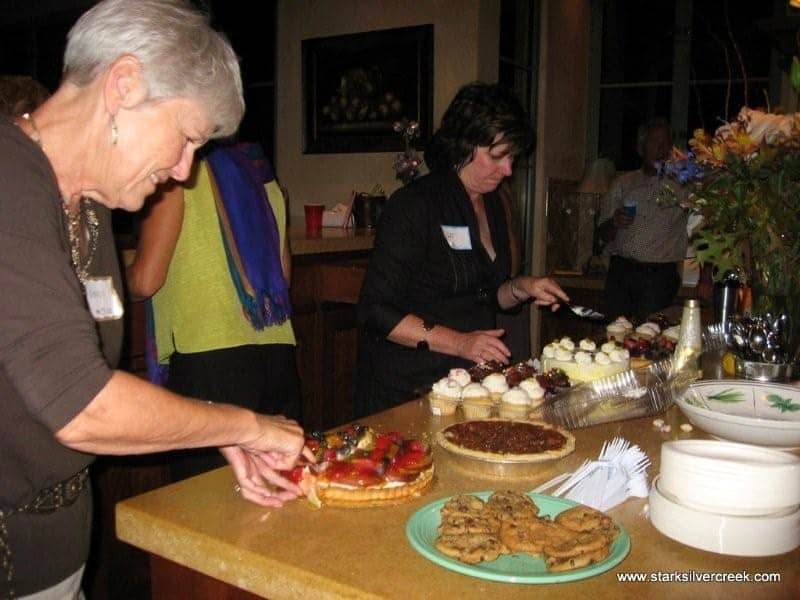 There is something wrong when the two birthday girls of the evening are cutting their own cakes. Oh well, those chocolate cookies do look yummy…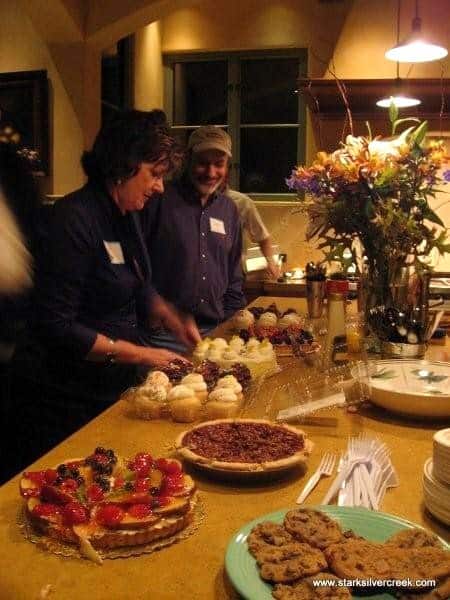 How many Loreto Bay Homeowners does it take to cut a cake?….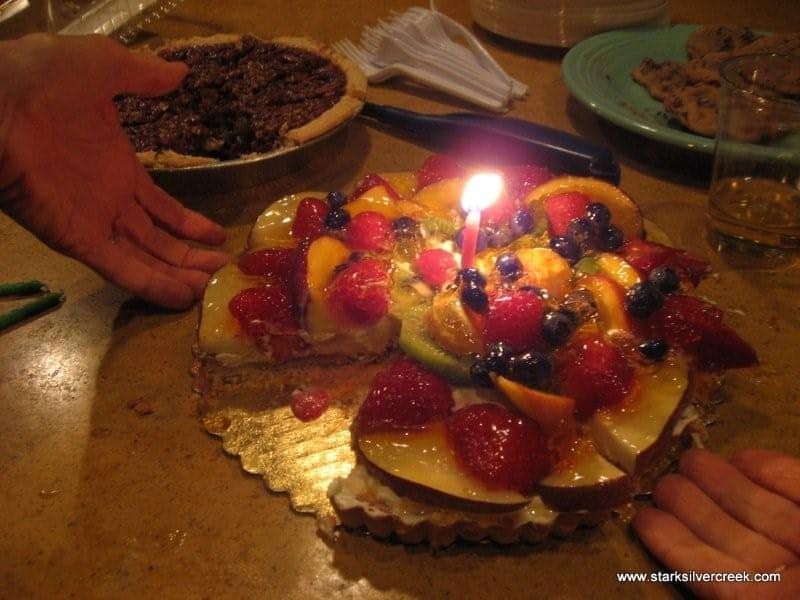 Only at a Loreto Bay event can you have a birthday cake which already has a slice missing be presented and everyone not only doesn't care but has loads of fun – isn't this so Loreto?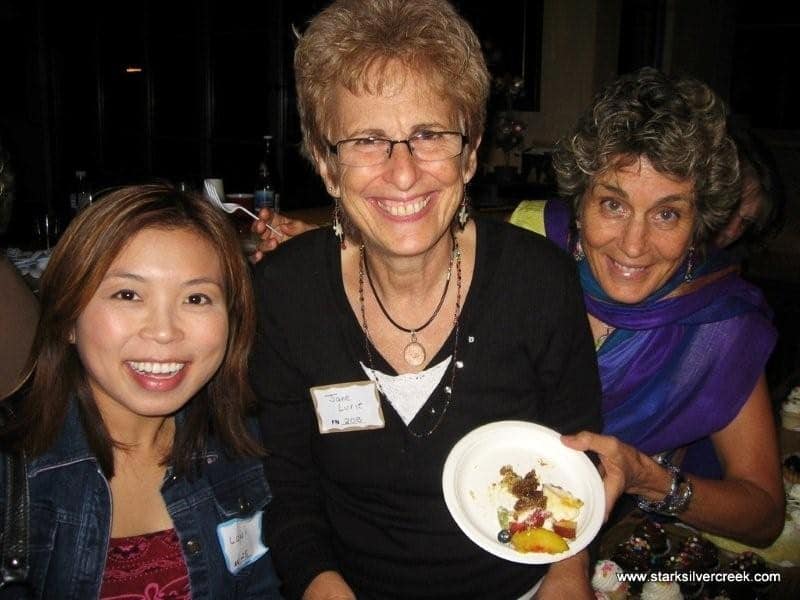 As the evening comes to a close, we are all on sugar and caffeine highs. Sharon fesses up to her love of desserts, I quickly hide my huge plate of desserts from the camera.