Hola amigos! My name is Mark Codiroli and I have been asked by Loni and Clint to do a guest blog about real estate development in the Loreto area. Here goes!
First, a bit about me. I am a big fan of Baja and have been traveling there regularly for about 12 years having fallen in love with Baja from the moment I stepped off the plane in Cabo for the first time in 1995. My wife, Denise, took a bit longer to fall in love with the area… like 3 years, but we ended up buying our first property there in 2000. You can check out our condo in Puerta del Sol (Cabo del Sol) by clicking www.vrbo.com/38003.
As Cabo grew and became more crowded, I found myself looking for a quieter
I am a big fan of Baja and have been traveling there regularly for about 12 years having fallen in love with Baja from the moment I stepped off the plane in Cabo.
Mexican village… perhaps one that was yet to be fully discovered by the tourist boom. I found an article about Loreto in a Los Cabos newspaper in 2003 that talked about Loreto being the next FONATUR development, and subsequently we bought a Loreto Bay home in 2004. Shortly after that, I joined the Loreto Bay Company.
People often ask about the different appeal between Cabo and Loreto.
I guess I'd answer it this way… Cabo is like Las Vegas… busy, crowded, and a bit noisy. It's a mini "sin city," with plenty of thumping discos and late light party spots. There seems to be as many adult clubs as taco stands, and the late night clientele to match. If you don't believe me, try going around spring break and you'll see what I mean. The greater Los Cabos area is home to about 200,000 residents, plus tourists.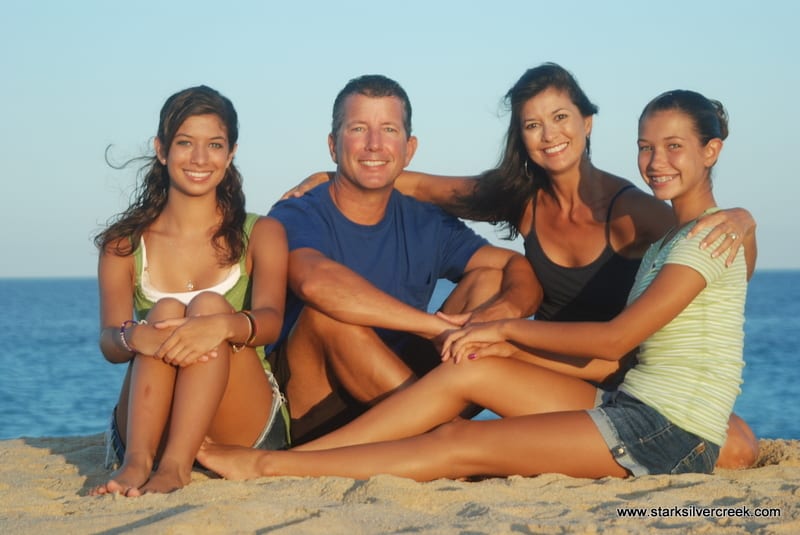 The Codiroli family in Cabo: Mark with his wife Denise, and two daughters Aly and Elyse.
In the words of Jerry Seinfeld "not that there's anything wrong with that…" If you're looking for late night action, fine dining, packed dance joints, and a general party atmosphere, Cabo's your place. We still own our condo there, and we still love going there. There are modern conveniences (Costco, Home Depot, and a Super "Wally-World") and plenty of first-class dining and stunning beaches.
Loreto, on the other hand, is more like Mayberry. (If you're too young to remember Mayberry RFD, I'm too old and cranky to explain it to you.) Translation, Loreto is still a small fishing village of about 15,000 folks. After a few visits, you'll know the Mayor, the friendly police officers, and most of the restaurant owners. I once bought a beer for a guy in Mike's Bar who I recognized as the customs officer from the airport (one never knows.) The point is, everyone knows everyone and it's quaint, clean, safe, and friendly.
Having driven much of the Baja peninsula several times, I can also tell you that Loreto is the most beautiful spot on the Baja by a country kilometer. The Sierra de la Giganta mountains are absolutely breathtaking, and are a stark (get it?) contrast to the beautiful cobalt blue Sea of Cortez.
Cabo represents stiletto heeled shoes, while Loreto is like a comfy favorite pair of sneakers.
If I had to characterize the uniqueness of Loreto in one word it would be "serenity." It's relaxed, friendly, and nature is at your fingertips. Cabo represents stiletto heeled shoes, while Loreto is like a comfy favorite pair of sneakers.
I met Clint and Loni more than 3 years ago when they first inquired about Loreto Bay and I was a sales associate there. I remember being "buzzed in" to Loni's office lobby at Adobe feeling as if I were part of a Schwarzenegger Sci-Fi movie and wondering if I'd still be fertile after walking between what I'm sure were x-ray ID-checking infra red-emitting turnstiles. I was happy that this young, successful couple had decided to join our Loreto community and would someday be my neighbors.
Since that time, Loreto Bay has slowly matured and other developments are now getting started. You may have read about the 1800 acre Villa Group project which recently broke ground there. In addition, there are new smaller projects in town as well, and one that's actually within Loreto Bay's 8000 acres.
Many readers may be familiar with the old Whales Inn, which is a 12 acre site right in the middle of Loreto Bay's 3+ miles of beachfront, adjacent to the north border of Agua Viva. Well, the Whales Inn (formerly the El Presidente) is now history, having been bought by NG Properties Mexico, LLC. The firm's principals have teamed up with the JW Marriott brand to build an eco-friendly 201 unit luxury condominium resort. These will be known as the JW Marriott Residences Loreto, and will be the luxury brand's first whole-ownership (code for non-timeshare) residence project in all of Mexico. I'm proud to have been selected as part of the sales and development team on this exclusive property.
JW Marriott will bring their international hospitality expertise to Loreto and will operate this resort-style residential community under a long-term management agreement.
Marriott International has 13 brands, including The Ritz Carlton brand, Ritz Carlton Club, and Ritz Carlton Residences as well as 10 distinct Marriott brands. This project was originally envisioned as part of The Ritz Carlton brand, but the marketing folks thought that because people generally think of The Ritz Carlton in terms of formal black tie events and ornate chandeliers, that perhaps that connection would be somewhat of a disconnect in laid back Loreto. Therefore it became part of the JW Marriott brand, the most exclusive of all the Marriott marks. Marriott will bring their resort expertise to Loreto and will operate this resort under a long term management agreement.
The JW Marriott brand has a sterling reputation for excellence in the resort world having earned the #2 ranking for customer satisfaction for luxury resorts worldwide in 2007. (Ranked #1 is the Marriott owned Ritz Carlton brand.) My feeling is that having the JW Marriott name associated with this project will give buyers much comfort in investing in Mexico. The unique features of the JW Marriott Residences Loreto will be the prime beachfront location, trellised parking stalls for each unit (as well as optional enclosed garages), and first-class amenities including a full-service spa and wellness center, casual bars and restaurants, infinity edged pools, a movie theatre and business office on-site. Prices will start in the $700,000s for a 2 suite condominium of about 2000 sf (including covered terrace) to more than $3 million for a luxury penthouse.
There is so much detail to this project that it's impossible to list it all. If anyone would like to see a site plan or get more information please contact me at markc. I'm proud to be a Baja homeowner and in particular a member of the Loreto community. I hope you will experience our beautiful piece of paradise soon.
Saludos! -Mark