Pan of Loreto Bay at the start of the show.
A couple of days back, we noted that HGTV House Hunters International was going to profile Loreto Bay. We had programmed our DVR to ensure we wouldn't miss it.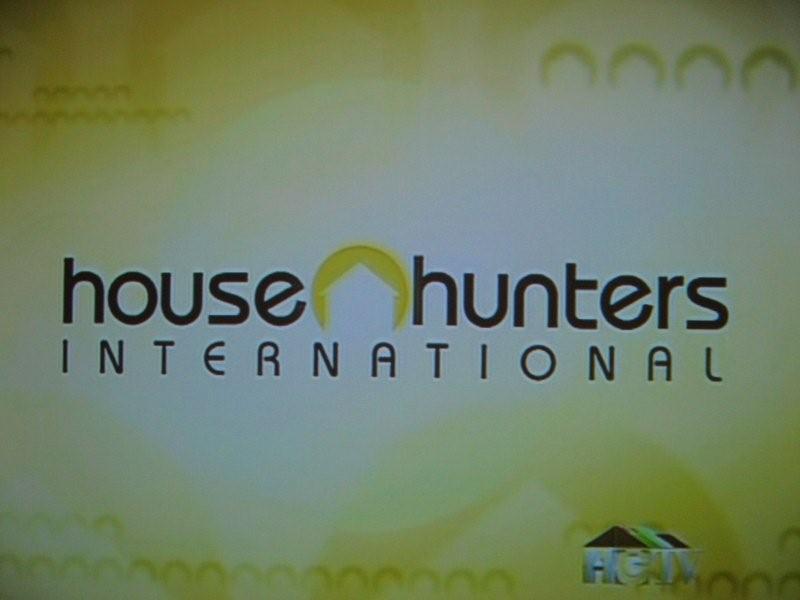 Sure enough, with all the other things happening in our lives we almost forgot about this until we came across a new recording on our DVR of House Hunters International with the description, "Baja Bound (2008) A family searches for a house by the bay in Baja".
For those who haven't seen it, do try to catch a repeat showing. In the meantime, here are my notes and commentary on it.
The episode features the Brown family: Doug who is in international sales and Anne who is a nursing consultant and their 2 children who live in a 2 bedroom condo in Carlsbad, CA.
They are attracted to Loreto becuase it is a charming Mexican fishing town. They liked Loreto Bay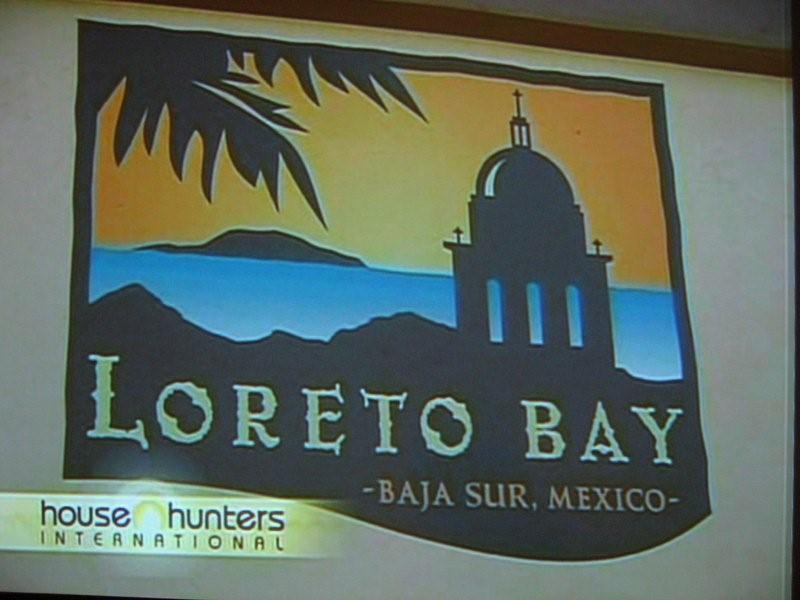 because of the village ambiance and the development's commitment to sustainable development which they hope will be a good lesson for their children. For the new home, they are looking for a larger place and have a price range of $300-400K (US) although they noted they would go higher if they found the right place.
On the first day, the Browns meet up with Laurie Sanborn who was a realtor with Loreto Bay. She notes that people who are attracted to Loreto Bay are interested in creating a new lifestyle and are pioneers in sustainable living. When complete, the development will have 6,000 homes in 9 pedestrian friendly villages each having a commercial village center. The homes the Browns will be touring are in the Founder's Village which have homes priced from $350-550K. Clint and I bought in Agua Viva which is the second phase – pricing had gone up significantly from when this episode was filmed.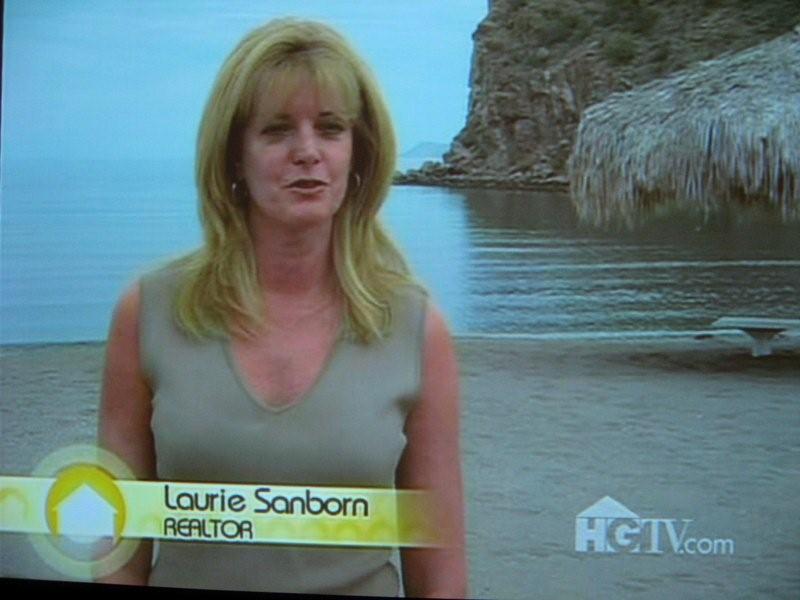 Laurie Sanborn who was a Loreto Bay realtor. Now I believe she is working with the new development at the Whales Inn, just north of Agua Viva started up by JW Marriott.
Interestingly, we had met Laurie Sanborn in Loreto Bay in a Tienda D'Arte home model. When we had told Laurie we owned AV Lot 25, she was surprised because that was one of her lot choices but by the time she was able to choose, it had already been selected by a couple ahead of her in the priority list. We selected the lot after the previous owners decided to back out. Small world.

The Browns touring the first home, a Casa Alta model.
In true House Hunters format, 3 homes are profiled before the choice is announced.
The first home toured was a Casa Alta. This model is a 2 bedroom, 2 bath, 2280 sq feet home that is priced at $340K at the time of filming. This works out to $149/sq feet. It is a 2 story model that site on top of a 1 story commercial unit. We noticed the home featured had the same railing as our Nueva Chica and it is across from the Posadas which were still just beams of steel.
The second home toured was a Casa Aquarius model which is only available in the Founders community. Agua Viva buyers did not have the choice of this model. It is 3 bedroom, 3 bath, 2268 sq feet home priced at $420K. This works out to $185 sq/feet.  J.T. Benton, another Loreto Bay realtor showed this model. Unlike the Casa Alta, this 2 story model sits on ground level. The Browns really liked the courtyard, viewing tower, barrel vaulted ceiling (believe that this is the only model with this feature) and the granite countertops featured in the kitchen (which is an upgrade).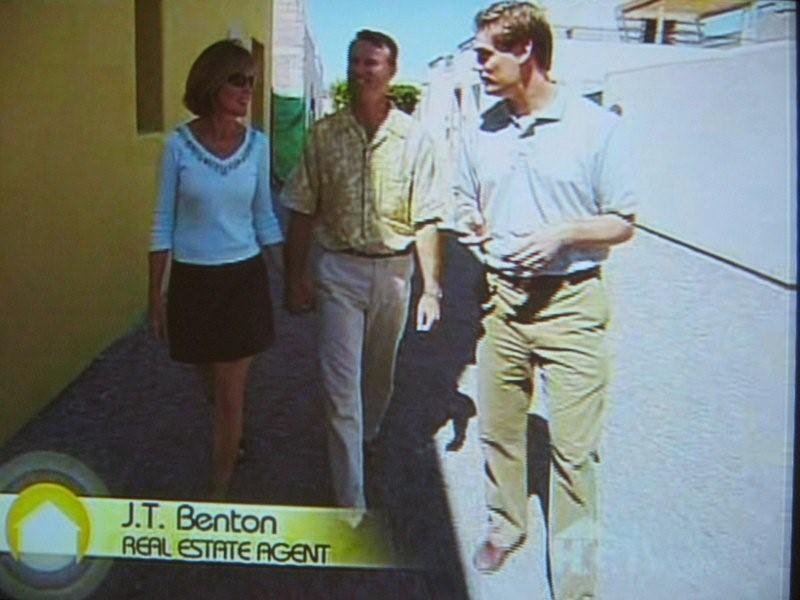 On to view their second option with J.T. Benton, another real estate agent who was with Loreto Bay.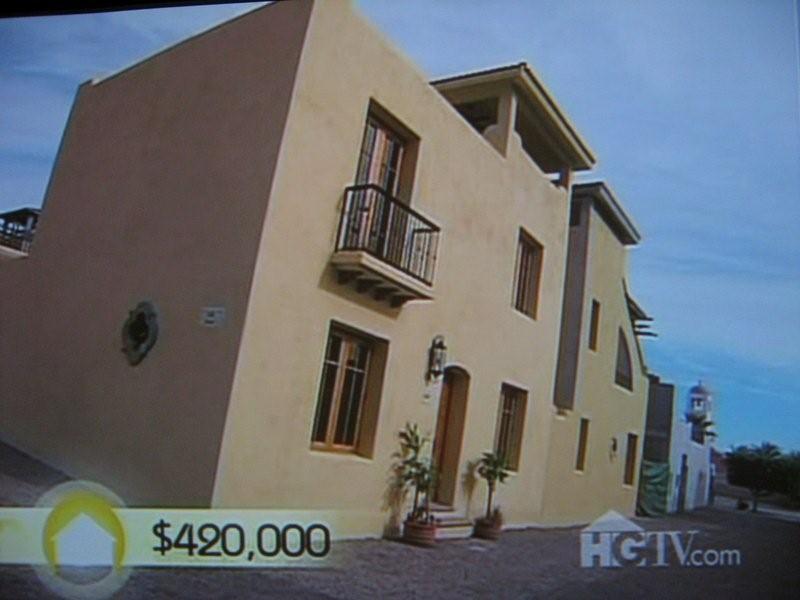 View of the second home from the exterior, a Casa Aquarius.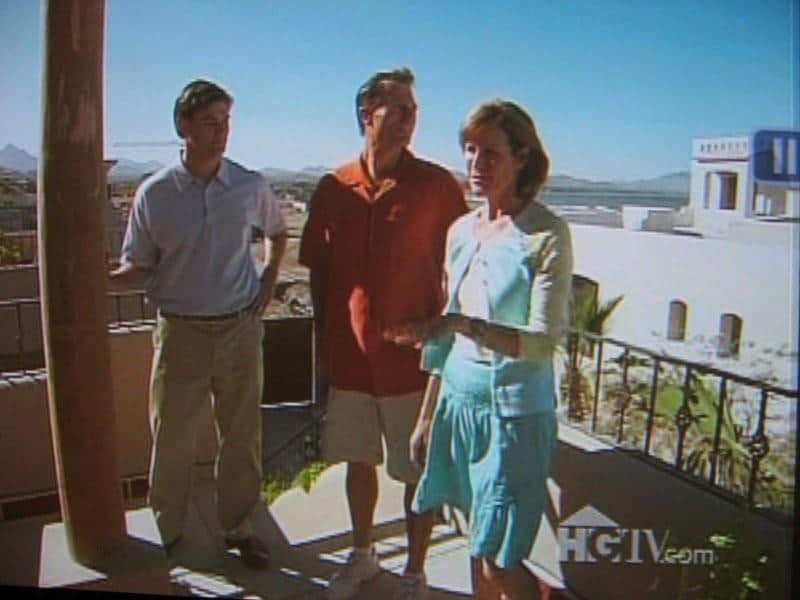 View from the terrace.
The third and final home toured was a Casa Encantada model priced at $450K it has 3 bedrooms, 3 baths and 2055 sq feet. This works out the $219 sq/feet. Part of the higher price per square feet is probably due to the swimming pool in the front courtyard. As the camera panned across this home, Clint and I became pretty sure that this home is now Joel Sherman's home which we had been in to look at Casa Mesquite furniture with Rick L. on one of our past visits. At this point Clint and I were pretty sure the Browns were not going to pick this option.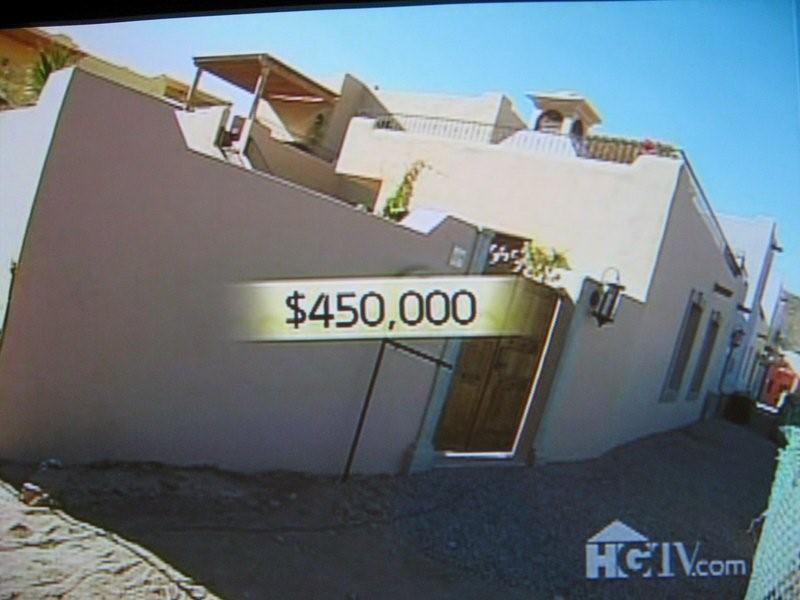 Exterior of the Casa Encantada model. This one has some extra land in front that was used to fit a swimming pool.
Clint and I usually pause the DVR and take bets as to which home the buyers are going to choose. Today, both of us agreed that we thought it was going to be Home #2.
If you don't want to know the final result, stop reading.
Well, both Clint and I were right. The Browns selected the second home, Casa Aquarius. I also liked this unit as the barrel vault was beautiful and there was also a charming fireplace (something I tried to squeeze into our little Nueva Chica to no avail, like trying to cram an ugly stepsister's foot into Cinderella's shoe…figuratively…wanted to say this as some are interpreting such sayings literally these days…like "lipstick on a pig").
For those that are thinking about furniture, do check out the "9 months" later photos of the Browns in their new home in Loreto Bay. They have the home beautifully decorated, I especially like the banquette setting in their dining area.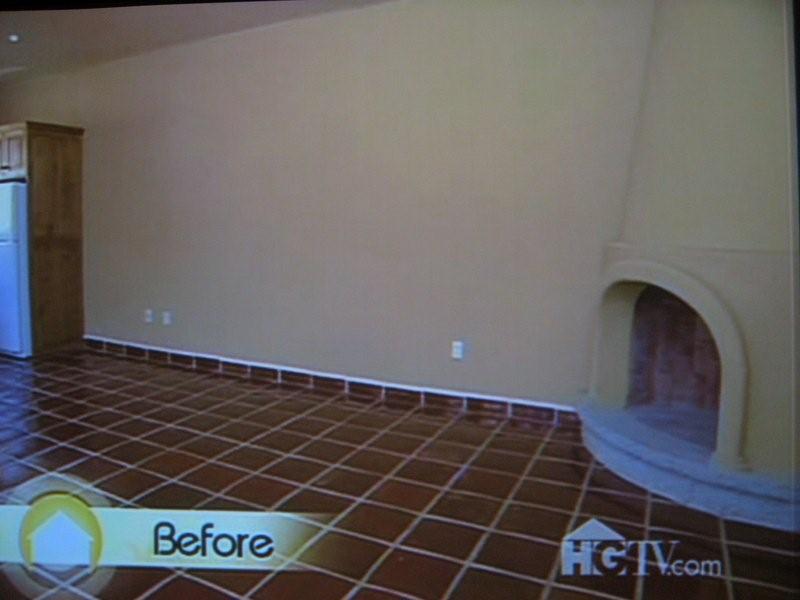 Living room before, with no furniture.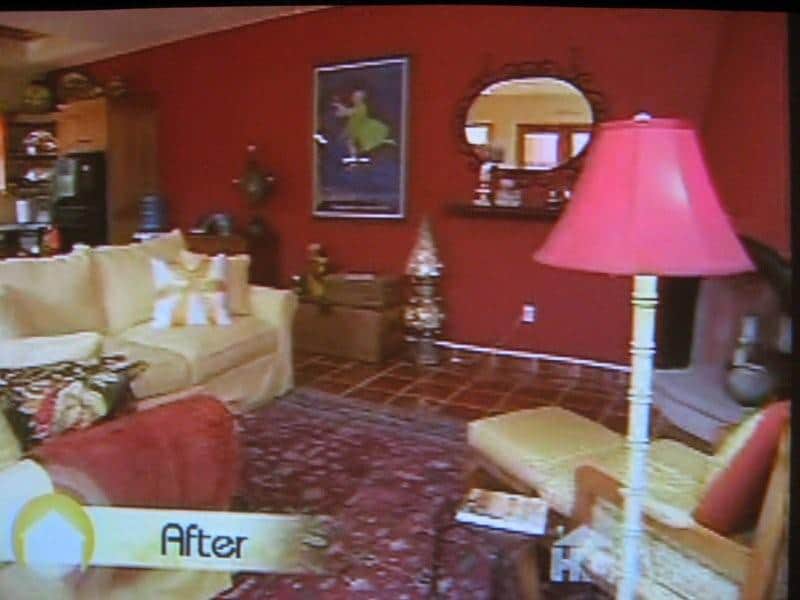 The same room furnished and decorated.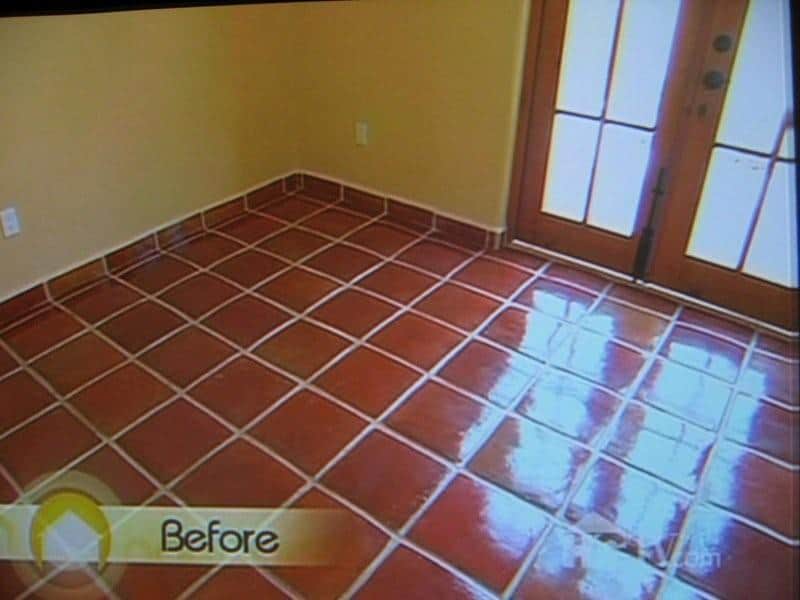 The dining area before.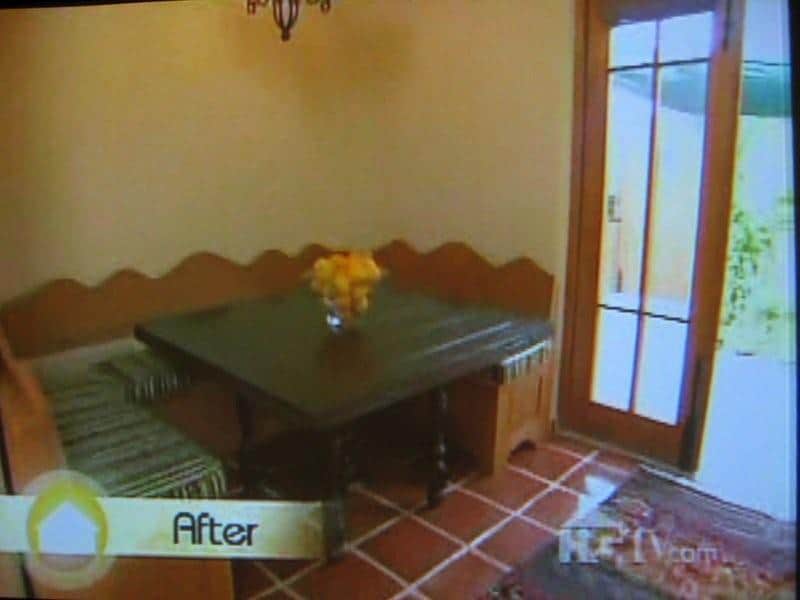 Love the idea of putting in a dining banquette. It's giving me some ideas for our Nueva Chica…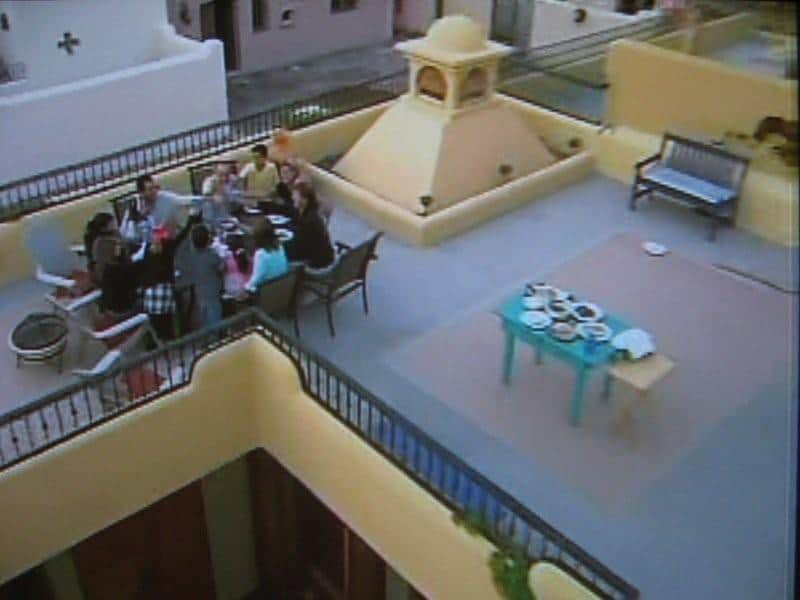 Alfresco dining on the terrace.
For those that have missed the first airing of this episode, do not despair, there are repeats. You can find the entire schedule here.