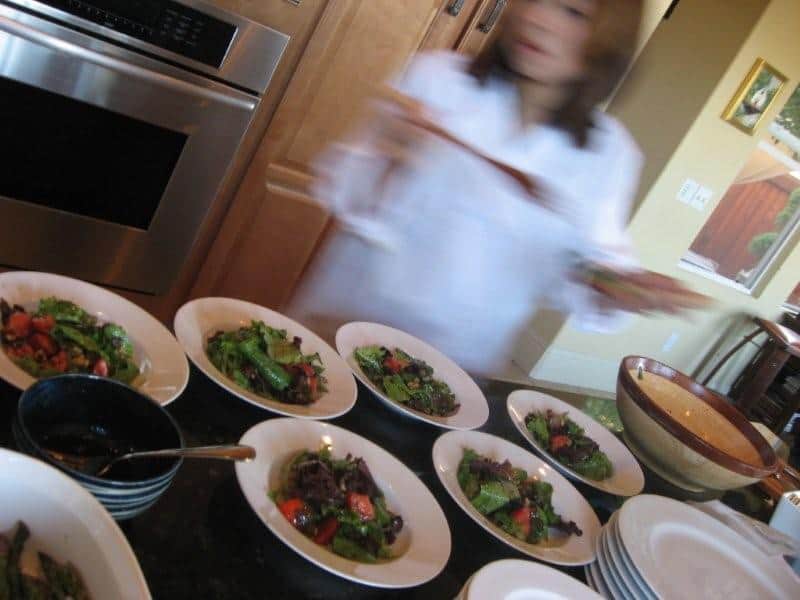 First course, summer salad with goat cheese encrusted in walnuts and herbs.
Happy Labor Day Weekend!
Clint and I recently realized that the summer season was quickly passing by and we had yet to do as much entertaining as we wanted. So the past two weekends, we were fortunate enough to have hosted some dinner parties and were the guest of a wonderful winemaker's lunch at Petroni Vineyards. The latter is a subject of a future blog entry as will be the San Francisco Bay Area Loreto Bay Homeowners Potluck Party which will be next Saturday.
For now, I wanted to share with you two of our culinary adventures and some of my favorite recipes. I like recipes which are simple but produce results which are spectacular and make you look like you spent all day in the kitchen. One of my friends deemed me a "culinary escape artist". We are finally putting our wine cellar to good use too.
Food is as much of a visual adventure as it is an adventure for the taste buds. Presentation is important and an easy way to make it look like a dish is special and required extraordinary effort and skill.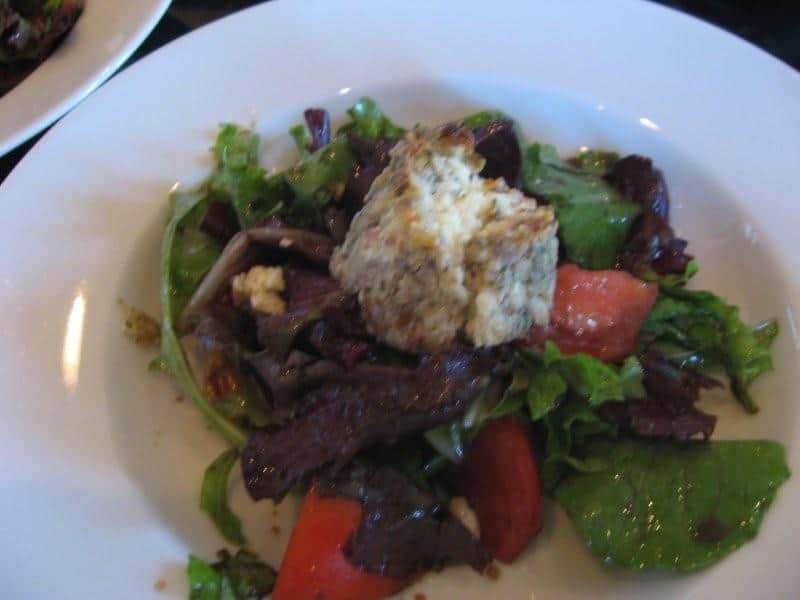 The secret to this salad is to use nice extra virgin olive oil, aged balsamic vinegar (at least 8-10 years) and the goat cheese. For the goat cheese, roll it into a log and cover with chopped herbs and crushed walnuts – refrigerate. Just before you serve the salad, cut log into medallions and pop into oven at 450 degree F for 8 minutes or until toasted and slightly melted.


Having an island to lay out all the dishes for plating is definitely nice. Can't wait until I get to use the island in our Nueva Chica in Loreto Bay.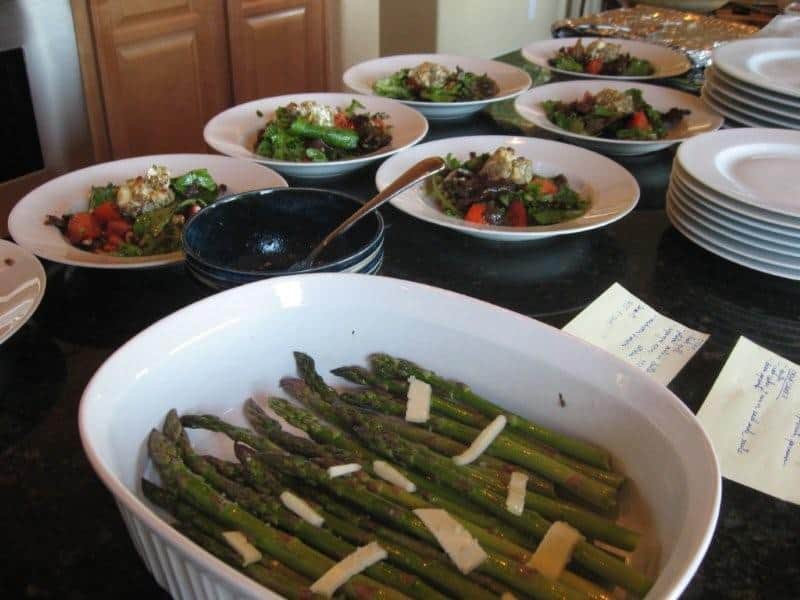 For dinners over 4 people, the oven becomes critical as another cooking means besides the stove. Since I was serving steaks with this particular meal, I needed the entire surface area of my stove (4 gas burners with cast iron grills) in order to cook 7 large filet mignons properly. I used the oven to steam the asparagus with a couple of dashes of sea salt, olive oil, butter and pepper to taste.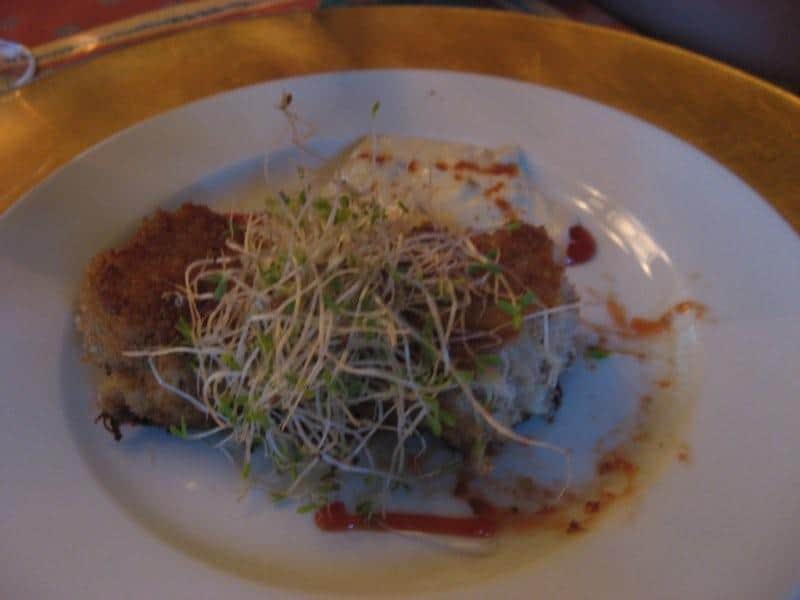 Crab cakes. This was my first time trying out this recipe for crab cakes. I found a recipe which required minimal breadcrumbs and seasoning so that the flavors of the crab really stand out. These turned out wonderful and I will definitely make them again. If you are interested in the recipe, let me know.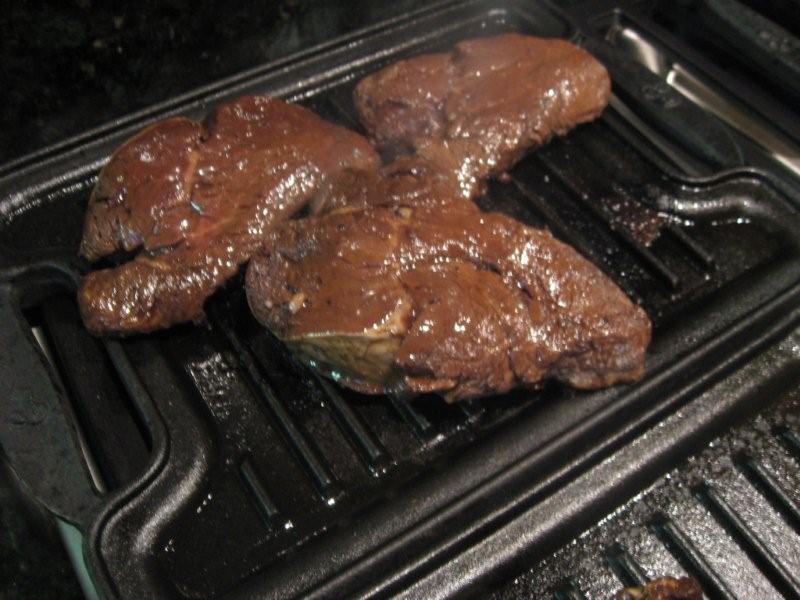 Filet mignons grilling on my cast iron grills. A couple of tricks here to get perfect medium-rare steaks. Make sure to take the steaks out of the fridge several hours before cooking so that the entire steak gets to room temperature. That way you don't get the outside overdone and the inside still cool. I lightly brush the grills with canola oil and ensure the gas is turned at medium to high heat. Never crowd your steaks on a grill as it will start to impact the surface temperature and your meat will not sear and lock the juices inside. Then I have the 2×4 method. 2 minutes on one side, turn 90 degrees for another 2 minutes and then repeat on the other side. This will give you great grill marks. Then the last secret is to turn the grill off completely and let the meat cook for another couple of minutes (this will vary based on thickness of steak). I marinated these steaks in a mixture of balsamic vinegar, soy sauce, salt, honey, pepper and olive oil for 3 entire days. Some people don't like to marinate their filets, this was my first time marinating filet and the results were fabulous in my opinion.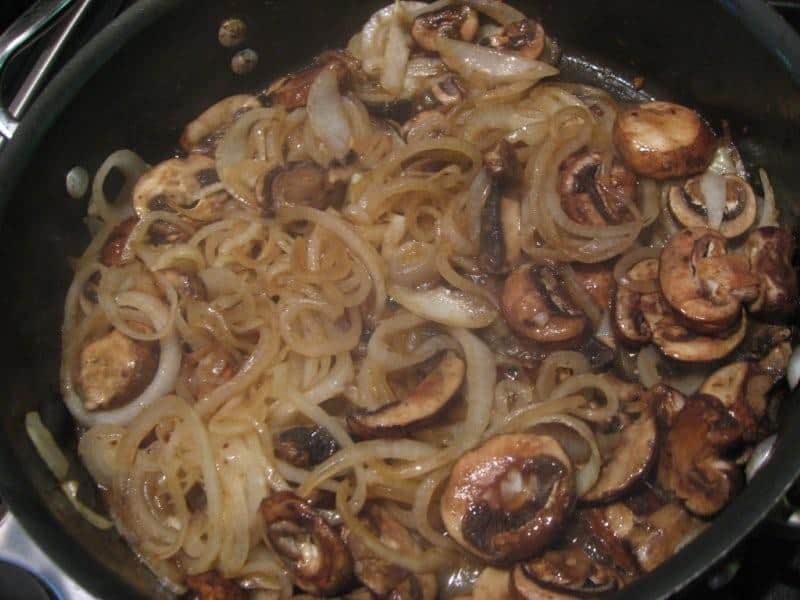 Carmelized onions with mushroom for the top of the steaks. I mixed a bit of peppercorn sauce with this.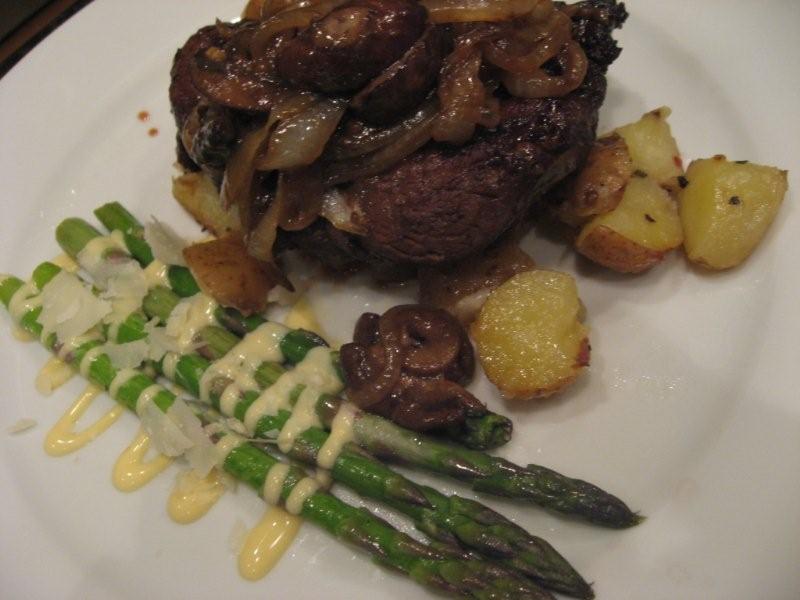 The finished main course. The potatoes were boiled, then oven roasted with rosemary from our garden, grey salt and a hint of cayenne.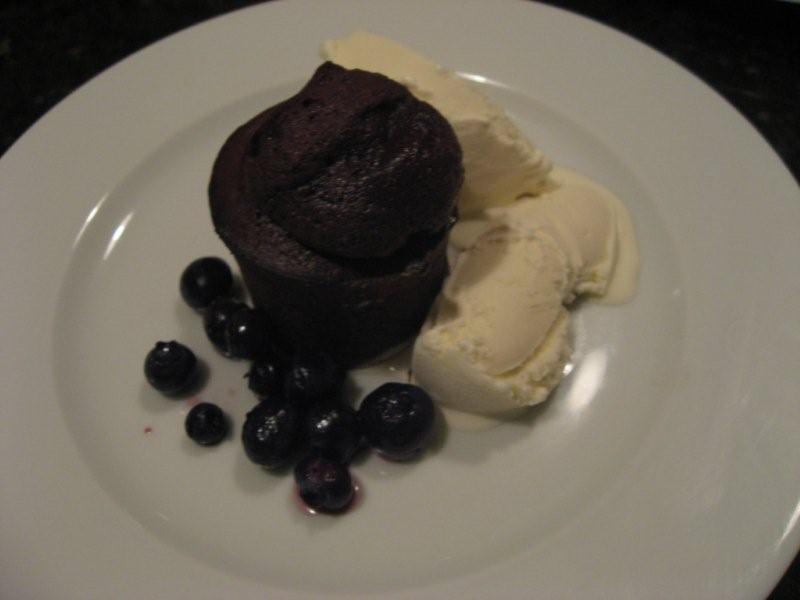 Dessert, my signature chocolate molten cake. I have been told by guests that it is the best they have ever had. It is important to use fine chocolate and I always add more than the recipe and cut back on the sugar.

For this particular event we had quite an extensive wine pairing which included:
– Kim Crawford, Sauvignon Blanc, 2007
– Peju Estate, Chardonnay, 2007
– Grigich Hills, Cabernet Sauvignon, 1999
– Terra Valentine, Amore, 2006 (brought over by one of the couples)
– Peju Estate, Merlot, 2003
– Boarding Pass, Shiraz, 2005
A weekend prior to this dinner party, Clint and I had great lamb loin chops.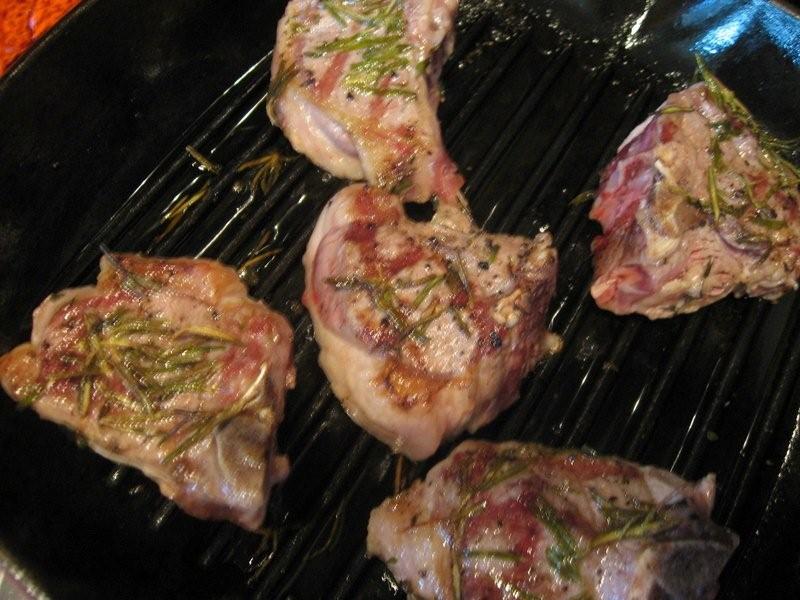 Simple recipe for fabulous lamb loin chops. Just throw some olive oil, fresh rosemary, grey salt and pepper into a mortar and pulverize the ingredient together with the pestle. You can use a food processor but the traditional way still gets the most aromatic results. Coat the mixture on the lamb, cover and refrigerate for two days. Grill in the same way described with the steaks, lightly sprinkling a bit more salt and pepper while the chops are cooking.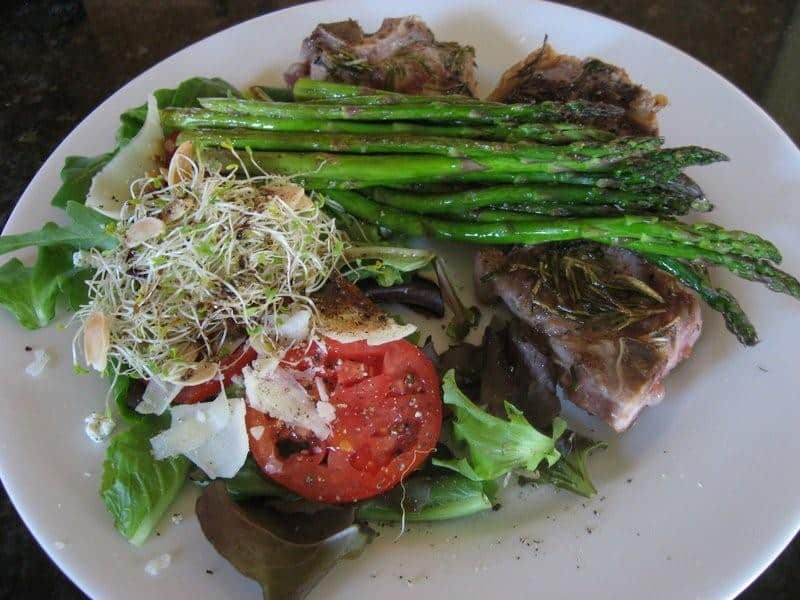 Sometimes, instead of doing a multi-course meal, I like to get everything on the same plate.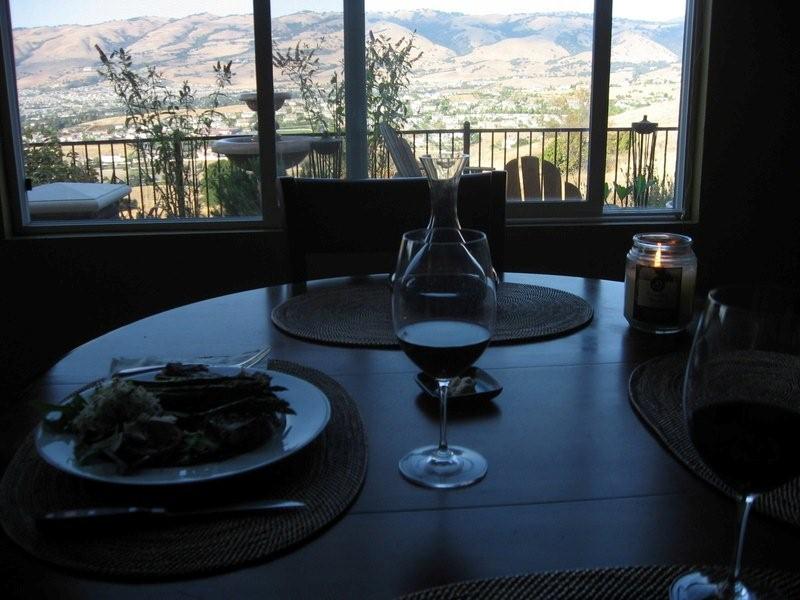 Nothing like sharing great wine and good food with friends, family or just between Clint and I.