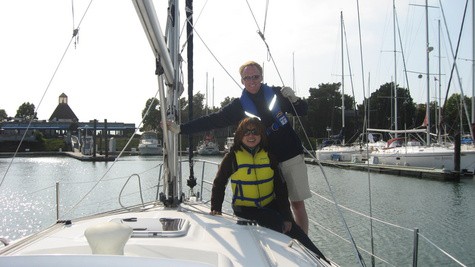 Clint and I at the bow of the boat.
Clint and I spent this Saturday with our friends Jay and Judy out on a Hunter 33 sailing in the San Francico Bay, along treasure island. It was my first time out on a sailboat. Clint on the other hand, had taught Laser racing-class sailing many years ago so had some experience.
We left San Jose around 8:15 am in the morning and were able to get to the Club Nautique's Alamed location at Ballena Bay a little after 9 am. Jay and Judy have been members of the club for over 13 years and have become good sailors. The club offers an extensive selection of membership levels, powerboat and sailboat classes as well as member events in a relaxed, casual environment.
The day was windy and cool as we left the marina and headed out to Treasure Island. Jay was captain of the ship although we all got a chance to helm the boat even if, like in my case, it was only a couple of minutes in order to get a photo opp. Amazing how one can look competent in a still photo.
If you are planning such an adventure for the first time, definitely make sure to dress in layers and bring a windbreaker as on a windy day, your clothes can feel porous. Sunglasses are a must and if I had to do it again, I would definitely bring a warm hat to cover my ears which were frozen and my own sailing gloves. Judy was kind enough to lend me one of her sailing gloves.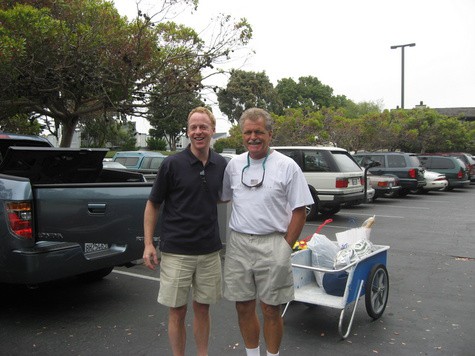 Clint and Jay unloading the truck.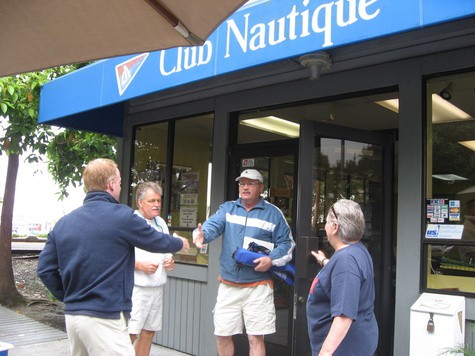 In front of Club Nautique, meeting up with the entire crew.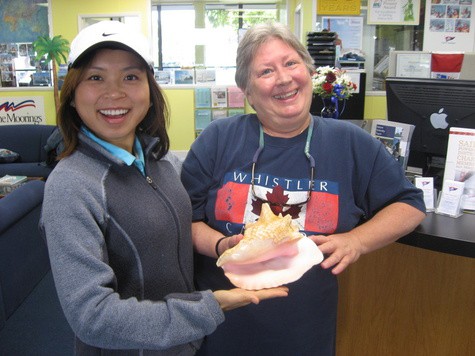 Judy and I posing with a shell. Don't ask us why, it just looked interesting and we figured it would be a funny photo.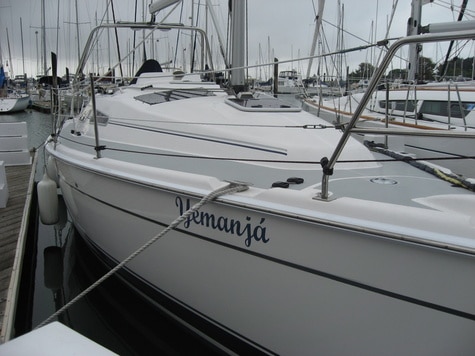 Our boat for the day, the "Yemanja". Boat owners can opt into a rental pool for people to rent out for a day, weekend, week or month.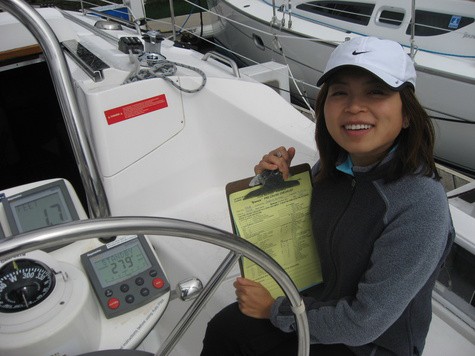 Since I knew the least about boats, I was given the task of checking items off of the pre-trip list. We discovered the waste water tank was 3/4 full and had to be flushed before our trip.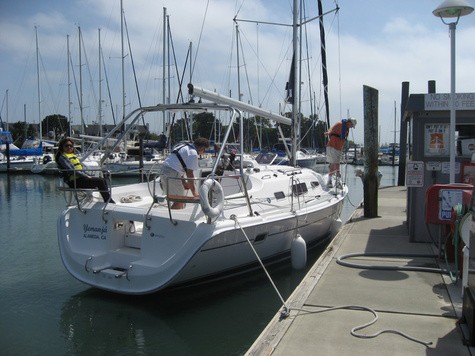 Getting rid of the waste water at the marina station.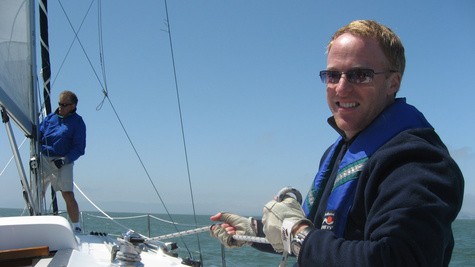 Clint and Jay trimming the main and adjusting the out-haul.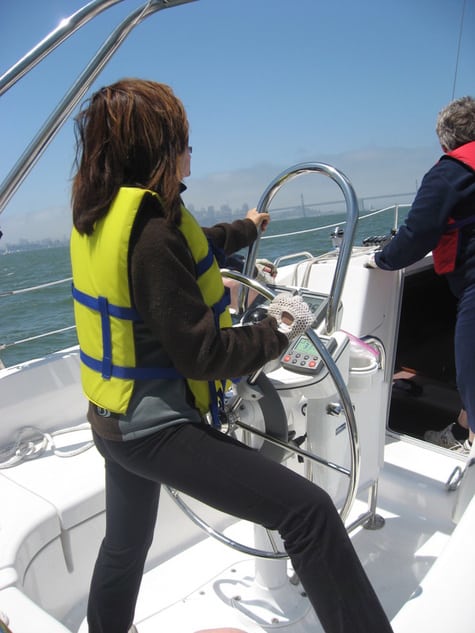 Me at the helm trying to keep the boat under control.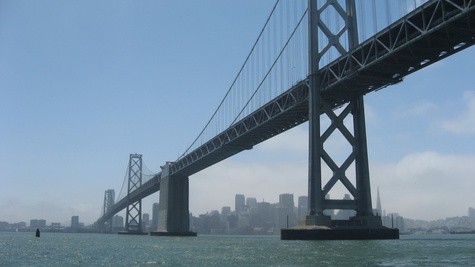 Bay Bridge against the San Francisco skyline.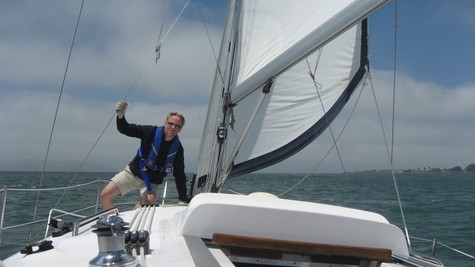 Clint trying to be James Bond.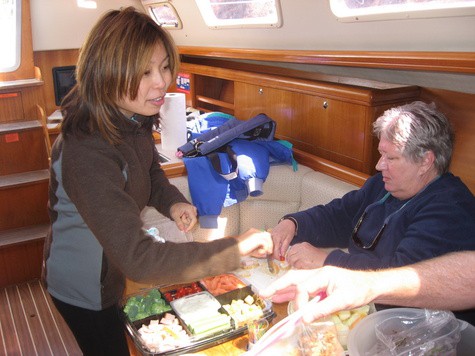 Lunch after an exciting time anchoring the boat. The boys were trying to drop anchor for lunch. Because of the wind and current, our line entangled with another boat. Jay and Judy had a great spread of fruit and vegetables. I had baked muffins and cookies.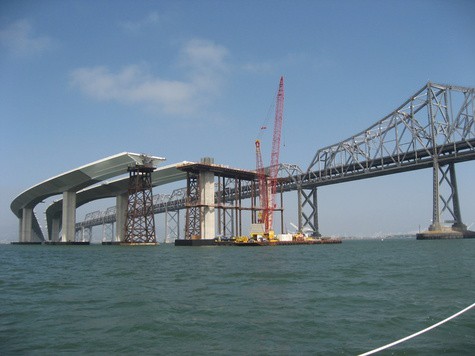 Construction of the new bay bridge. The flat portion is complete, the next phase will be the suspension bridge.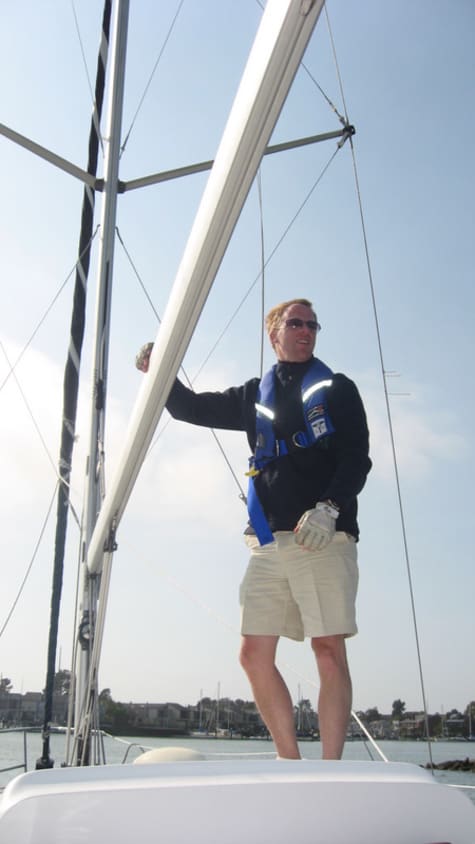 Another photo of Clint looking cool.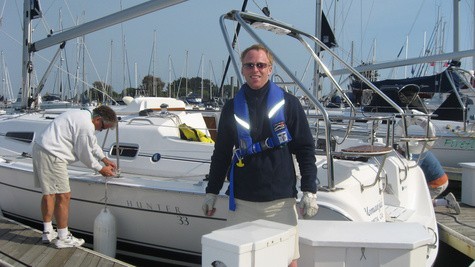 End of the day, getting ready to go to a great dinner at Bay Wolf, a restaurant Jay and Judy always go to after a day of sailing. I'll be writing a review of the restaurant in a following blog entry.

Scrubbing the boat after an adventurous day of sailing.
Clint and I are already looking forward to our next sailing adventure. Maybe one day we will be experienced enough to sail to Loreto. These days with the cuts in flights from the airlines, it may become a good option!