The second half of my week was spent at an Adobe customer event which took place at the Grand Hyatt New York.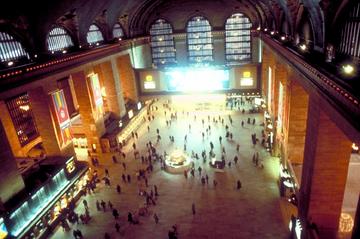 It was a short trip. Getting in the evening before my presentation and flying out early morning after. Besides seeing the inside of the taxi, my hotel room and the event venue, I had little aspirations of catching the actual sights and sounds of New York.
As fate would have it, after the Adobe event, I had a craving for a bagel. I figured if nothing else, I would at least sink my teeth into an authentic New York bagel. I had noticed the hotel had a little shop in the lobby that sold bagels. I envisioned grabbing a bagel there and proceeding to my hotel room which I would transform into my office for the rest of the day.
There is the plan and then the realities of execution. The shop had just closed. By this time of course, my brain had already sold the bagel concept to my stomach and appetite became a great motivator. Having no qualms about asking for directions, I found the closest hotel staff and asked for recommendations. Without hesitation, they suggested I walk over to the Grand Central Terminal.
Following his directions led me down a quiet hallway to a set of glass doors. As the glass doors slid open, I must have felt a bit of the same sensation those Narnia children did when they stepped through the wardrobe. All of a sudden I was in the middle of a bustling beehive of activity.
All this time, I had been right above the Grand Central Terminal.
If you ever venture to this part of downtown NY, here are some places to check out.
Wild Edibles (www.wildedibles.com)

This seafood market is located in the Grand Central Market. I had scanned the entire market and my eyes fell on a gorgeous piece of ahi tuna steak encrusted with sesame and seared to perfection. For $9.99/each it was a proposition I could not refuse. Even eating it on a thin tray with flimsy plastic utensils did not mar the freshness and tenderness of the fish. It was only later did I find out that Wild Edibles is the top rated seafood market in New York by Zagat, 8 years running. A quick visit to this their website and photos of Martha Stewart and Bobby Flay are prominently displayed. I guess if Wild Edibles is good enough for Martha Stewart, its good enough for me. A must visit for seafood lovers.
Zaro's Bakery (www.zaro.com)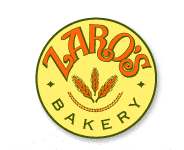 Zaro's has been around in New York city for 75 years and a must stop for their bagels or if you have a sweeter tooth, their New York-style cheesecakes. If you can't actually make it down to Grand Central Terminal, they do ship their products all over the United States. You will need to order at least 2 dozen bagels if you are having them shipped to your doorstep. If you are only able to make it to JFK airport, Zaro's seems to have a good wholesale channel so several of the airport coffee shops also carry their bagels, muffins and other baked treats.
I had their cinnamon raisin bagel toasted with cream cheese. It was delicious and definitely something to experience. However, my fondest memory of a bagel was several years back in Ottawa on Canada Day savoring a maple bagel with maple cream cheese on top from The Great Canadian Bagel. I know, the purests would have a heart attack at the mere thought of this.
O & Co Mediteranean Food Merchant (www.oliviersandco.com/)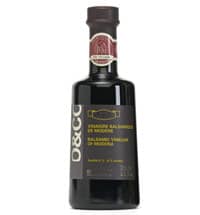 Upon exiting the Grand Central Market, I noticed a shop full of olive oils and balsamic vinegars. Yum. Similar to how Clint has a weak spot for candy shops, I could not resist the siren calls of all those bottles of heaven.
The store clerk could sense this as I strolled into the store and asked if I would like a sample. What he had me try out was a delicious combination of an basil infused olive oil with a drop of their Balsamic Vinegar of Modena aged for 8 years in barrels of different wood species. Not all 8 year aged balsamic vinegars are equal dear reader. For $33/8.5 oz bottle, it is pricier than other 8 year aged vinegars, but I still think this is a value purchase for the richness of the flavor compared to its cheaper counterparts. Another blogger agrees. I also tried their 12 year aged version which was definitely slightly richer and smokier. However, at $109/3.4 oz bottle, unless you are using it to drizzle over strawberries or hosting a vinegar tasting party, not worth it. If you love balsamic vinegars as I do, definitely stop by this store and enjoy a couple of tastings.
For those of you in the San Franscisco Bay Area, they do have a location in San Francisco, however, in keeping with the spirit of being a tourist, I of course had to purchase a bottle from New York. O & Co also sells through specialty stores such as Sur La Table. However, you will not be able to sample before purchasing which is the benefit of visiting an actual O & Co shop.
If you are ever at Grand Central Terminal, definitely take a moment and smell the roses, taste the food. In a mere hour, I was able to pack in quite the adventure.