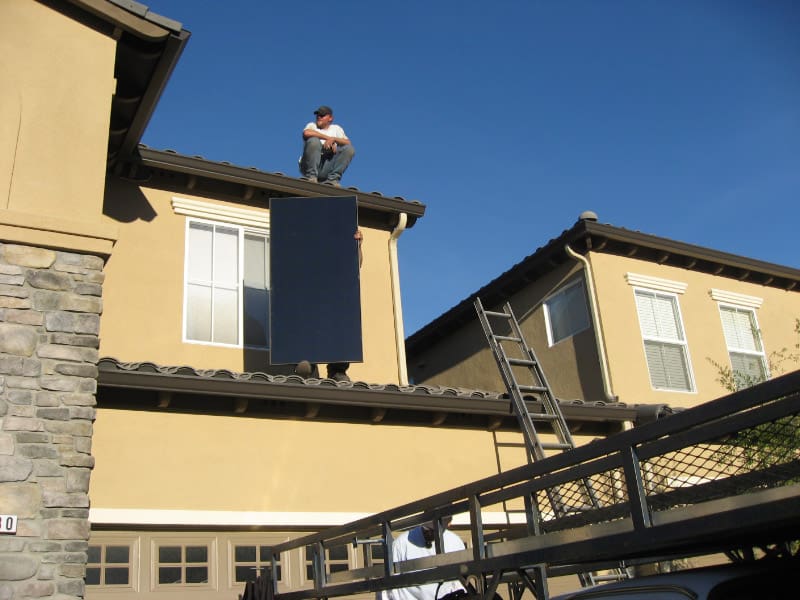 After a whole year of research and being beaten out last year with Clint's home theatre project, I have finally emerged victorious as this past Tuesday, the Stark's abode started generating electricity.
As much as I have read on websites and talked to solar panel installers about the technology and process, it still feels a little like something out of a science fiction novel. It is still a marvel to me how some black panels on your roof can start generating electricity. We got them installed just in time as the California weather shifts from rainy to sunny season.
The installation of the solar energy system happened quite suddenly after months of research and planning. I was fortunate to catch wind of a Community Solar Project headed up by Marsha K. from a neighboring development here in the Silver Creek Community. She was able to broker a agreement with SunPower Corporation (manufacturers of solar panels) and Horizon Energy Systems (installers) to provide a community bulk buy program where the discount on solar energy would depend on the number of homeowners that joined the program.
Clint and I were number 10 on the list of homeowners that signed up, but that tally of homeowners quickly passed 20 and so the whole community is benefiting from a nice rebate per watt. The specific system we got installed has 10-panel SunPower SPR-225 with a SunPower SPR-3000m inverter. We got very high-efficiency panels because we have limited roof space that was south/south-west facing.
Clint and I have been impressed with Horizon Energy Systems so far, they were able to get the whole system installed in 2 1/2 days and the installers they sent onsite were very professional, experienced and efficient. Rick Niemi, our salesperson is very responsive and knowledgeable, he has been involved with solar energy projects for many years and always went above and beyond to get all of our questions and concerns addressed.
Although I've spearheaded this project, Clint has definitely warmed up to it. Being the gadget and technophile that he is, there are only a few things cooler than electricity generation. Clint has come to realize that the solar energy system we have is quite the uber gadget.
I also appreciate the gadget factor although these days, I like coming home to check how many kilowatts of electricity we have generated and how many pounds of CO2 we have saved. The former because it seems to be the only good news right now in a financial market of rollercoaster stock markets and lowering interest rates on CDs. The latter because I have been travelling a lot more for business and like to feel I am doing something to make up for the environmental impact I am having.
I'll keep you all posted on the impact this installation has on our PG&E bill.
READ MORE: Interested in the savings, more stories and updates about the SunPower solar system? Click here to read all the SSC posts about Green and Solar. Questions or comments… let us know below.