I'll admit that 2008 started a little rough and made me realize how grateful I should be of all the wonderful family and friends in my life. The beginning of the year is usually a time when one ponders all the ways in which we need to improve ourselves and our lives – this year I've been reminded early on that all the existing joys and relationships should never be taken for granted.
As hectic as the start of 2008 has been, Clint and I were able to squeeze in some great times. So let's catch you up with the 2008 happenings at the Stark's!
We spent New Year's eve at a fantastic party put on by one of my fellow board members of The Ranch on Silver Creek Homeowners' Association. There was great food, dancing and good holiday cheer!
This past weekend, Bob and Sandy (neighborhood friends) dropped by for dinner and board games. Instead of spending a couple of hours making dinner ahead of time, Clint and I strolled through Los Gatos and ordered take out from one of our favorite restaurants, Green Papaya. When we got home, we emptied all the dishes from their styrofoam containers to colorful serving plates – the result was a dinner that had all the benefits of a meal I had slaved over without the work. A new experience that is very tempting for future dinner parties! I did make lemon shortbread cookies with strawberry jam centers that looked like an early Valentine treat for dessert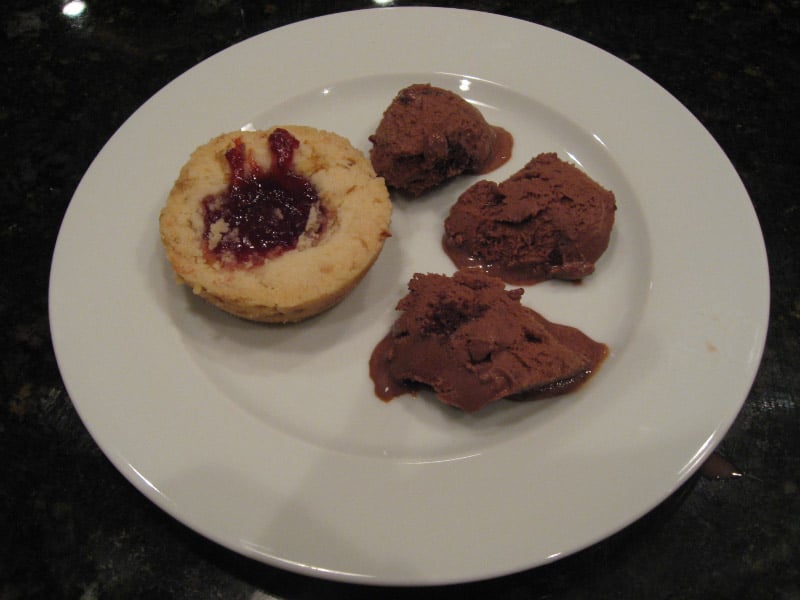 When dinner was done, we cleared the kitchen table and broke out a new game that Bob and Sandy just got, Axis & Allies. After an hour we had the board game set up and took turns trying to decipher the relatively thick book of rules. Dear reader, do not try this at home! After a large meal and 2 bottles of Sauvignon Blanc, figuring out a complex board game on a Saturday night was more brain power than all of us could muster. 
After a couple of attempt at figuring out how to attack and defend, we decided in the interest of good conversation and social fun, we would pack up the game for another time and break out good old Monopoly. Clint came out of the game with a solid victory! He is starting to develop his father's track record for board games. Clint also won our Risk match from last year.
The next day of course, being the type to rise to any challenge, Clint figured out the rules for battle in Axis & Allies. Knowing him, he is probably studying it up in the little spare time he has so he can win once again!