There was a mad rush to put our home together again after the major remodel (photos to come soon) that had taken on a life of its own. Why? Because the Stark side of the family was flying in from Ottawa to celebrate Clint's 40th birthday.
The whole weekend started off with a mysterious package that arrived from Arizona.
I had forgotten that a while back, I had ordered the 2008 Arizona Cardinals Cheerleader Calendar as a funny gift for Clint's birthday.
Like an old married couple, we had already decided that our birthday gifts to each other was going to be this home renovation project, which by most standards is quite a nice treat for both of us. However, after I had heard that the Arizona Cardinals Cheerleaders had travelled to Loreto as the photo shoot destination for their latest calendar, I couldn't resist. The whole Loreto Bay, Bikini Destinations (another reason Clint likes HD) and Cardinals (Stanford Cardinal vs Arizona Cardinals – :-)) connection was too much. So I had ordered a personalized, signed version of the calendar. Sure enough, true to their word, Clint's copy said "To Clinton With Love" and was followed by full color, glossy pages of….Loreto? Well, there was the Loreto Bay logo on some of the pages which we know and love. However, the scenery of Loreto seemed to play second fiddle to the photos of the very pretty Arizona cheerleaders. It did bring some questionable glances from the in-laws.
Saturday night was Clint's birthday celebration. We went to Le Papillon restaurant and had a wonderful meal.
Clinton ordered the Ahi Tuna Sashimi with Grated Daikon and Soy Wasabi Sauce ($22) and Pepper Seared Filet of Beef with Brandy Demi Glace ($38). I ordered the Truffled Hamachi Tartar with Avocado, Lemon and Pea Shoot Emulsion ($22) and the Noisettes of Red Deer with Cabernet-Truffle Reduction and a Parsnip Tart ($38).
Although all these dishes were delicious, if I were voting, the Hamachi dish and the Red Deer dish would get my votes. The hamachi dish for its originality in preparation – I have had Ahi tuna in a soy wasabi sauce at many restaurants. The red deer was very tender and flavorful without being too gamey and the sauce which was a heterogenous combination of emulsified squash and cabernet-truffle reduction was to die for. Looking forward to tasting this scrumptous dish again. We found out later it was FedEx'ed all the way from Australia. Heather and Peter shared the Pan Seared Maine Day Boat Scallops with Hazelnut Polenta and Preserved Lemon  ($22), the Grilled Rack of Lamb with Red Wine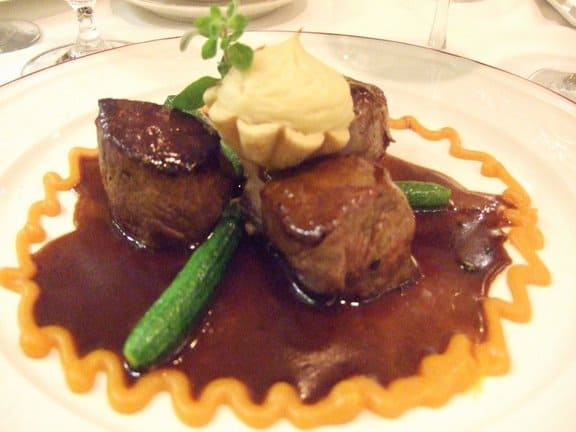 Date and Pine Nut Puree ($38), and Pepper Seared Filet of Beef with Brandy Demi Glace  ($38).
The service was superb and friendly with the waitress bringing us three different types of Amuse bouche which was a real treat. All of this was paired with some wonderful wines. I can't recall the Syrah I started off with but the bottle of cabernet we ordered was Hess Cab 2002. There wine list was quite extensive, predominantly (if not exclusively) Californian and included some rarities like Harlan Estate ($900/bottle)
As for dessert recommendations, would definitely recommend the Valrhona Chocolate Terrine with Vanilla Sablèe and Tarragon Syrup ($14). This is also what the waitress recommended. Clint ordered this dessert whereas I got the Vanilla Custard Filled Crepe with Meyer Lemon Butterscotch which was good if you like crepe…something I am mildly fond off but I figured I'd reassess this preference.
Nothing like great food and family to celebrate Clint's 40th!