If I had to choose one grape varietal that has been near and dear to my heart this year in producing some scrumptious wines, it would be the Shiraz. Yes, I do have some wonderful bottles of Cabs that I have put to sleep and will enjoy them several years from now, and yes, I do like a crisp Sauvignon Blanc on these warm summer days.
However, this year has started off with some memorable bottles of Shiraz that has propelled this wine varietal to the top of my list as the wine of choice for pairing with food.
I feel compelled to write about this as I am still reminicing about the simply juicy Shiraz I had with my Waldorf salad at the FireFly restaurant in DC. If you are ever there, see if you can at least get a glass of: Shiraz, Marquis Phillips, Southeast Australia, AUS, 2005 ($15). I only found out later it was given 91 points by Wine Advocate. At the price point you can get bottles of it for, it is not only a great wine, but one you can enjoy almost daily.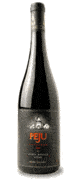 This Shiraz tasting at FireFly was no accident. I had decided to order the Shiraz off the restaurant list because a couple days prior, Clint and I had served a great Peju Estate Syrah 2003 ($32) at a dinner we had with some neighbourhood friends. It was a fabulous with the lamb salad. Great nose and truly juicy with hints of raspberry, cocoa and coffee.
However, my first fling with Shiraz was during my trip out to Australia in March this year to present and meet up with Adobe's APAC partners. I was fortunate to catch an opera in the evening at the Sydney Opera House as well as taste some of the country's wonderful Shiraz. Penfolds is always a classic, but I also brought home a half case of wines many of which I have yet to taste. Some included:
2004 Chateau Tanunda Shiraz Grand Barossa
2004 Clayfield Shiraz
If you are ever in an area of the world where they have great wineries, one suggestion is to bring back a case of wine if you can instead of other tourist trinkets. Make sure to also ask for wines which are harder to find in your home country as the last thing you want is to find it on the store shelves when you get back.