If you're in the market for a new camera and want to shoot video, you're in luck. With the advent of mirrorless technology, there's an almost staggering array of cameras that produce crisp video, without the need to spend thousands of dollars. Sony, Olympus, Panasonic, Leica, and even new companies like Blackmagic Design have ratcheted up the innovation factor. That chunky DSLR sitting over there in the corner? Dare I say… looking slightly long in the tooth.
Mirrorless cameras offer several advantages over their DSLR counterparts: compact design thanks to the lack of a sizable mirror mechanism; quiet operation; high performance in low light (in general, but not always the case); and, for the most part, relatively affordable prices.
Bottom line: now is a great time to be camera shopping.
But how to decide?
I've rolled up my 5 favorite mirrorless cameras. These are ones that do especially well when it comes to video. So if you plan to shoot, for example, birthday parties, soccer games, weddings, and the like, you'd do well to give these a look. A few here (especially the Panasonic GH4 and Blackmagic Pocket Cinema Camera) will give you even more runway, and can be used to produce commercials, music videos, fashion films, and even full-length features.
Canon has long been a personal favorite. I've been shooting specifically on Canon — currently the stellar Canon EOS 80D (before that a 70D, 60D, and Rebel T2i) — since 2009 for videos here on Stark Insider. We specialize in covering various events across the San Francisco Bay Area, live concerts, backstage Broadway, "wanderlust" travel features and theater and the arts. Though I still think the 80D is great (and use it regularly), if I had to start all over again in selecting gear I'd likely give the Sony ecosystem strong consideration.
So, with that, here's 5 excellent mirror cameras you should consider for shooting video. All of these I've personally owned, tested, rented, or borrowed from a colleague.
Top 5: Best Mirror Camera's for Shooting Video
(in no particular order)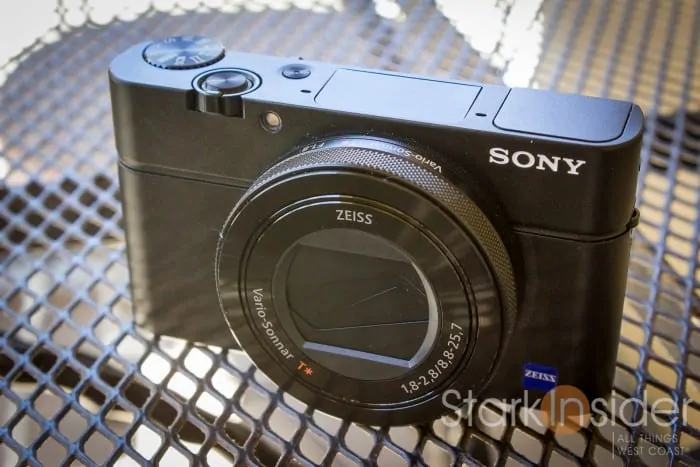 Best for: Everyday video shoots, those that want a discrete camera, 4K enthusiasts.
Watch out for: Controls can be too tiny for those with large hands. LCD screen not fully articulating (only tilts up and down) which can be tricky for vloggers.
Buy: Amazon
If small size and portability are your ultimate goals, consider the new Sony RX100 V. It looks like a regular point-and-shoot camera, but it packs some serious power. Like 4K video for instance. And a trick fly-by-wire focus ring that can also be configured as an aperture or shutter control. The built-in lens offers decent range. Battery life is good (but not as good as some of the competition). A built-in flash and viewfinder further expand its versatility.
WATCH: "Trampoline" – Shot on Sony RX100 IV
Perhaps best of all, you'll look totally inconspicuous capturing video — making the RX100 V perfect for shooting in museums, capturing documentary footage, for example. Discrete, compact, stellar image quality (Zeiss glass). There's a lot to like here. Quick note for those with large hands: this camera's controls may be too tiny for comfortable use.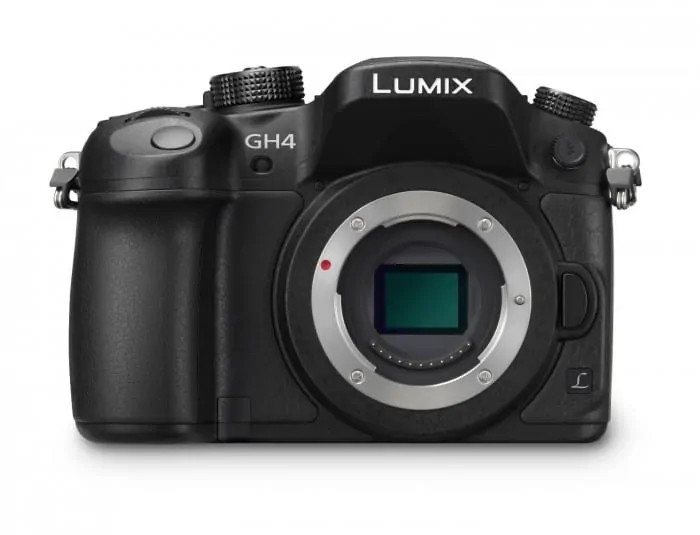 Best for: filmmakers on limited budgets, serious photographers, creative professionals and hobbyists alike.
Watch out for: crop factor on micro four thirds sensor (you'll need a very wide angle lens to properly capture landscape).
Buy: Amazon
Aspiring filmmaker? Say hello to the GH4.
Panasonic nailed it with this high-performing, incredibly well-made camera. Surf the forums and you'll quickly discover that many would-be filmmakers, documentary makers, and music video producers on limited budgets jumped ship from Canon DSLRs to the GH4. Not only does it offer 4K resolution when capturing video, the GH4 also serves up superb handling (the ergonomics are just right), fantastically sharp image quality, and an interchangeable lens mount (the increasingly popular micro four thirds). On that last point: being able to swap out lenses depending on the situations means you can be more creative than you can with something with a fixed, non-removable lens, like the above mentioned RX100 V.
WATCH: New York City – Shot on Panasonic Lumix GH4
$1,000 might sound like a lot. But, keep in mind, the GH4 can be used to shoot professionally. It's deceptively powerful. For instance, it has waveform monitors, focus peaking, and other tools targeted at folks who take their video very seriously.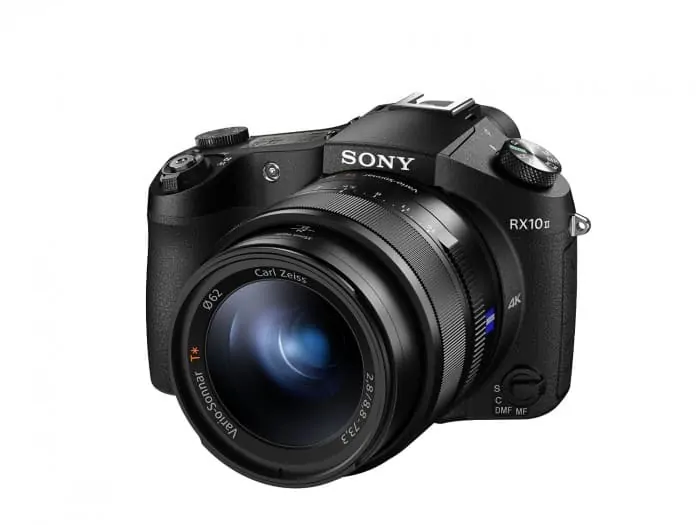 Best for: Event shooters, sports shooters that need super slow-mo, 4K enthusiasts.
Watch out for: That price! Sony's RX10 II is a premium "super zoom" with premium price to match.
Buy: Amazon
Another Sony. And another new model added to this year's line-up. I like the Sony RX10 II because it offers great range (24-200mm "super zoom" with constant f/2.8 aperture), is still compact enough to throw in a purse or handbag (and possibly even a larger jacket pocket), and offers incredible images thanks to its superbly engineered Zeiss glass. Built-in image stabilization means you won't have to worry as much about camera shake when shooting handheld. Also, something to consider if you shoot video in tough conditions, is its weather sealing (moisture and dust) — a feature not necessarily found among some of the competition.
Especially trick with the RX10 II are its high frame rates. If you like slow-mo, you're in for a treat. You can shoot up to 960fps, though, in 4K that drops to a (still impressive) 248fps (NTSC).
Finally, for advanced users, the RX10 II (like the RX100 V) can be set to capture footage in S-Log 2. This applies a flat curve. Files then need to be graded in post production. Of course, you don't have to shoot in this mode, but if you do you'll take advantage of the camera's full dynamic range, and be able to stylize your video more creatively.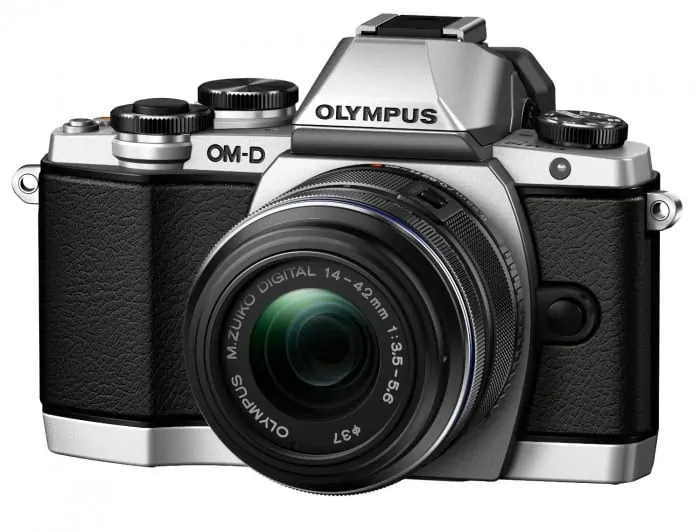 Best for: Those on a budget who don't want to sacrifice image quality.
Watch out for: Video quality not quite up to others such as the Lumix GH4.
Buy: Amazon
If you're on a limited budget, but still want a high quality camera that can produce amazing images, and solid video, consider this Olympus — the one with that loooong model name. OM-D E-M10 II. Right? Sure, but it's worth hunting this camera down, and I'd suggest adding it to your short list. The metal build, and that retro look (silver), are especially appealing, and a fun nod to the glory days of SLR cameras. I've only had brief hands-on with this camera. But the esteemed DPreview (one of the top if not the top camera review site) gave the E-M10 a silver award and a score of 80% which is might impressive for its budget-friendly price tag. My guess? You won't be disappointed.
WATCH: Olympus EM-10 Video Sample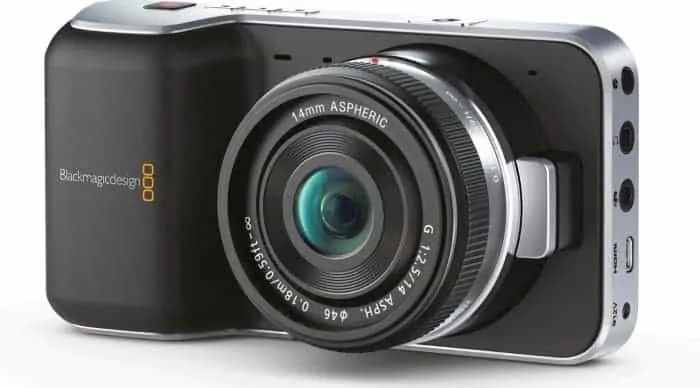 Best for: The auteur.
Watch out for: Video only. The BMPCC is a highly advanced cinema camera in a point-and-shoot body. Battery life is poor. Files need color grading. Know what you're getting into — but bask in those filmic results!
Buy: Amazon
Blackmagic has released several cinema cameras over the past few years. But I think the Pocket, the cheapest in the line-up, is their best to date. The Blackmagic Pocket Cinema Camera, despite its small size and low price, is a through-and-through cinema camera. So you can't take photos (though you could grab high quality stills from the footage). And, yes, the BMPCC is "only" 1080p (HD) meaning you'll easily lose a specs contest with that pixel peeper on Reddit. In my estimation, though, we're still living in a 1080p world. Last I heard, story-telling hasn't been compromised one iota by lack of 4K.
For under $1,000, Blackmagic has given the filmmaking world a gift. Use the BMPCC properly and you'll end up with spectacularly filmic footage. It can easily rival cameras costing 5-10x more. The results come at a price though: battery life is poor (you'll need many for a day's shoot or some sort of external power solution); ergonomics are tricky (a cage will help); and files need post-processing (for color grading). If you're just getting into filmmaking, the Blackmagic Pocket Cinema Camera is unquestionably a great camera to get to know.
WATCH: "The One" short film shot on Blackmagic Pocket Cinema Camera
Honorable mention:
Outstanding image, rivaling and perhaps even surpassing many top end DSLRs. Ridiculously good in low light. Internal 5-axis image stabilization system means any lens you throw on it will be stabilized. Premium price. Premium mirrorless camera.
Another solid offering from Sony. Many consider it a modern day classic. Interchangeable lens. Once again, great build, and an image to die for (some of my friends have dumped their Nikons for this camera…!). For the price, exceptional.
A baby GH4. If you can't quite stretch for its more expensive big brother, consider the mighty fine Panasonic Lumix G7. In some ways — better low light, for instance — it's even better, especially that price. You get all the fimmaking tools you'll need such as focus peaking, histograms, and 4K video (UHD). A superb package. The G7 may well be the bargain of the century when it comes to mirrorless video.
Conclusion
Mirrorless is here in a big way. And for video shooters, it can be a great choice. There are several great choices out there, and the list of suitors appears to be growing at break-neck speed. In the end, I think you can do well with any of these (though, again, the BMPCC warrants special consideration) cameras. I'm dear to Canon, but Sony and others have really raised the bar in the last few years. You do have to wonder how long the DSLR form factor will last.
Mirrorless is here in a big way.
Whether you're shooting casual family get-togethers, soccer games, birthday parties, or, shooting more serious projects, like weddings, music videos, or even narrative films, you might be surprised how far a mirrorless camera can take you.
Clint's Top 5 Mirrorless Cameras for Shooting Video

(in no particular order)
Final Thought: Keep in mind, these are just tools. The saying goes that the best camera is the one in your hands. So true, no? Instead of specs, try to focus more effort on story-telling, lighting, editing, composition, etc. I learn something new every day. And when I put it into practice, the results are especially rewarding.
Happy shooting!